Statewide campaign to prevent underage drinking kicks off in Lehi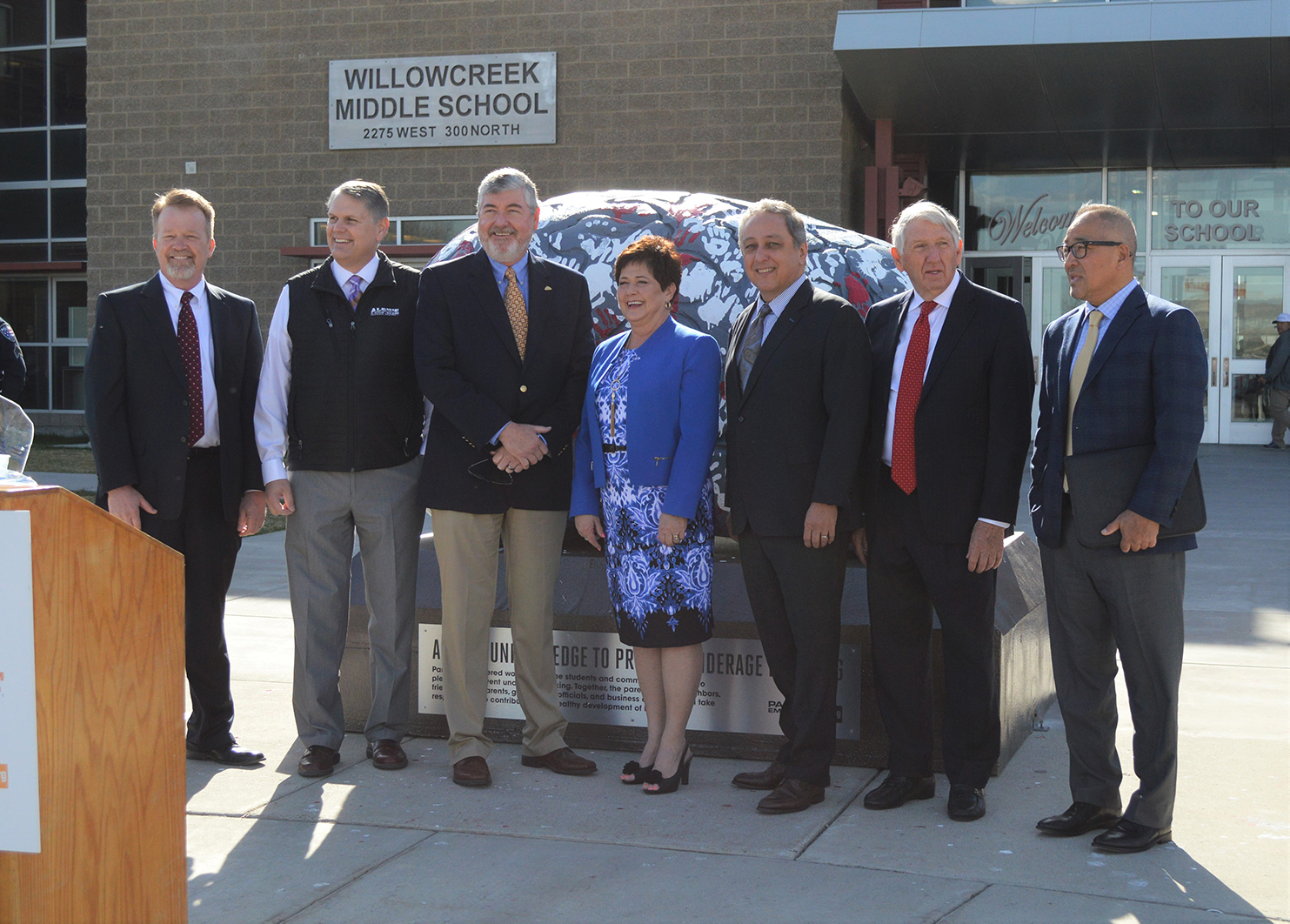 ParentsEmpowered, a media and education campaign funded by the Utah Legislature, kicked off a state-wide campaign to prevent underage drinking at Willowcreek Middle School in Lehi last Thursday, March 29.
DeAnn Kettenring, State PTA Health Commissioner and Lehi resident, arranged the event, which included middle school students making a pledge not to drink alcohol before they're 21. The Willowcreek students put their painted handprints on a large sculpture of a brain near the front doors of the school to remind them of the negative effect underage drinking has on brain development. Underage drinking prevention-themed signs have been installed at the school drop-off and pick-up zones to remind parents of the important role they play in eliminating alcohol consumption by adolescents. The event was attended by Utah's First Lady, Jeanette Herbert, Lehi Mayor Mark Johnson, and Brian Verwer, Director of Public Affairs at IM Flash as well as elected officials and representatives from ParentsEmpowered.
"As parents, we all want the very best for our children. We want them to have all the tools they need to become successful, responsible, and happy adults. When children become involved in underage drinking, though, parents often see their children's dreams for the future crumble before their eyes," said Jeanette Herbert. Since the ParentsEmpowered organization started three years ago, Utah's underage drinking rates have steadily decreased. Herbert pointed out, though, that Utah's population is growing and that means even more adolescents and parents to educate. "ParentsEmpowered works because it's based upon research that the number one reason kids don't drink alcohol is parental disapproval. The need for good parent-child relationships is essential to the ParentsEmpowered program."
The website parentsempowered.org explains the dangers and statistics in underage drinking – that 40% of kids who drink before age 15 will become alcoholics and alcohol kills more young people than any other drug. The website emphasizes three steps for parents to remember in preventing underage drinking; bonding, boundaries, and monitoring. "One-on-one time and family activities that encourage strong bonds are the key to preventing underage drinking," Herbert continued. "Community efforts like this truly do make a difference."
"I really want Lehi to be a leader on this," said DeeAnn Kettenring. "We're a leader in so many other ways and I want to involve businesses and community leaders and parents to get these critical conversations started." Kettenring is a certified teacher of QPR (Question, Persuade, Refer) classes where parents and teenagers can learn signs to look for in loved ones who are struggling with depression, anxiety, and suicidal thoughts. "All I need is a room, wi-fi, and some folding chairs and I will teach the class for free," said Kettenring.
"We feel it's a great opportunity to join in this effort in helping our students. We should invest in these students! Underage drinking will affect the development of the brain and we need to do something about that. We need to show the resilience of stopping this epidemic by coming together," said Brian Verwer, Director of Public Affairs at IM Flash.