Thanksgiving Point terminates partnership with Legend Solar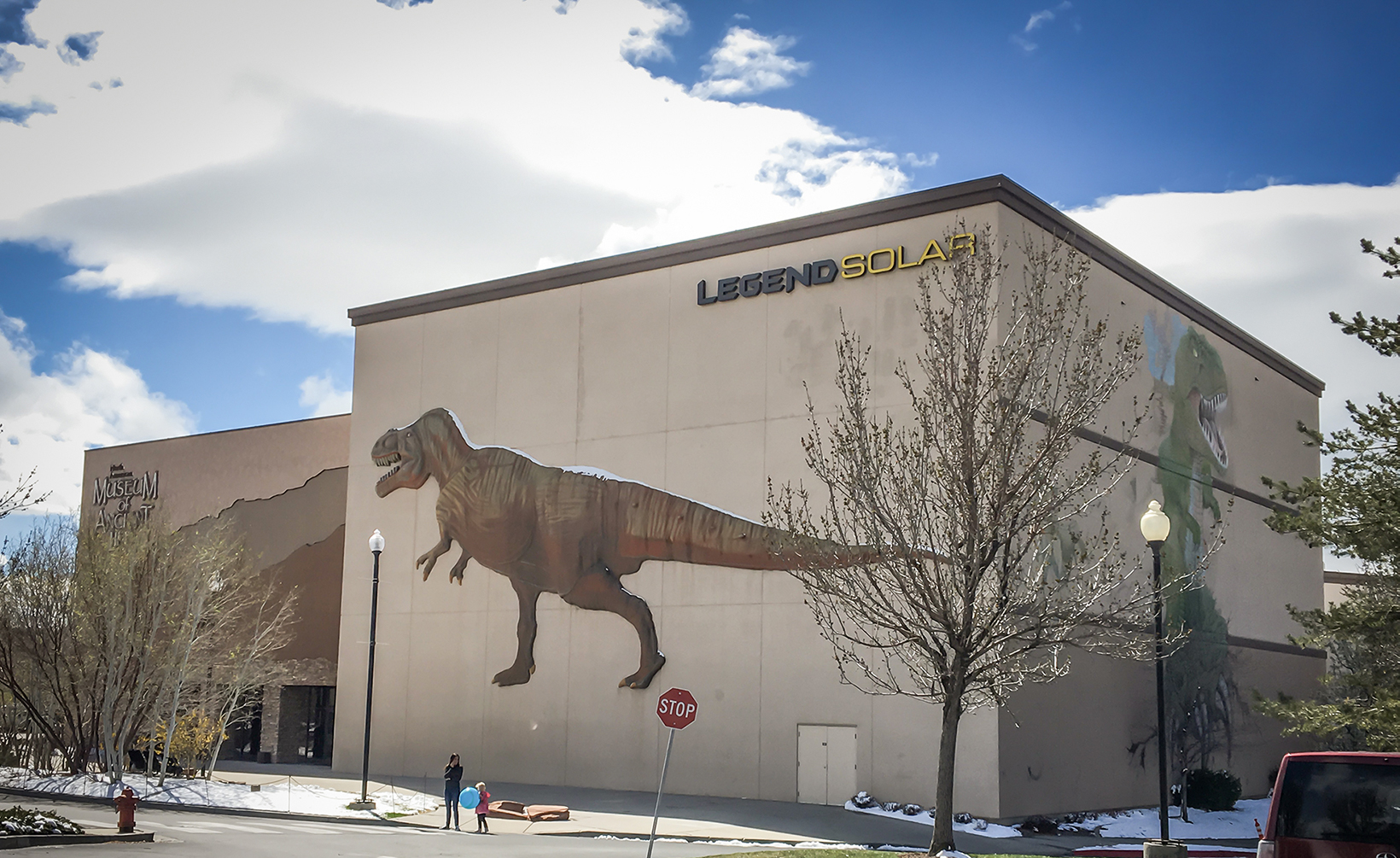 Thanksgiving Point and Legend Solar announced their partnership almost one year ago with an Earth Day Celebration and an unveiling of the Legend Solar logo on The Museum of Ancient Life. That partnership has been suspended and Thanksgiving Point will be removing the Legend Solar sign from the museum in the next few weeks because the solar company has not upheld their part of the agreement.
Legend Solar was once a rising star in the earth-friendly, green energy sector. By partnering with Legend Solar, Thanksgiving Point CEO Mike L. Washburn was excited by the prospect of "bettering our property for guests and softening our global footprint." However, Legend Solar's business practices have recently come under heavy scrutiny in the wake of financial mismanagement claims. In March, the Utah Division of Occupational and Professional Licensing issued a report stating their intent to pursue disciplinary action against the southern Utah based company. The report characterizes the company as unprofessional, unlawful, and showing a "failure to take financial responsibility."
Legend Solar was founded in southern Utah in 2012. According to Utah Business Magazine, by the year 2015, the company reported a growth of 400%, from $3.7 million to $18.3 million. By 2017, Inc. Magazine stated the company's worth at $30 million. Along with that rapid growth, Legend Solar blazed a trail up and down Utah, making deals to install their logo in sports stadiums and on prominent buildings. In 2016, the company entered into an agreement with Dixie State University to donate $10 million in return for naming rights to its sports stadium. During 2016 and 2017 the stadium was branded as "Legend Solar Stadium." However, Dixie State spokesperson Jyl Hall said that the university did not receive any payments toward the agreed donation following a one-time payment of $150,000 in 2016 right after the announcement. Dixie State has ended the partnership.
Legend Solar also formed partnerships with Brigham Young University and the Portland Trailblazers. Legend promised monetary donations to each organization, as well as installation of solar arrays as their contribution in the partnership. The 10-year agreement with Thanksgiving Point was to include $2 million to support the mission of Thanksgiving Point, and a promise to equip the Museum of Ancient Life with a 1,500-solar panel array. In return, the museum was officially called "The Museum of Ancient Life in the Legend Solar Building." Legend Solar was also included in Thanksgiving Point marketing efforts, including recognition on the digital marquee facing I-15.
Although Thanksgiving Point maintained their end of the agreement, Legend Solar has not installed any of the promised solar arrays. "We have suspended the partnership with Legend Solar so they can better focus on their business operations," said Josh Berndt, Director of Communications at Thanksgiving Point. "Our hope is to reconnect with them down the line," he added.
An announcement on the Legend Solar website attributed their current difficulties to several factors, stating, "Due to the dramatic downturn in our market stemming from the year-long negotiation with Rocky Mountain Power (PacifiCorp), a year-long shut down in Nevada coupled with complex re-licensing requirements there, and the impending federal solar panel tariff that has finally been announced, Legend Solar is experiencing a cash flow problem that impacts our ability to install purchased systems, as well as reimburse those who have cancelled their purchases."
As the company struggles financially, many customers are still waiting for delivery and installation of residential solar arrays they have purchased. The pending decision around the company's business license may force operations to cease in the state of Utah.