ASD Foundation holds annual Accent on Excellence Awards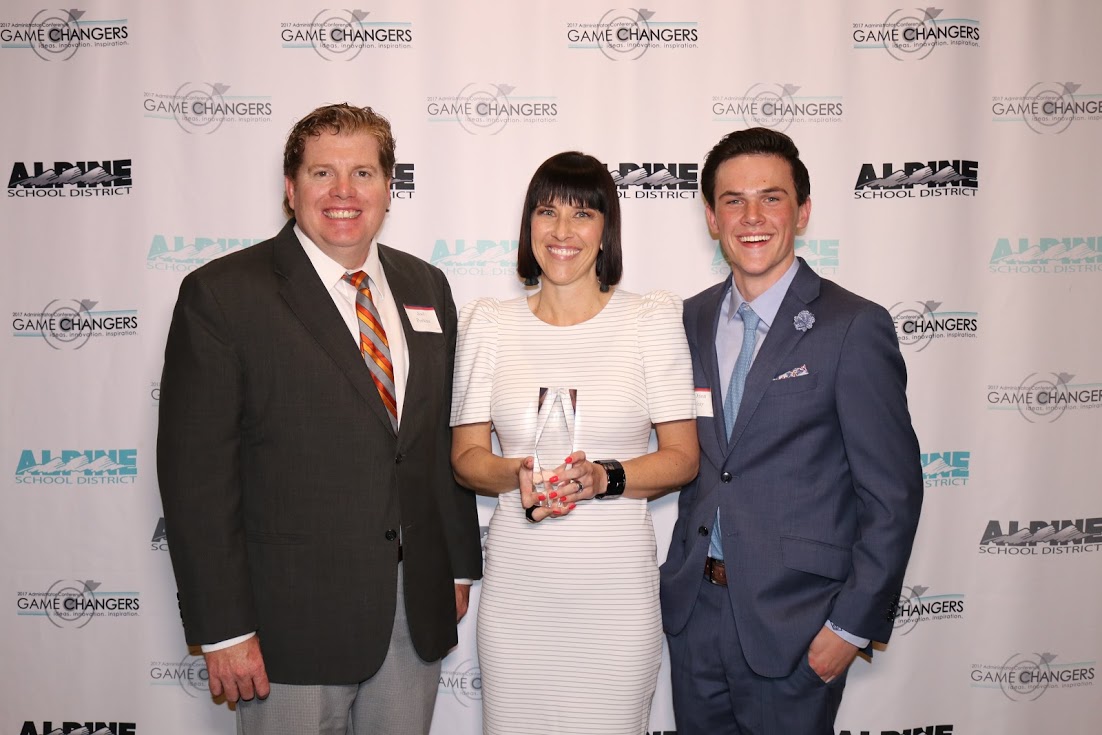 Skyridge English Teacher Lisa McArthur receives honor
"Teach, eat, sleep, repeat," said a young student when describing his favorite teacher's habits. That phrase describes the type of dedication many teachers in the Alpine School District give their profession. Last Wednesday, May 2, ten outstanding teachers, one administrator, one classified employee, and a school teaching team were honored at the annual Alpine School District Foundation "Accent on Excellence Awards" event.
The gala event was held at the Alpine Country Club and ASD Foundation members, corporate sponsors, honored ASD employees, family, and students attended. Kevin Driggs, ASD Foundation President and IM Flash Technologies Senior Manager, acted as master of ceremony for the event, which included a four-course meal.
Those honored were presented with large gift baskets full of donated items from Corporate Sponsors and a check for $500. In a highlight of the evening, students enthusiastically introduced their honored teachers, providing laughs and poignant moments.
Skyridge High School English and American Studies teacher, Lisa McArthur was honored for her excellence in teaching. The student gave her an eloquent and heartfelt introduction, "I can think of no one who is more deserving of this honor than Mrs. McArthur."
Regarding her teaching philosophy, McArthur said, "'The realization of your own potential is a beautiful moment.' I have this quote hanging on the wall above the door in my classroom. It hangs as a reminder to my students that they have the ability to achieve anything they set their minds to." When she received the award McArthur said, "I am so honored to receive this award, thank you so much!"
Those who received the Accent on Excellence awards were: Katie Bowman, Principal, Rocky Mountain Elementary, Deanna Caringella, 3rd grade teacher, Cherry Hill Elementary, Chad Durham, AP English Teacher, Westlake High School, Kim Elison, 5th grade teacher, Shelley Elementary, Robert Hawvermale, 6th grade teacher, Highland Elementary, James Jones, Media Center Specialist, Orem High School, Kathryn Larsen, English teacher, Orem Jr. High School, Michael Leavitt, World Geography and U.S. History teacher at Timberline Middle School, Lisa McArthur, English teacher at Skyridge High School, Ryan Ruchti, Math and Russian Teacher, Lone Peak High School, Bridget Varner, 2nd grade teacher, Deerfield Elementary, John Williamson, HVAC Technician Specialist, and the PLC Team, a group who teaches chemistry at Lone Peak High School including Mark Berrett, Tom Erekson, Wade Wagner, and Rachel Wentz.
The ASD Foundation is led by Lehi's Tim Eisenhart. It is the fund-raising arm of the Alpine School District. The mission of the charitable entity is to raise funds to provide resources to enhance educational opportunities for ASD students. The charity was established in 1984 as a 501 (C)(3), which is a legal charitable designation recognized by the IRS. Governed by a volunteer board of community and business leaders, patrons, and ASD employees, the foundation directs literally every donation back to ASD students.
Some of the many programs the ASD Foundation administers, besides the Accent on Excellence Awards are the STARS Summer program to enhance kindergarten through 2nd grade student reading, various scholarships, Gym Shoes for Needy Students, a payroll deduction program for teachers who donate their own money for educational purposes, and SIMS, a reading program for incoming 7th graders.
The ASD Foundation accepts cash and in-kind donations for any classroom, project, or program within the ASD. Call (801) 610-8425 to learn more.