Restaurant Review: Capriotti's Sandwich Shop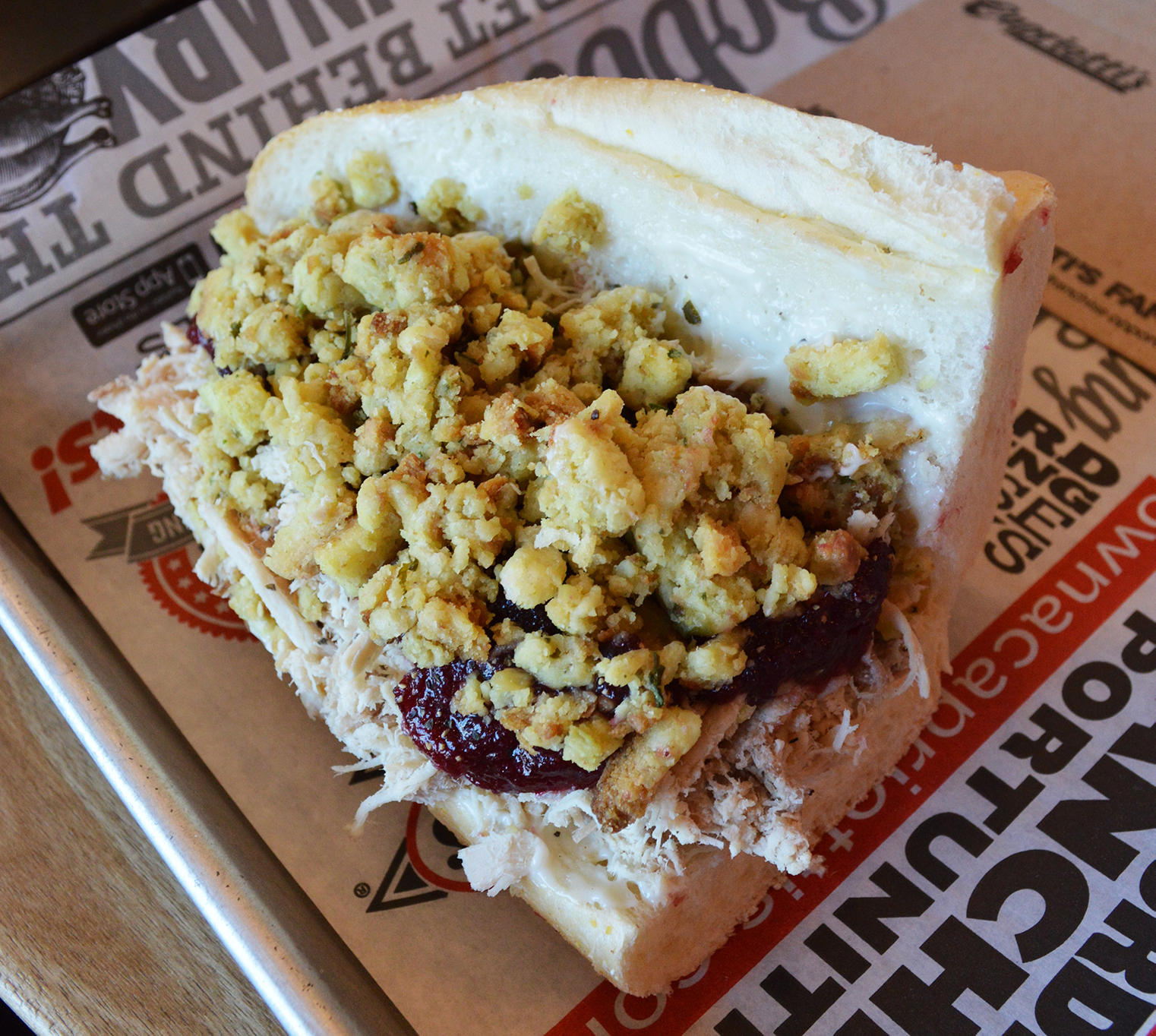 Capriotti's Sandwich Shop started in Wilmington, Delaware, in 1976 with Lois Margolet and her brother Alan. There were plenty of sandwich shops in Little Italy where they lived, but Lois and Alan had a special turkey sandwich for "real turkey lovers" and they were confident they could make their sandwich shop work. Capriotti's was franchised in 1987 and became very successful in Las Vegas, Nevada. Lehi now has its very own Capriotti's at 1881 W Traverse Parkway in the Harmon's parking lot. They are open from 10 a.m. to 9 p.m. Monday through Thursday, 10 a.m. to 10 p.m. Friday and Saturday, and 11 a.m. to 8 p.m. on Sunday.
Capriotti's still roasts whole, fresh turkeys for their famous sandwiches, the most popular being the "Bobbie" sandwich – roasted turkey, cranberry sauce, homemade stuffing, and mayo on a fresh hoagie bun. It's a delicious Thanksgiving feast on bread, a unique sandwich that made Capriotti's famous. The shredded roast turkey is very flavorful and the stuffing combined with cranberry sauce just puts this sandwich in a category all its own. There are several other sandwiches with the in-house roasted turkey, like the Cran Slam Club with roasted turkey, ham, lettuce, cranberry sauce and mayo, and the Cole Turkey with roasted turkey, coleslaw, provolone cheese, Russian dressing, and mayo. They truly are a turkey lover's dream come true.
Capriotti's is almost as famous for their hot subs as they are for fresh roasted turkey. Their most popular hot sandwich is the Capastrami – grilled pastrami, coleslaw, Swiss cheese, and Russian dressing on a soft hoagie bun. The pastrami tasted so fresh and there was just the right amount of coleslaw and sauce. It's the pastrami connoisseur's new favorite sandwich. Capriotti's also offers a meatball sub with homemade meatballs topped with marinara sauce, provolone cheese, and grated Romano cheese that is out-of-this-world.  All the sandwiches at Capriotti's come in 6-inch, 9-inch, 12-inch, or 20-inch sizes and range in price from $4.99 for most of the 6-inch sandwiches to $16.99 for the most expensive 20-inch sandwiches. Capriotti's also has a variety of salads for $8.49 and soups for $5.99 a bowl. Any sandwich can be made into a combo with chips and a drink for $3.29.
The Capriotti's in Lehi has limited seating in their relatively small location. The service was quick and cheerful, and the employees maintained a clean and welcoming dining area. There was a large flat-screen TV on a sports channel during the weekday lunch hour. Capriotti's has a catering menu as well.