Restaurant Review: The Rising Bun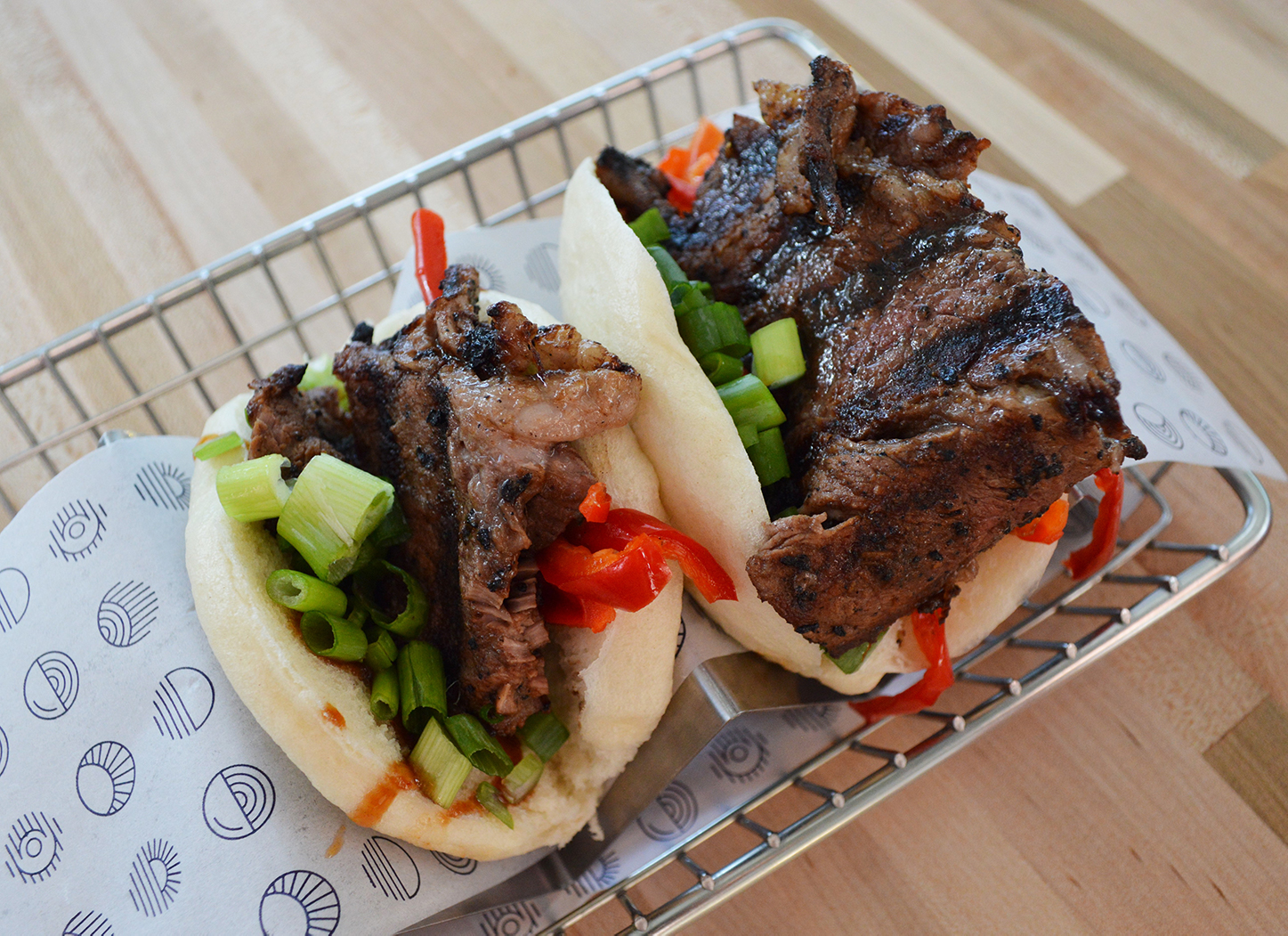 There is a new option for Asian cuisine in Lehi with something the others don't have; a steamed bun. The Rising Bun, 3725 N Thanksgiving Way, Suite A, has a menu full of wordplay as well as "misfortune" cookies.
The star of The Rising Bun's menu are their steamed buns – street taco sized, super-soft buns with a protein and spices tucked into them. The steamed buns come in pairs and cost $5.95. They are too small to be an entrée, but they are not listed as an appetizer. We tried The Supreme Leader – marinated beef short rib, pickled red peppers, scallions and hoisin sauce on a steamed bun. The Supreme Leader has a great spicy kick and the short ribs were tender and delicious. The steamed bun doesn't really have a flavor, but the texture with the ribs and crunchy peppers and scallions was nice.
The other bun we tried at The Rising Bun was the Krispie Yum-Aguchi, curry fried chicken, pickled mustard seeds, shaved fennel with Thai coconut crème. The chicken was cooked perfectly, but the rest of the items in the steamed bun, including the bun itself, had no flavor. The Krispie Yum-Aguchi looks great but tasted bland.
When we ate at The Rising Bun, the fast-casual restaurant had only been open for two weeks. The Banh Mi portion of the menu was unavailable at that time. The small sandwiches on baguettes have names like Banh Stockton, Banh-athan Taylor Thomas, and Banh F. Kennedy. The sandwiches cost $6.95 each. The Banh Mis are a signature item at The Rising Bun, so it was disappointing not to be able to try them.
The employees at The Rising Bun suggested the Christina Ahi-Lera poke bowl when we asked for a recommendation. The bowl had raw, soy-marinated ahi tuna, mango, pineapple, scallions, mint, sliced almonds, Thai chilies, and Thai coconut crème. It was a beautiful bowl of food. The poke bowls are $11.95, and they are smaller than rice combination bowls at other restaurants. We found the Christina Ahi-Lera suffered from the same blandness as the Krispie Yum-Aguchi, but the individual ingredients were fresh-tasting.
The Rising Bun restaurant has a cheerful, simple atmosphere with bamboo or marble-topped tables, brass chairs, and navy-blue accents. We had to wait for our table to be wiped down, and the wait for the food was longer than we expected. It may be a few more weeks before The Rising Bun in Lehi lives up to the dining experience at other locations of the restaurant.