Lehi Junior High students compete in national FBLA competition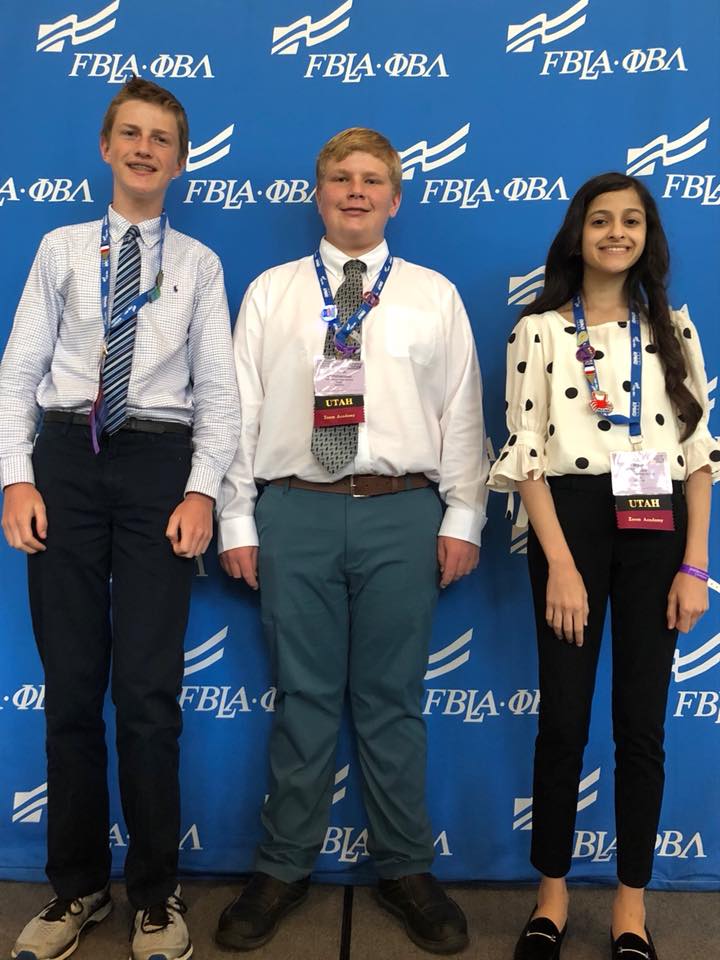 Three Lehi Junior High School students took a break from their summer and went to the Future Business Leaders of America (FBLA) National Leadership Convention in Baltimore, Maryland, from June 28 – July 1. Noor Majeed, Ben Ludlow, and William Christiansen qualified to compete at the national level after presenting their service project at the state competition in March 2018.
Majeed, Ludlow, and Christiansen organized a code boot camp for elementary school students attending Sego Lily Elementary after school in October 2017. For four weeks, the three junior high students taught 40 Sego Lily students basic programming using the website code.org. At the state FBLA competition in March, Majeed, Ludlow and Christiansen gave a five-minute presentation on their service project and qualified for the national competition. "I learned new problem-solving techniques and I feel like I'm a better student now that I've had a chance to teach," said Noor Majeed, who served as FBLA Vice President at Lehi Junior High during the 2017-2018 school year.
The state and national FBLA competitions include the opportunity to take open tests in four different subjects. There are open tests for individuals as well as groups. Noor Majeed took first place in the individual Business Communications test. "I took a workshop class at the convention on public speaking – how to not get nervous in front of people. The teacher told us to focus on what I want my audience to know, not what I'm being judged on. That really helped me stay calm," said Majeed. She, Ben Ludlow, and William Christiansen competed in the Service Project presentation but didn't end up placing. Majeed is excited to come back and apply what she learned from not winning. "FBLA has been really fun – I've learned a lot and I'm looking forward to being part of it in high school," said Majeed. She will be a ninth grader at Skyridge High School in the fall. Majeed plans to major in business and computer science when she gets to college.
Kristal Christiansen and Tiffany Quintero are co-advisors of the FBLA program at Lehi Junior High. "Our program is growing and every year we get better. FBLA has been successful because of the administration support of our students and their growth in the traditional classroom and through extracurricular activities," said Christiansen.