Heritage Day Honorees: Kim and Dave Butterfield & Philip and Mickie Black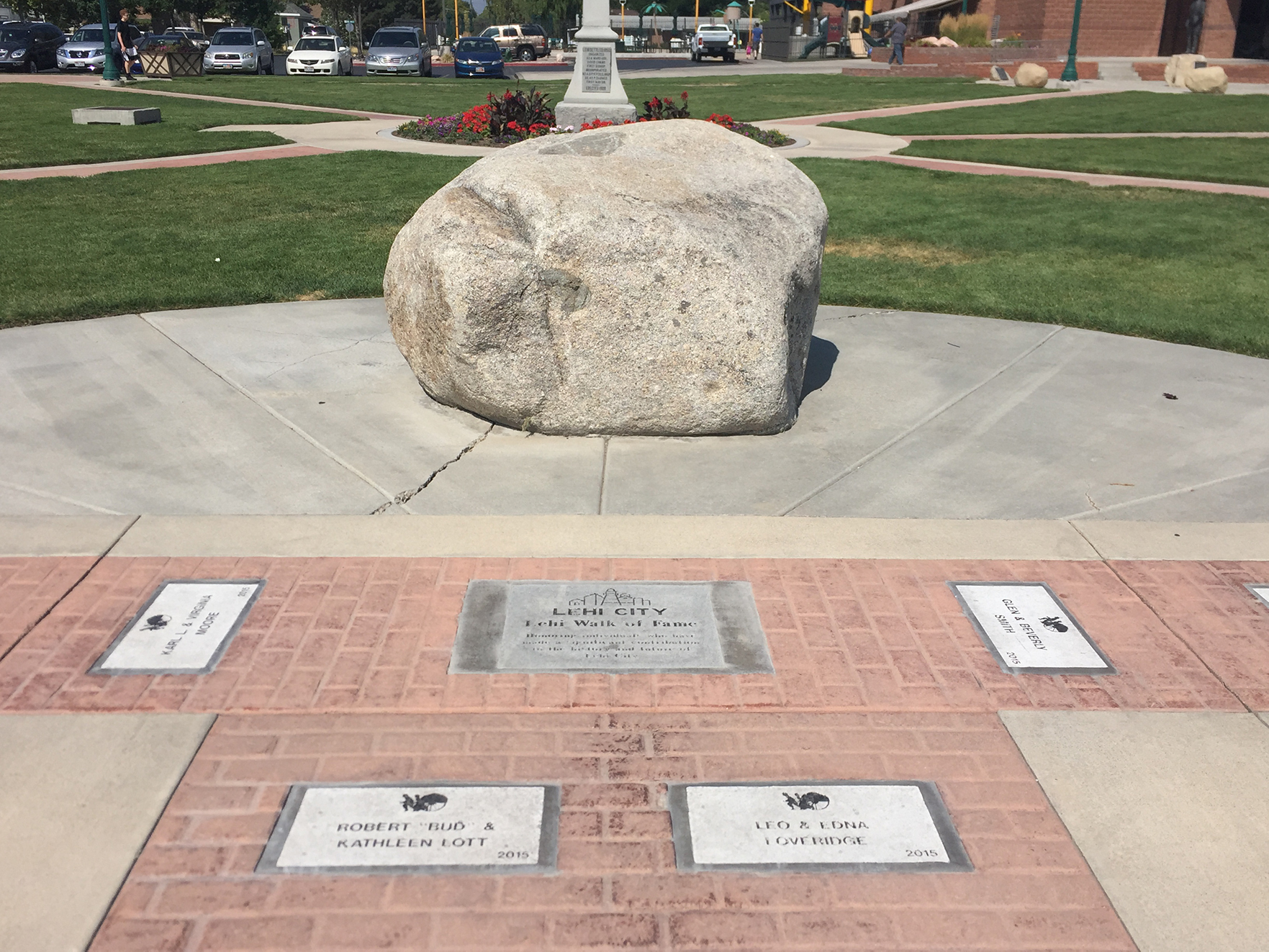 Dave and Kim Butterfield honored for preserving Lehi history
When Dave Butterfield's parents moved into their Lehi home, a great historical work was ignited.
Bernice Butterfield was happy and content when memories of her youth surfaced but would become discontent and confused when she couldn't remember the present. She would say, "I need to get out of here! I want to go home!"
With those thoughts voiced frequently, an idea was born.
Lehi natives Dave and Kim Butterfield constructed on their North Bench property, 1170 E. 3200 North, a replica of a small cabin and furnished it with household items from Bernice's childhood. They included items like Bernice's first iron bed, a Hoosier Cabinet, icebox and Heartland cookstove, which belonged to Kenneth and Lucille Hatch, Bernice's parents.
Family members and caretakers would take Bernice into the cabin where she happily spent hours reminiscing. The sanctuary provided a means for Bernice to "return home" and visiting in the cabin allowed her grandchildren to know and love their grandmother. She wasn't just an old woman with Alzheimer's disease. She became a vibrant young mother with hopes and dreams. It provided a place to bridge generations and to build strong and long-lasting relationships.
The shaded yard with trees and flowers that Bernice had planted and Kim nurtured became a place to host family weddings, reunions, and parties. The cabin provided a historical theme, and the carriage barn was a step into the past. Each time the Homestead was shared, Kim and Dave became aware of the need to preserve historical artifacts from Lehi residents. It has become a mission for them.
Working with Norm Brooks, Sherman Bronson and Sandee McDade, David and Kim have stepped in before developers and salvaged what could be rescued. They have acquired old sheds and used materials, working hard to replicate originality and retain authenticity with each acquisition.
They have obtained pieces of farm equipment, such as a grain thresher dated as early as 1899, a tractor-drawn corn binder, a tractor-drawn combine, a 1949 Model B John Deere tractor and a 1942 one-ton Ford truck. The Ford was retrieved from Carter's Creek. As Kim cleaned the truck, she discovered a 1963 vehicle registration with the name of her great uncle, Jack Daley of Lehi.
Since the passing of Dave's parents, much has been added the Butterfield Homestead, which stands as a monument to Lehi residents who lived, loved and made this city a beautiful place to live. They have replicated "Jiggs Saloon" as well as a jail and sheriff's office. In the future, there will be a post office, general store, barber/dentist shop and a wash house. Each reclaimed article has the name of the past Lehi resident labeled on their salvaged/donated item.
It has become their goal to share their collection with local schools, so children studying Utah History can visit and step into the past.
Both David and Kimberly were born and raised in Lehi, attended Lehi schools, and met at Lehi Junior High. They raised their six children, including two sets of twins in Lehi and will always include their first child, Johnathan, a stillborn, for a total of seven children. Dave owns Butterfield Masonry. For 15 years, Kim taught at Smart Start Preschool in Lehi. Her specialty was helping students who struggle, creating individual learning programs.
As part of Lehi Heritage Days, memorabilia displayed at Butterfield Homestead is open for tours from 4-7 p.m., on Sept. 3. Visit the Butterfield display at the Legacy Center, pick up a card and then come, step back in time. Do some laundry with the washboard, see how butter was made, taste some homemade bread and cookies, tie a quilt and learn how life has changed over the past century. Everyone is invited free of charge.
Phillip and Maxine Black make their mark with rodeo, community service
When Phillip and Maxine (aka Mickie or Alice) Black needed better employment in the 1960s, they were encouraged to come to Lehi. It turned out to be the best decision they ever made.
"We will always count our years in Lehi as the best years of our lives," said Mickie, "and it will always be home to us. It is the best place, with the best people we could wish for. Thanks, Lehi, for our best years."
Mickie was born on a farm in Mayfield. Her mother, Vanessa Hill, was originally from Lehi and was the daughter of Leah Peterson and Lawrence Hill. Mickie graduated from Manti High School in 1952.
Phillip was born in Salt Lake City but lived in several places in Utah with various foster families. In 1952, he lived in Centerfield and attended high school in Gunnison.
The couple met in an apple orchard in Mayfield. They were married July 14, 1952, in the LDS Manti Temple. Phillip was a farmhand, and Mickie worked as a seamstress at a local business sewing dresses and bonnets. That is when the encouragement to come to Lehi opened the door to a full life in our community.
Phillip went to work at the Tooele Army Depot, and the couple moved into the upstairs apartment of Bill Evans' apartment house at 192 N. 200 West. In April 1953, Phillip was drafted into the army for the Korean conflict and spent most of his time in an armed battalion in Germany. He was discharged from the military in 1955 and went to work for Mountain Bell Telephone Company and later for the federal government.
For 13 years, Phillip served as the judge for the Lehi City Justice Court. In his spare time, he was an auctioneer, rodeo announcer, rode for the Lehi Cattlemen's Association, drove draft horse teams for Thanksgiving Point and participated in the American Legion Post 19.
A long-time member of the Lehi Riding Club, Phillip served on the Round-Up Celebration Committee as the co-chair, and later as chair for the Cowboy Poetry Gathering from 1989-2004. Phillip, along with Dick Cook of Cedar Fort and Eric Jorgenson of Lehi, started what would become the Lehi Longhorn Rodeo Club in 1967. It was the second high school rodeo club in Utah. In 1969, Phillip was the announcer at the first All-State High School Rodeo held at the rodeo grounds in Lehi. Fifty years later, hundreds of students at Lehi High School have participated in the Longhorn Rodeo Club.
Mickie began working as a dental assistant first for Dr. Bill Worlton on Main Street in 1953, and later for Dr. Kent Davis. She worked with Dr. Davis for the rest of her 42-year career. While working for Dr. Davis, she assisted him in organizing the miniature float parades for the yearly Lehi Round-Up celebration.
She waitressed at the Lehi Café (when Pearl and Buzz Halliday owned it), and Evans Café (for Alta Clark) on Main Street. Mickie continues to be an active member of the Letitian Club, where she has helped with parade floats and Sub-For-Santa projects. In 1983, Mickie ran for City Council on the ticket with Bud Ellison and Guy Cash. She served in four Relief Society presidencies, and as a teacher and president for Young Women's programs at both ward and stake levels. Finally, Mickie served as a pink lady at American Fork Hospital and as a volunteer at Lehi Family History Center.
The couple lived at 35 N. 500 West for 54 years, where they raised their three children: Madge Neel (deceased), Wayne Black and Angie Black Thompson. They moved to Eagle Mountain in 2006 to assist a family member.