Couples celebrated for vast community service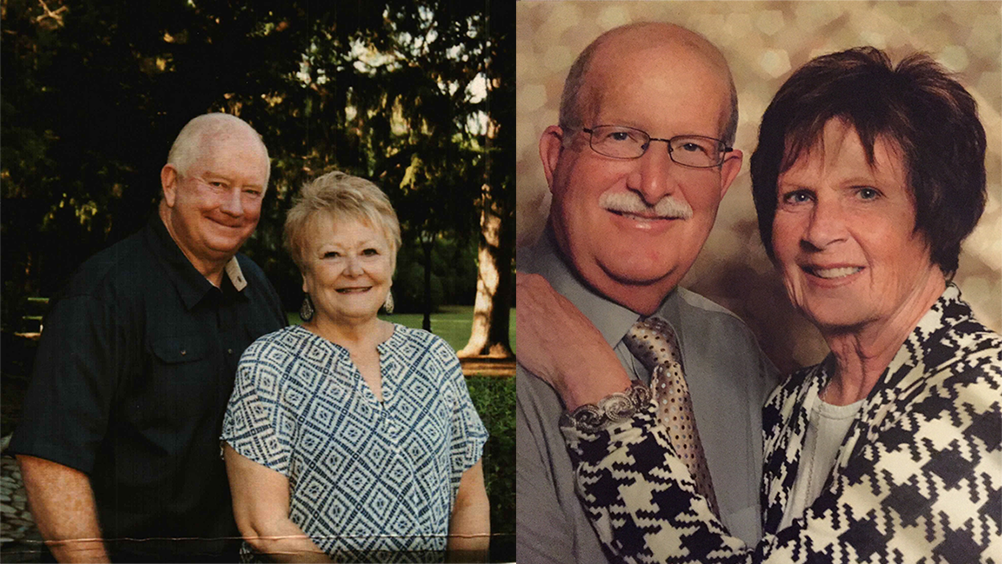 Lehi is a great place to live. Much of that is because of the incredibly service-oriented people who have helped make Lehi what it is today.
Every year 10-12 inspiring Lehi couples are honored on Lehi Heritage Day for their service to the community. The Lehi Free Press will be highlighting these couples in the weeks leading up to the big event on Labor Day, Sept.3. The community is invited to this free event to celebrate the honorees and learn about Lehi's fascinating history. Today, we celebrate Dale and Karen Ekins and Bert and Taunya Wilson.
Lehi Heritage Day begins at 2 p.m., when the honoree couples will appear in the Showcase Parade up Main Street from 400 East to the Legacy Center. There, each couple will be honored in a short program and presented with their own brick in the Walk of Fame Garden in front of the Legacy Center at 123 N. Center Street.
Afterward and until 7 p.m., historical displays will be presented, exhibits, activities, a car show, and homemade hamburger and hot dog meals will round out the day. Located inside and out of the Legacy Center, this year's Heritage Day theme is "Early Industry." The car show will be held in the parking lot just east of the Legacy Center and will be free to enter.
The events are presented by The Lehi Historical Society and Archives. All proceeds benefit the Archives and the group's mission to preserve Lehi's past. Call 801-768-1570 to enter the car show or for more information.
Dale and Karen Ekins give back as business owners and public servants
Dale and Karen Ekins, both lifelong citizens of Lehi, have been quietly serving the community for more than 60 years. They attended Lehi schools from elementary to high school and graduated from Lehi High in 1966 and 1967, respectively.
Together, they have owned and operated four successful Lehi businesses: Lehi Drug Company, Livestock Health Supply, Reams Western Tack and Togs and, currently, Pioneer Party and Copy on Main Street. Dale worked side by side with his father Abe Ekins at the Lehi Drug Store, where Abe was the owner and pharmacist. Dale graduated from BYU in Business Management, and eventually took over the business with Karen always by his side.
Many Lehi residents have fond memories of Lehi Drug's penny candy, ice cream bar and soda shop. In 1995, Dale sold the pharmacy and changed the name to Pioneer Party and Copy. He continues to operate the store and is a member of Lehi's Chamber of Commerce.
Dale began serving as a volunteer firefighter for Lehi in 1972. He spent many nights out west fighting fires, hanging onto the back of the fire truck and getting home late, just to go to work in the morning. Middle of the night calls were common at the Ekins house, and Dale's buzzing pager was an often-heard sound.
In 1995, Dale became the chief of Lehi Fire Department. He successfully transitioned the city from a small volunteer fire department serving 8,000 residents to the full-time department coupled with paramedics that serve Lehi today. He was instrumental in finding and purchasing the new sites for Lehi's second and third fire stations. He retired from Lehi Fire Department in 2014 with more than 40 years of service.
Dale is an active member of the Lehi Rotary Club, where he has served in multiple capacities, including as President from 2016-2017. He enjoys giving back and serving with the club and embodies their motto, "Service Above Self." He is currently serving as Secretary of this service organization.
As a member of The Church of Jesus Christ of Latter-day Saints, Dale has served in several capacities including many bishoprics and committees. As a young man, he served an LDS mission in Scotland.
As a stay-at-home mom and quiet supporter of her husband and children, Karen was heavily involved in scouting, youth community sports, PTA and church callings. During the high school years of her children, she was a fixture at Lehi High School's football, basketball, wrestling and drill team events. When her children had grown, she worked for Metrix Cabinet Design, where she excelled as a kitchen designer for 15 years.
Karen was the Young Women President in her ward for many years and served as Stake Young Women President. During that time, she mentored many youth, making a huge impact on the young women in the community.
Karen was on the Lehi Parade Committee for several years as a judge and entered a float into the Miniature Parade almost every year. She tied thousands of pom-poms and sewed many costumes, always producing an award-winning float. Karen is very creative and is the mastermind behind a lot of the unique gifts and sayings that are sold at Pioneer Party and Copy today.
Dale and Karen were married in 1970 and have raised five children. They have seven grandchildren, and between the two of them, they hardly ever miss a grandchild's sporting event, performance, or school event.
Coming from strong pioneer roots, the parents of both Dale and Karen have received the award of Walk of Fame Honoree at Lehi Heritage Day. Both have ancestors who founded Lehi City, including the Bushmans, Kirkhams and Briggs.
Bert and Taunya Wilson honored for City service, Round-Up contributions, and more
Bert and Taunya Wilson have spent countless hours serving Lehi, and they've done it in a myriad of ways.
The former mayor of Lehi, Bert was a member of the Lehi Volunteer fire Department for 22 years. Known to respond to alarms with bare feet and wearing nothing but his coveralls and a smile, Bert made many lifelong friends responding to fires and emergencies.
For more than 40 years, Bert served on the Civic Improvement Association (CIA), which plans and presents the Round-Up Rodeo each year. He served first as a committee member, then as a director and, finally, as vice president until he resigned in 2016. A true lover of the rodeo and Lehi traditions, Bert felt it an honor to serve in this association.
Taunya was also a member of the CIA. Her responsibilities included traveling to local radio and television stations with the rodeo queens and others to promote the rodeo. She also served on the committee and as director of the Miss Lehi Pageant.
When Bert and Taunya's children were young, every Round-Up celebration meant float building for the Miniature Parade. Taunya has built floats for many wards and businesses when they were made from miles and miles of curled crepe paper (and many blistered knees), to today's floats made with pom-poms and petal paper. Many costumes and banners were sewn by her, and the floats were creative masterpieces.
Together, the couple chaired the Lehi Interfaith Christmas and Easter celebrations. Many hours were spent collecting and arranging creches and displays. Choirs of all faiths participated. Bert arranged for live nativity animals, including camels, to be part of the production. These presentations brought many families together no matter how cold or stormy the night. The audience grew, and the event expanded to include charitable opportunities to help those less fortunate.
Bert was elected to Mayor of Lehi in 2009 and served from 2010 through 2017. He loves Lehi and the people. He enjoyed working with diligent City Council members and a hard-working staff. He witnessed and helped manage the growth of the fifth-fastest growing city in the nation and was instrumental in acquiring funding for several major road projects and infrastructure. Under his leadership, Lehi became a hub for many new businesses and large corporations, creating thousands of job opportunities.
Mayor Wilson strived to keep the traditions of small-town Lehi alive while seeing the city grow dramatically. He appreciates the diversity and opportunities that stem from growth, but his hope for Lehi has always been that the city will be unified, steeped in tradition and remain a great place to raise a family.
For his outstanding dedication to scouting, Bert received the Silver Beaver Award and the prestigious NESA Outstanding Eagle Scout Award. Taunya worked as a secretary for Alpine School District for 25 years. She said it was like being the grandma to thousands of precious little people.
Bert worked for U.S. Bank, Capital Bank and Zions Bank before becoming a partner at Aspen Mortgage in American Fork. He "retired" in 2014 to devote more time to serving Lehi. He is on the board of directors for Mountain Point Medical Center.
Bert was born in Roosevelt and moved to Lehi when he was seven. His parents are Melvin "Keb" and Flora Bastian Wilson. He attended Utah State University and served an LDS mission in Helsinki, Finland, from 1969-1971. Taunya Turner Wilson was born in Lehi to Wesley and Joyce Morton Turner.
The couple is beyond proud of their four children and spouses: Wade and Amanda Hardman, Brad and Leslie Bateman, Shelli and Chad Yates, and Drew and Teisha Berry. They have 14 grandchildren.
The couple currently serves at the LDS Mt. Timpanogos Temple.