Skyridge wins in first battle against Lone Peak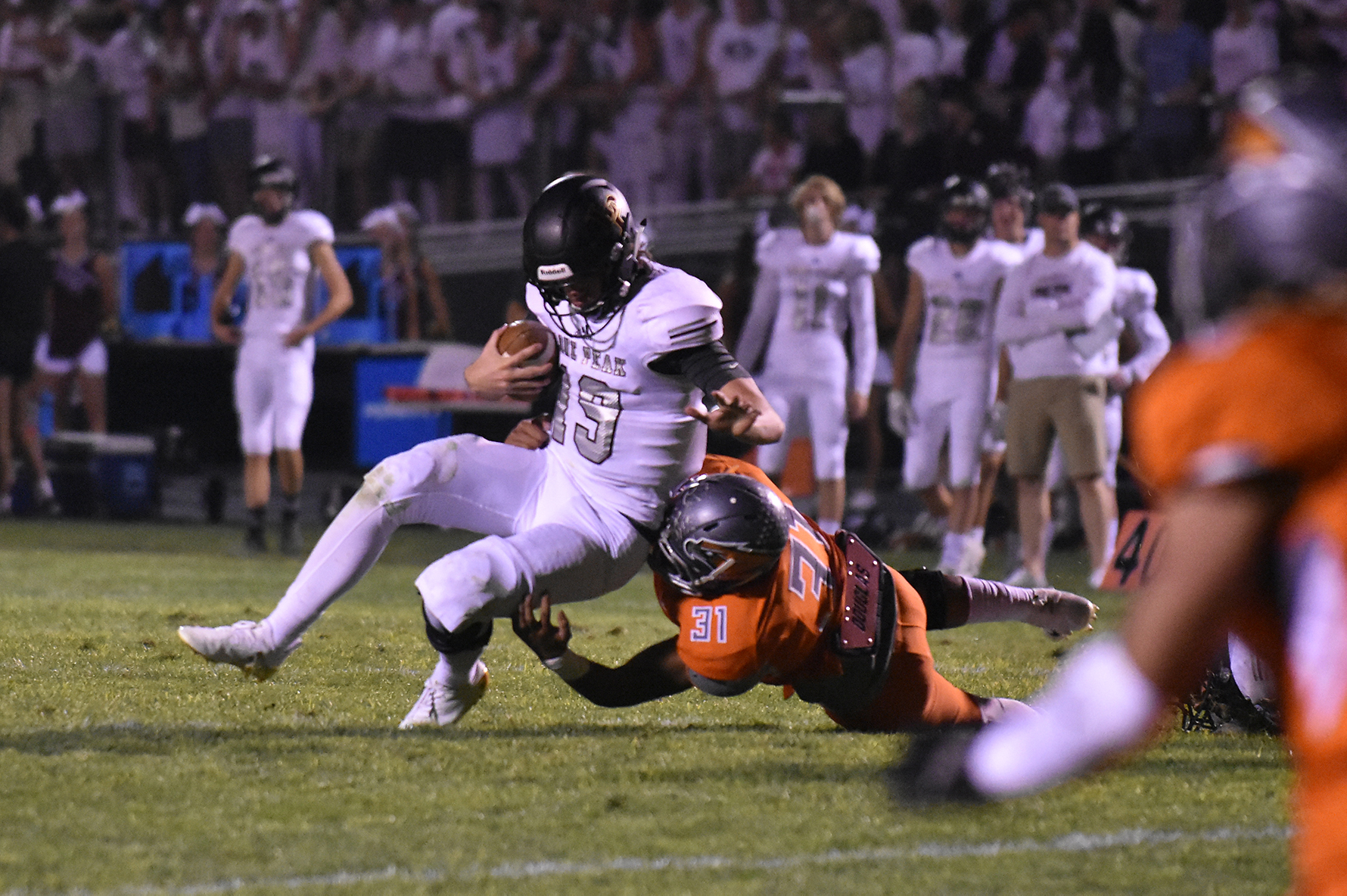 History was made this week as the Skyridge Falcons faced the Lone Peak Knights in a first-ever football battle that did not disappoint. The whole Skyridge community celebrated their first home game this season with an exciting Falcon victory.
The win was sweet but came with great effort. The Falcons scored early with a three-yard run by Ma'a Notoa on their first drive that led to an 11-yard TD pass from Jayden Clemons to Dylan Samuels. The Knights came back hard with a TD pass by QB Braden Siri. Lone Peak tied the game right before the half with a blocked punt that went into the end zone and was recovered by Michael Daley for a score. At the half, the score was tied 14-14.
In the third quarter Clemons threw a 23-yard pass to Nathan Upham which put the Falcons in field goal range. Falcon kicker Connor Harris completed a 32-yard field goal for a 17-14 lead.  QB Jayden Clemons did an excellent job making reads and executing plays. Skyridge defense impressed with tackles and plays by defensive players Alex LaFord, Payton Ainsworth, Mitchell Sampson, and Ty Arrington. The biggest stop came with under 10 minutes remaining in the game. Lone Peak was leading and took over at the Falcon 20-yard line after a high snap went over the head of the QB. Skyridge's Stone Mulitalo sacked the Lone Peak QB on third down and prevented a score.
Skyridge Head Coach John Lehman said, "I'm proud of how our defense didn't get down when put in bad situations. They just played football."
The final score was 24-21 for the Falcons. Skyridge Head Coach John Lehman attributed the win to the team's energy and execution.
Falcon fans also didn't let up as they cheered their team to a glorious victory. The stands were filled and there wasn't an empty bench in the stadium as the enthusiastic crowd spilled over to the grass.