Falcons take win with 28-20 victory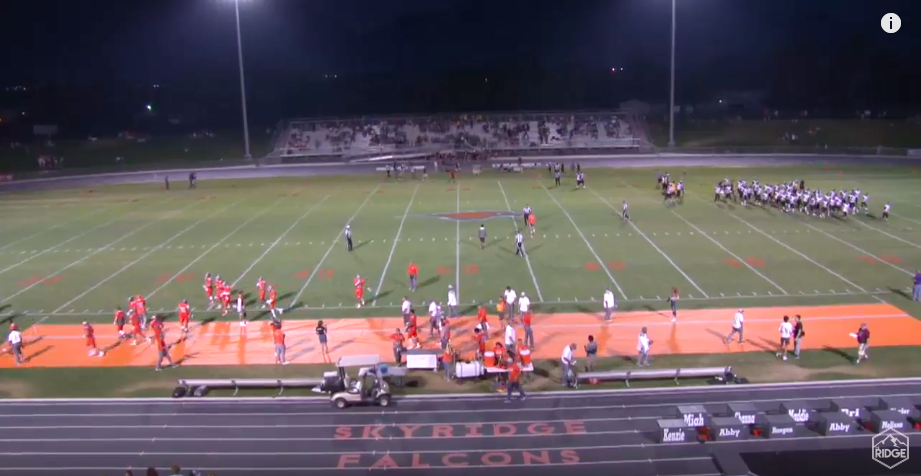 The falcon is a symbol of success, victory, and rising above a situation. The Skyridge Falcons did just that as they took on the Royals in Roy last Friday night. The Falcon defense dominated early in the game and led the team to another Falcon victory.
The Royals offense showed skill and speed and as they intercepted a long pass attempt by Jayden Clemons early in the game. The Skyridge defense quickly recovered as Mitchell Sampson sacked the Royal's quarterback. That sack inspired the Falcons to energize and rise up as Clemons connected with Nathan Upham for a 35- yard reception. Ty Arrington capped off the drive with a 12- yard touchdown catch. The Falcons had a 7-0 lead early in the game.
The Falcons energy and defense dominated with a fumble recovery by #52, Stone Mulitalo, which led to another touchdown as Upham caught a 25- yard pass. Upham further upset the Royals with an interception leading to a touchdown, creating a score of 21-0 for the Falcons. The Royals defense came back hard as McQuade Andrade intercepted a Falcon pass. Falcons are birds of prey and #41, Josh Covey showed his hunting skills as he blocked a Royals punt which led to another Falcon touchdown by Jaxon Peck.
The Falcon defense played tough with skill and speed. Blayden Togiai had three sacks and defensive players Mulitalo, Loholani Raass, and Tai Tonga pressured the Royal offense throughout the game.
Falcon head coach, Jon Lehman told his players "We tried to arrange a difficult non-region schedule with tough teams for learning and improvement."  Lehman added, "The Falcons overcame challenges and grew as they played a tough game with a great Roy team."
The 21-0 score at half time energized and excited a loud Falcon crowd. The Royals played strong during the third quarter. Roy put 13 points on the scoreboard, but the Falcon defense put pressure on them. Clemons ran the ball for another Falcon touchdown. The Royals came back with a five-yard touchdown pass to Dionte Davis. The game was tense, and the crowds cheered loud for their team. The Falcons continued to prey on the Royals and earned a victory.
QB Clemons executed great passing plays and his running game was on point as well. The Skyridge defense was key to the 28-20 win. The impressive and well trained Skyridge team rose to victory in a challenging out of town game.