Lehi beats Maple Mountain in homecoming game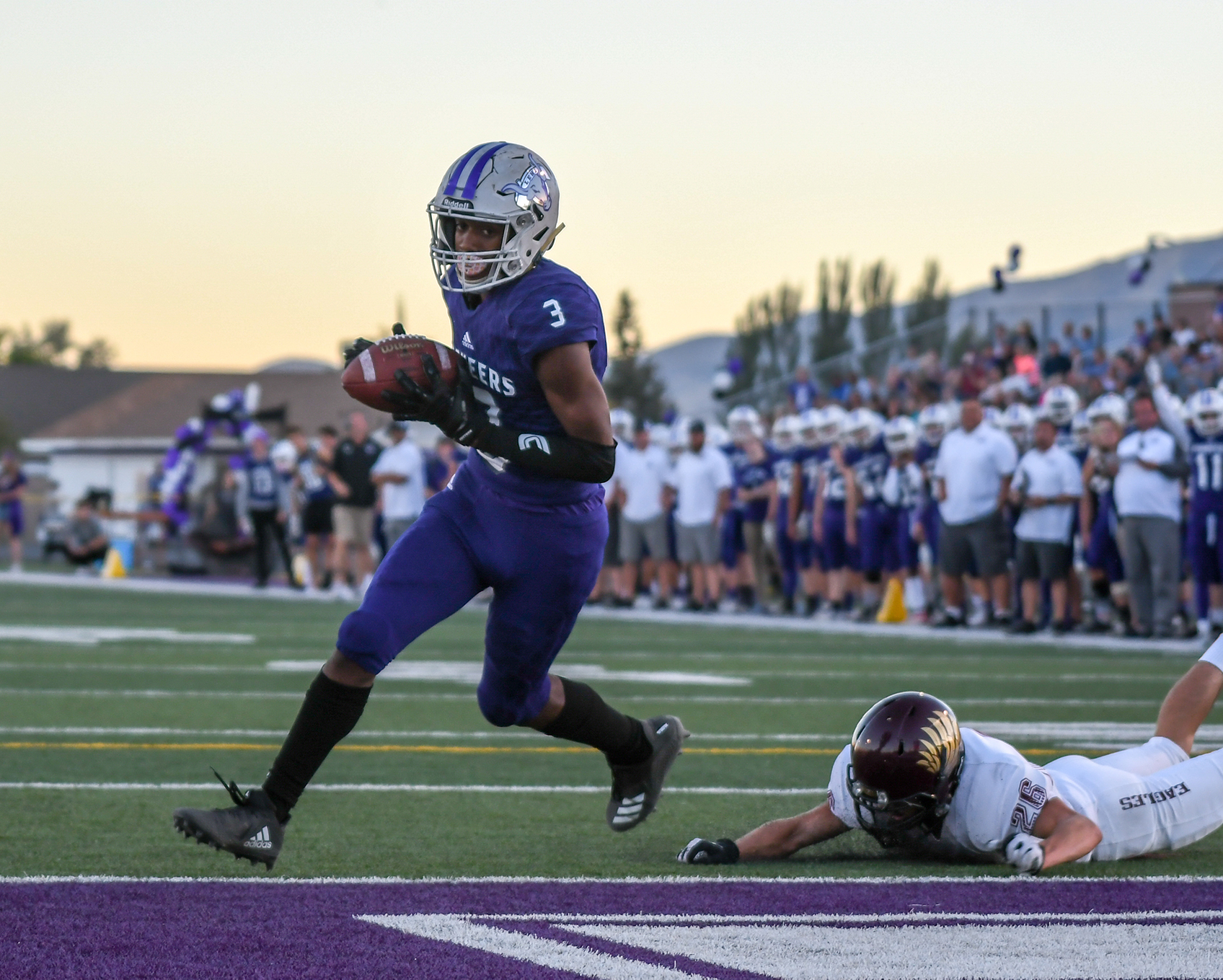 The Lehi High School football team kicked off the homecoming celebration Friday night in grand fashion by defeating Maple Mountain, 29-7. The game featured more turnovers than a Pepperidge Farm factory. In a three-minute span during the first quarter, the Pioneers intercepted a pass, fumbled the ball and then recovered a fumble. On the night, Lehi forced four turnovers and gave up two. The Pioneers had the game in hand early, leading 21-0 at the end of the first quarter.
Scoring Summary
Lehi received the opening kickoff, steadily moved the ball down the field and scored on a Carsen Manookin 4-yard run. Three minutes later, Manookin shot through the gap created by the offensive line, eluded a linebacker and defensive back and outran the rest of the Maple Mountain secondary to the goal line for a 34-yard touchdown. Only two minutes later, quarterback Hayden Betts completed a 15-yard touchdown pass to Gentry Cox. The Pioneers were up 21-0 with about a minute remaining in the first quarter.
The Golden Eagles got on the scoreboard midway into the third quarter on a 1-yard run. At the start of the fourth quarter, Lehi led 21-7. The Pioneers were awarded 2 points on a safety when the Golden Eagle long snapper put the ball over the punter's head early in the quarter. Lehi's last score came when Hayden Betts hit Josiah Westover for a 6-yard touchdown pass with about 5 minutes remaining in the game. The Pioneers missed the point after attempt, making the final score Lehi 29, Maple Mountain 7.
Defensive Summary
The Pioneers had an outstanding defensive game, forcing four turnovers and giving the offense favorable field position. In the first quarter, Harrington Ray recovered a fumble at the Maple Mountain 34-yard line and Christian Moody intercepted a pass at the Maple Mountain 28-yard line – setting up two of Lehi's scoring drives. Dax Smith and Dallin Green also had interceptions. On the night, the Lehi defense limited Maple Mountain to 53 rushing yards and 84 passing yards – giving up only 8 first downs.
The Pioneers are now 2-3 on the season and open region play Friday at 7 p.m. on the road against the Olympus Titans. The Titans are undefeated on the season. They are averaging 49 points a game while limiting opponents to 6 points a game.
This slideshow requires JavaScript.