Business leaders and Eaglecrest community honor Ray Humpherys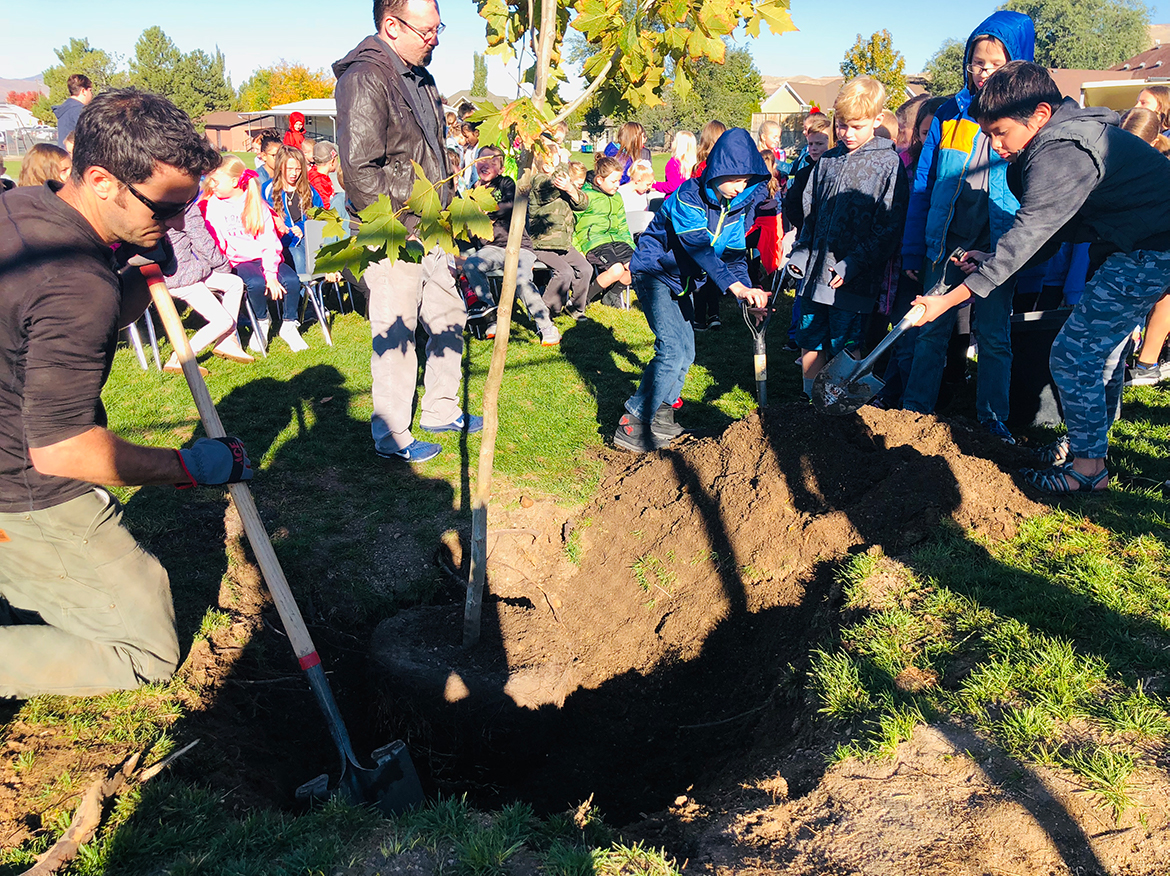 Ivory Homes and IM Flash make donations
This past summer, beloved teacher Ray Humpherys passed away unexpectedly after going missing during a family camping trip in the Wasatch-Cache National Forest. A large search effort was conducted, and later news of his death prompted past and present students to decorate the walls of Eaglecrest Elementary School, where Humpherys taught physical education, with paper hearts and loving tributes to Humpherys.
While the tributes placed in the summer before school began could not remain permanently, the Eaglecrest community recognized that a permanent memorial to Mr. Humpherys would be appropriate.
Working with Eaglecrest Elementary school leaders, David Broadbent, COO of Utah home builder Ivory Homes, suggested planting several trees on the school campus to honor Mr. Humpherys. Broadbent's children attend Eaglecrest Elementary. On October 16, Eaglecrest students and leaders, along with Broadbent and representatives from non-profit Tree Utah, planted five new trees. According to Broadbent, "it seemed natural to honor Mr. Humpherys' legacy by planting these trees and to involve the children who were so important to him."
In celebration of being a top home builder in Utah over the last 30 years, Ivory Homes has created an initiative to plant 30,000 trees in Utah. Tree Utah has partnered with Ivory Homes in the tree planting program. Ivory Homes will be planting trees throughout the state as part of their 30th anniversary.
School leaders were pleased to see the community come together to plant trees in Humpherys' honor. Assistant Principal Brad Greenwood said "Each grade level was able to participate in planting the trees, and students were invited to talk about what they remembered about Mr. Humpherys. Tree Utah talked about the importance of trees, and each of the kids were able to take part in planting and caring for the new trees." Humpherys love of the outdoors, and of educating children about the importance of physical activity and getting outside to play was remembered fondly.
IM Flash Technologies has also donated all necessary funds to build two walls on the Eaglecrest playground for the popular game of wall ball in honor of Humpherys. Construction began recently on the first of the two walls.