Dragons and fairies hijack Mull book launch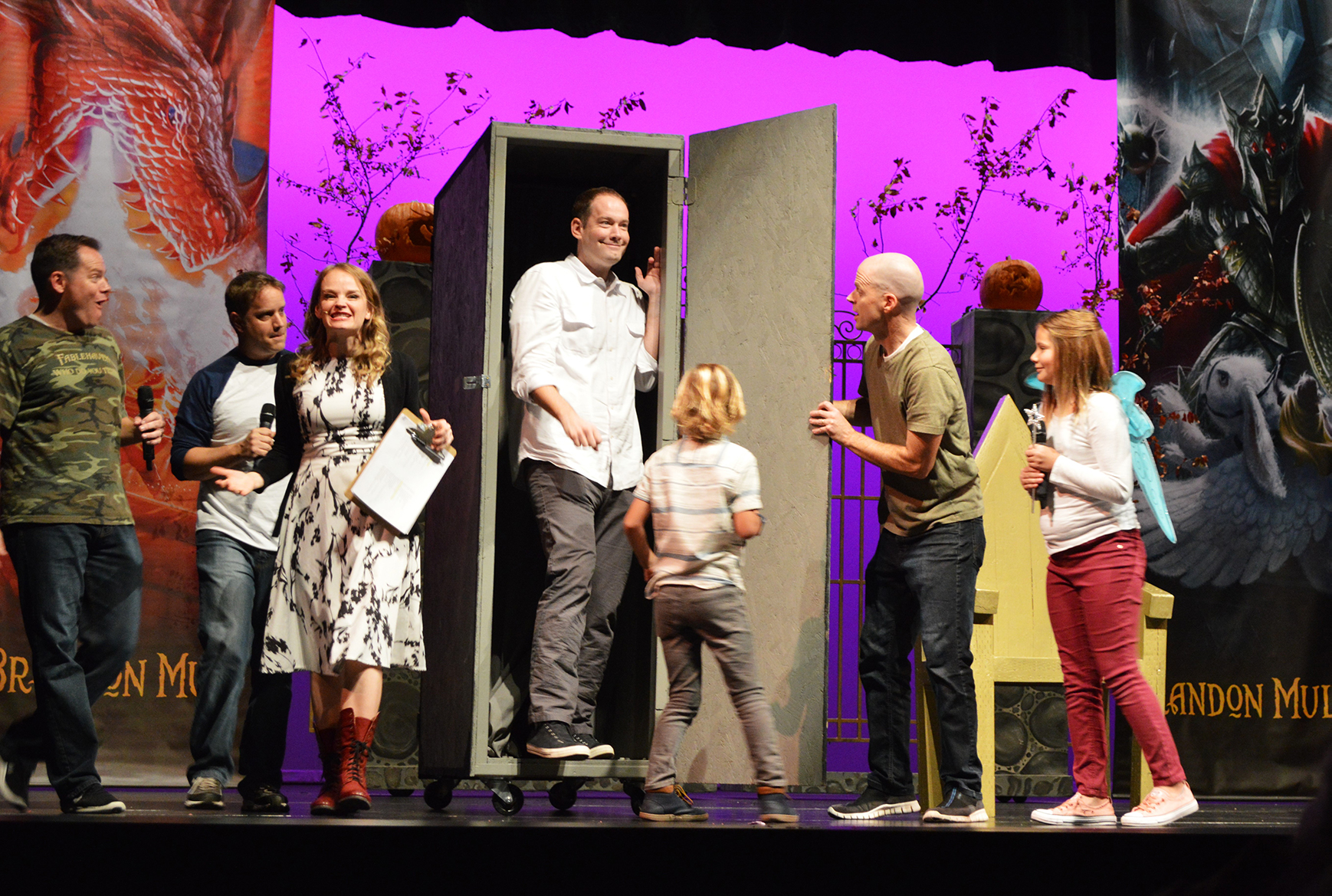 Shadow Mountain Publishing hosted a book launch show for Brandon Mull's Dragon Watch: Wrath of the Dragon King at Skyridge High School on Saturday, October 27. Mull's Fablehaven series was wildly successful with young adults, and led to the spin-off Dragon Watch series, which continues the adventures of Kendra and Seth Sorenson. The Skyridge auditorium was filled with loyal fans who caught all the inside jokes during the show and eagerly waited for a chance to get their books signed by Mull at the launch party.
"We like to make a big deal about Brandon's books," said Chris Schoebinger, Publishing Director for Shadow Mountain Publishing, and designer of the launch show. The show included other Shadow Mountain authors, Shelly Brown and Chad Morris as emcees, many members of Brandon Mull's family, aerialists, actors, and dancers, and even characters from Fablehaven and Dragon Watch. Ronadin, the Dark Unicorn from the book, tried to keep Brandon Mull from attending his own book launch by putting Mull in the Quiet Box and conducting a bogus Defense Against Dragons class especially for Fablehaven characters, Kendra and Seth Sorenson, played by Brandon Mull's children. To the audience's great delight, Harry Potter showed up for what he thought was a Defense Against the Dark Arts class.
When Brown and Morris finally figured out that Ronadin had put Brandon Mull in the Quiet Box, they traded Ronadin for Mull, which is how the ancient, magical prison works – it can only hold one prisoner at a time. Mull then gamely sat in the giant, throne-like chair that revealed true feelings with song lyrics, which revealed he was thinking of Michael Jackson's "Thriller." Mull and the rest of the cast danced the classic routine together.
"I am so happy to have another book out. Fablehaven has long been one of my very favorite cast of characters. It has been an amazing experience – it's the series that helped me quit my day job and become a full-time writer. I didn't know if I was ever going to write more Fablehaven books, if that was ever going to make sense, but Dragon Watch was my opportunity to do that," said Brandon Mull. "I realized I hadn't spent a lot of time at the dragon sanctuaries in Fablehaven and I wanted to write a story that explored that part of the Fablehaven universe. Dragon Watch is the further adventures of Kendra and Seth as they have all sorts of trouble at these dragon sanctuaries." Mull's new Dragon Watch series will be a total of five books, and Wrath of the Dragon King is the second in the series.
After the show, fans lined up to get autographs and talk to Brandon Mull in person. In the lobby of the auditorium, attendees bought Mull's books, as well as other Shadow Mountain Publishing books from the pop-up Deseret Book booths.