Once on This Island presented by LHS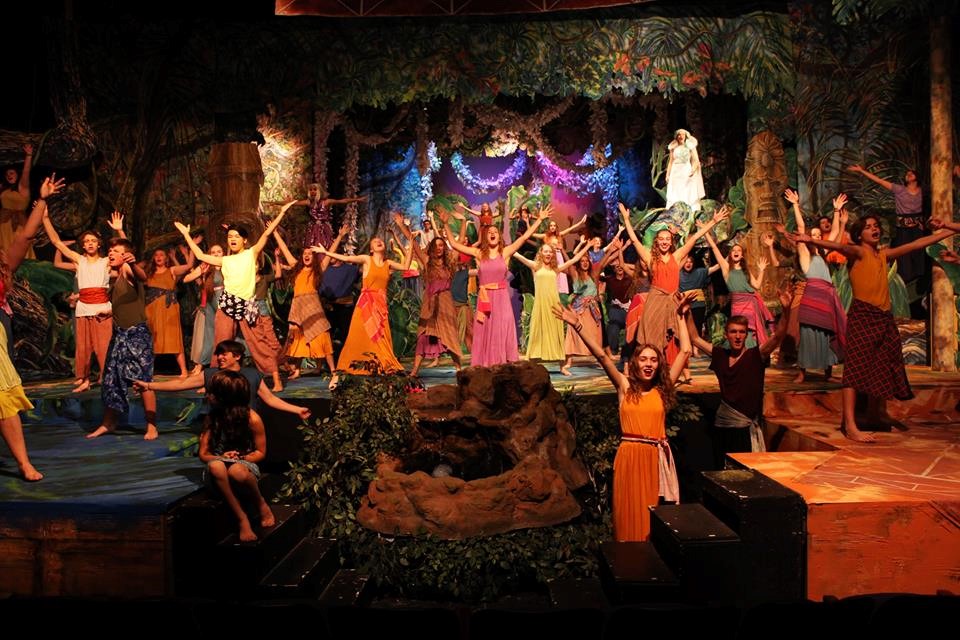 The fall musical at Lehi High School, Once on This Island, will run from Thursday, November 15, to Monday, November 19, at the LHS auditorium at 7 p.m. Artist Randy Blackburn has once again transformed the auditorium's stage, this time turning it into an island paradise, and the young cast under the direction of Mindy Nelsen, enthusiastically tell the ancient story.
"It's just a really beautiful story," said Nelsen. "Through a lot of trials and proving herself, the main character Ti Moune realizes that she is meant for something bigger. One of the central messages of this show is that it's possible for an individual to change the world."
Nelson has seen the musical many times and has been in love with the music of Once on This Island, but she was disappointed that Ti Moune turns into a tree at the end until a recent visit to the Polynesian Cultural Center in Hawaii changed her mind. "In the Samoa set at the PCC they explained that trees provide shelter, they carry the water for the people, they provide clothing and food – trees are everything to the people on the island. I finally understood that Ti Moune was becoming the lifeblood to her people when she turned into a tree. That's gorgeous!" said Nelsen.
During a trip to New York City with the Drama Department last year, many students in the cast were able to see the Tony Award-winning production of Once on This Island on Broadway. The LHS cast has a very different take on the musical, but the message and the symbolism are the same. "The four gods in this piece are all part of balance; where there's death, there is also life, where there's fear there's also love. They get to show through these characters of the gods that the world is in constant motion and constant balance," explained Nelsen.
The cast of Once on This Island includes brand new students to Lehi High School. Sophomore Haley Duckwitz is playing Ti Moune. "I didn't think I'd get a part and that was fine because I was just excited to work at Lehi in general. Their productions are always so much better than a high school production," said Duckwitz. "I auditioned for a different part and then I was called back for Ti Moune. I almost passed out when I found out I got the part!" Duckwitz was the lead in Willowcreek Middle School's production of "Thoroughly Modern Millie" last year and that was her first real experience acting on stage.
Haley Duckwitz and the rest of the cast studied Once on This Island during drama classes at school over the last few months. "The story is so well-built, the lyrics in the songs have so much meaning," said Duckwitz. Her favorite scene is the finale when they sing about why they're telling this story. "You gotta love yourself and even if things don't work out the way you think they should, what you do is paving the way for someone else. If it doesn't work out, it's not the end of your story."