Sixty- eight years together, Russons are an example of devotion, sacrifice, and service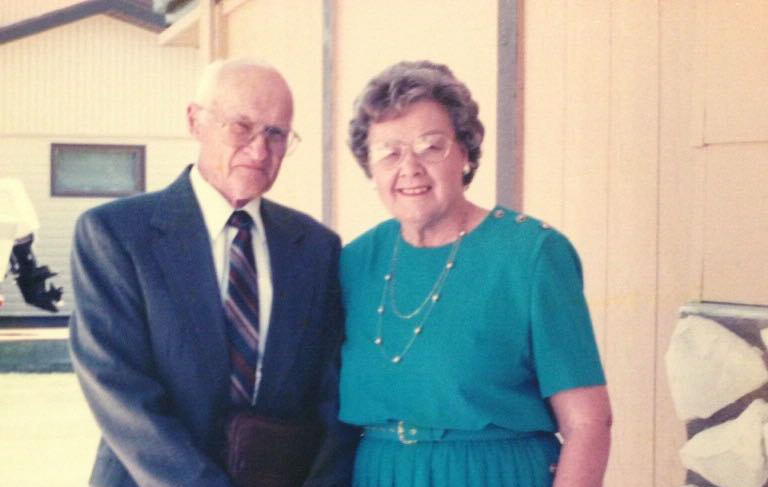 Stan Russon was born and nurtured on the northwest bench of Lehi. His family turned a sagebrush covered hill into one of the most productive farms in the area. His father Lott E. Russon and mother Fern J. Brown Russon taught their nine children to work hard, love God, and value learning. Stan served in the military during the Korean War and served a mission for the Church of Jesus Christ of Latter-day Saints in Arkansas.
Teresa was born in the Mormon Colonies of Mexico. She was one of 14 children. Her family learned to be self- sufficient. The family canned hundreds of jars of homegrown produce and sewed all their clothes. Teresa moved to Mesa, Arizona and worked at J.C. Penney after serving a mission for the Church of Jesus Christ of Latter-day Saints in Mexico.
Stan and Teresa met at a church dance in Mesa while Stan was working as a sign painter for a friend. Stan was 28 and Teresa was 27 when they married. They claimed, "We have been waiting for each other."
The Russons lived in Mesa for a time and then moved back to Lehi when Stan bought land from his father. With a hammer and saw, Stan built his home. He poured concrete for a basement and he and Teresa lived in the basement while they built the rest of the home. "It was a comfortable hole in the ground," said Teresa.
For many years Stan was employed as a sign painter. Many businesses displayed Stan's signature signs. While he didn't paint the original Peacock and Turkey brand flour signs on the iconic Lehi Flour Mill towers, he did repaint them. He did it while suspended on a small platform held secure by pulleys and ropes. "It was a scary contraption," says his daughter, Raelynn. He also painted the bucking bronco on the Lehi Rodeo grounds.
Stan used his artistic gift later on by doing architectural renderings for architectural firms. He was called upon to use his talents for roadshow sets, and ward plays.
Stan and Teresa raised six children on their farm, Darrel, Verlin, Virgil, Lynette, Rhonda, and Raelynn. Their garden was legendary. During the spring and fall, the family would work together to plant, weed, and harvest their acres of corn, potatoes, tomatoes, etc. The food was always "put away" for use during the winter months. Teresa sewed all the clothes for the family and baked all the bread. In fact, Raelynn remembers, "I was in school and the teacher wanted us to bring a bread sack to school for a project. We didn't have bread sacks, so we had to borrow one from a neighbor."
Stan retired and together, he and Teresa served four missions for the Church, in Puerto Rico, Chile, Switzerland, and New Jersey. Stan also served as bishop of the Lehi 4th Ward. Teresa has served as President of the Relief Society and Primary.
Even in the sunset of their lives, the Russons continue to be faithful in all they do. Several years ago, when Stan was 93, a neighbor needed some gravel shoveled to improve his driveway. Stan was the first one on the job. He worked the whole time. Many of the members of the group were amazed at his ability to work long and hard.
Today, Stan and Teresa, live a life dedicated to each other and their family. A sign hangs on the side of their home during each holiday with a meaningful quotation. These quotations are reminders of the lives these two have lived together for almost 70 years.