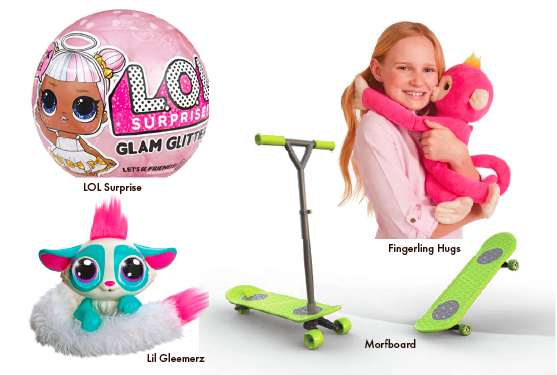 What—no Barbies, Tonka Trucks, or Schwinn Bikes?! If you are looking to find these traditional, under-the-tree favorites, you will not find them on the lists of trending toys this holiday season. According to Amazon, the toy industry and local retailers, the hottest toys reflect the changing nature of what youngsters find fun and intriguing.
One of the most requested toys is called "Lil Gleemerz." This toy is really a stuffed animal with a tail and eyes that light up. They can talk and play games and become a child's best friend. This toy is under $25 and is recommended for children four to eight years old. Gleemerz joins a class of pet-like toys that are responsive to voice commands, colors, and even light. Hatchimals, which have been on Christmas lists the last few years, are still popular today. Fingerling Hugs is another of this type of toy. They are made of soft plush fabric and have a long tail that can be wrapped around a youngster's arm or neck. Scruff-a-luv manufacturers have taken the Cabbage Patch idea and applied it to a plush toy. It comes as a matted ball of fur, that can be washed, dried, and groomed into a charming animal with adoption papers.
Another popular toy this year is "LOL Surprise," ranked number one in some polls. According to Business Insider, "This is the hottest toy in years. It combines the intrigue of a toy, but the child doesn't know which one until it is opened." Isaac Larian, CEO of MGA Entertainment who produces the toy, says, "It's the cuteness, it's the mystery, and the attention to detail." Sales for the LOL Surprise went from 600 million last year to four billion worldwide this year.
Young children have made "potty-themed" toys a hot item. There is Baby Alive Potty Dance, a doll who sits on a potty chair and tinkles. There is also a game called, "Don's Step on It," the object of which is to cross a large plastic rug dotted with doggy doo-doo and not step in any. The one who manages to cross without stepping on a brown glob is the winner. Another game cited as a "winner" is the Monopoly Cheaters edition. Players try to cheat, but if they get caught, they are hand-cuffed.
Prehistoric toys are still popular, like the Velociraptor Mask that roars, bites, and is very ferocious. Super Collossal T Rex is a huge plastic replica of the ancient monster.
Other trending toys, according to Toy Insider, are Morfboards that can be changed from a scooter to a balance board. Boxor and Ozobots are robotic toys that follow commands and react to colors. The Chow Crown is a crown that dangles treats in front of the crown wearer, and Grumblies is a ferocious looking creature that has temper tantrums. (Who needs a toy like that in a house full of kids?!)
If you are a traditionalist, many of these popular toys may not be for you. Most all require batteries and do amazing things that would not have been dreamed about years ago. Some of the toys may not be available at local retailers, but there is always the internet!