Skyridge Girls Basketball remains unbeaten in first game of region play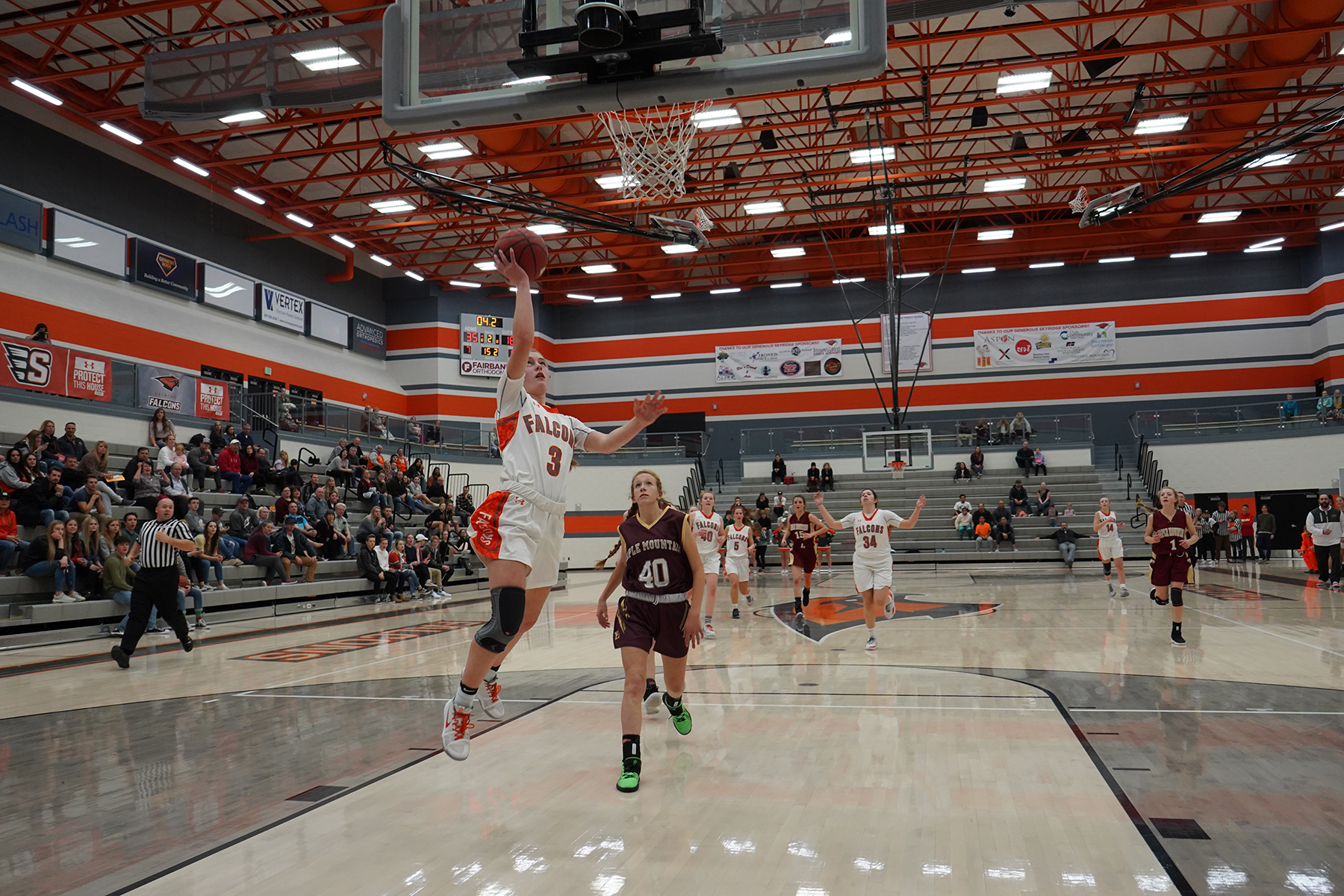 The Skyridge Falcons Girls basketball team turned in another impressive victory last weekend, beating the Maple Mountain Golden Eagles. The game was a wire-to-wire drubbing that saw the Falcons improve their record to 12-0 on the year. Skyridge won 74-43, leading by as many as 34 points during the game.
The first quarter looked nothing like the next three quarters. As the game started, neither team could make a bucket. Skyridge forward Nala Fainga eventually got inside the paint and scored to give the Falcons an early 2-0 lead. Both teams' offensive struggles continued throughout the quarter, with Skyridge managing to claw their way to an 8-0 lead over the visiting Golden Eagles. Maple Mountain finally got on the board on a Kelsey Owens basket that started a 6-0 run for the Golden Eagles. The run was capped off when Kaylee Radford went coast-to-coast and scored a buzzer-beating layup to make the score 8-6 after a quarter of play.
The Falcons looked like a different team in the quarters that followed. In the second quarter, they made up for their slow start by scoring 29 points. Skyridge scored five 3-point shots in the quarter, with junior guard Keylee Melling making three of the five from beyond the arc. The score at the half was Skyridge 37, Maple Mountain 16.
The Falcons impressive second quarter was only the beginning of their continuous offensive outpouring. They followed up the second quarter with an 18-point third quarter and a 19-point fourth quarter. Skyridge had a balanced offensive attack throughout the night, with five Falcons scoring in double figures. With the win, Skyridge got a great start in region play, giving themselves a 1-0 record in Region 8.
The Lady Falcons will seek to add two more wins to their region record when facing Springville High School and Provo High School in this week's matchups.
This slideshow requires JavaScript.