Falcons hold on to beat visiting Bulldogs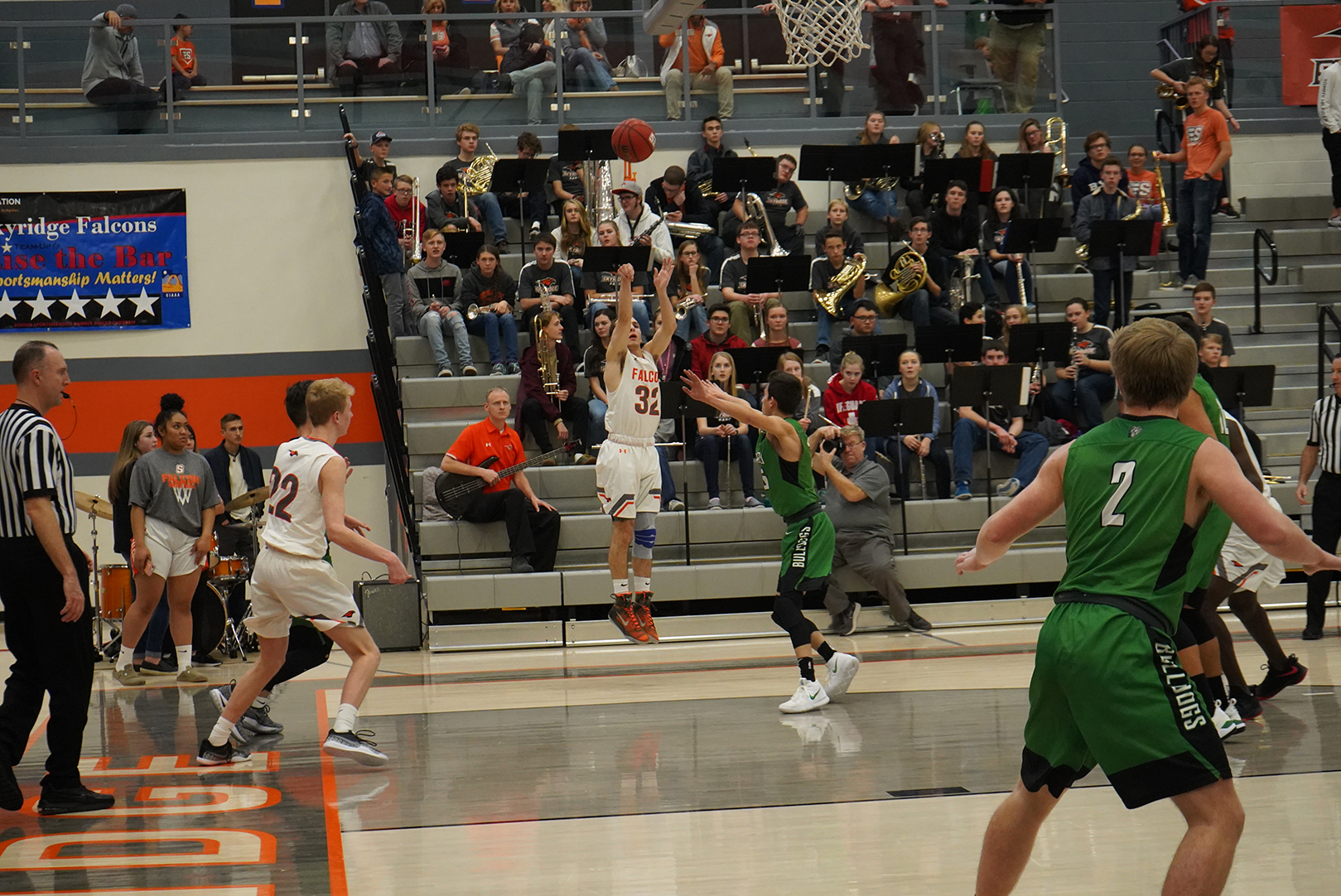 Skyridge boys basketball narrowly defeated Provo High in both teams' first region matchup of the season on Friday night. The Skyridge Falcons entered the game having lost their last two games, while the Provo High Bulldogs were riding a two-game winning streak. Skyridge came out on top, escaping with an exhilarating one-point 40-39 victory.
The energy in the Falcons' gym was palpable as region play kicked off. Provo High's Tanner Sorensen found Mason Miles cutting to the basket, getting the scoring underway with two quick Bulldog points. The Falcons responded with a 10-0 run to gain an eight-point lead. That would be all the points Skyridge would score in the first quarter. They watched their eight-point lead slowly evaporate to one point by the end of the period.
The next two quarters were back and forth, with Skyridge maintaining a slight edge. Going into the half, the Falcons led 23-19.  The Falcons stayed hot to start the second half, extending their lead to nine points early on in the third quarter. Provo answered quickly though, cutting the Falcons' lead to two, 35-33 going into the final quarter.
The fourth quarter was scrappy. Both schools gave it all they had to get a win in their first game of the region. Skyridge senior captain Joe White drilled a three-point shot on the Falcons' first possession of the quarter, extending their lead to five. Provo responded by chipping the lead back to three, with Alec Okelberry getting the rebound off his own missed shot to score inside the paint. As the quarter progressed on, Skyridge began wearing down the Provo defense by wasting the clock, leading to a Braden Allfrey layup and another five-point lead for Falcons. Sophomore Isaac Parr then quickly scored for the Bulldogs, cutting the Falcons lead to one possession at 40-37.
Skyridge continued to run the clock, causing Provo to intentionally foul as they tried to stop time from dissipating. The Bulldogs then focused on playing good defense, causing the Falcons' Braden Housley to miss a layup. Provo capitalized on the miss, with Isaac Castagnetto scoring a bucket on the other end, shaving the Falcons' lead to one. Provo again began to intentionally foul Skyridge, putting them on the free throw line twice. Both times, the shooting Falcon players missed the front end of their free throws in a one-and-one situation, giving the Bulldogs chances to take the lead. But Provo was unable to take advantage of their opportunities to score before the buzzer sounded. The Falcons lack of offense down the stretch was compensated for by their good defense. The game ended in a thrilling 40-39 victory for the Falcons.
Skyridge will hit the road this week, with games against Timpanogos and Wasatch.
This slideshow requires JavaScript.