Traverse Mountain Elementary students learn about internet safety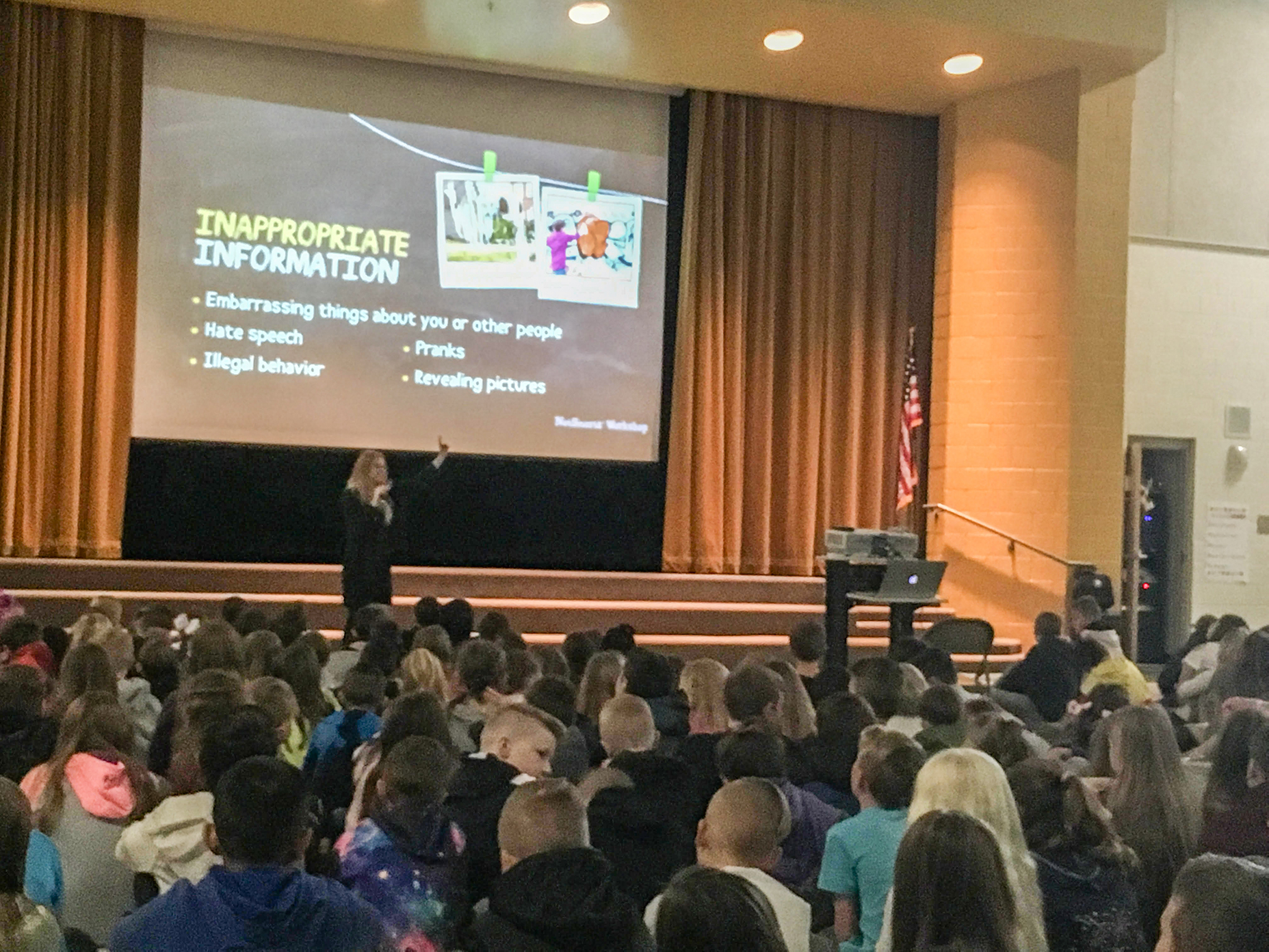 Internet safety and digital citizenship are getting a whole week of special focus at Traverse Mountain Elementary School this week. Students will learn how to stay safe against internet predators and the importance of keeping their parents involved in their online activities.
The week of internet safety kicked off Monday with an assembly by Netsmartz, a project of the Boys & Girls Club of Utah. Netsmartz's mission is to provide "online safety tools for educators, parents, and kids." Students gathered in two separate thirty-minute assemblies – grades 3-6 and grades K-2.
Kylie Henrie of Netsmartz presented scenarios of online issues students might run into and discussed healthy ways to navigate those situations. "Being a good digital citizen is about making good choices," she told the students, beginning the 3-6 grade assembly with a review of the famous "marshmallow experiment" in which children were given a marshmallow and encouraged to wait to eat it in order to get a second marshmallow.
She utilized a slideshow presentation which featured a 10-year-old girl who had just been given her first phone and was navigating some decisions about it. Her friend encourages her to get an app her parents haven't approved and for which she's not legally old enough. She makes the wrong choice and ends up regretting it.
Along the way, Henrie paused the story to talk through how to make good decisions, encouraging the students to always get approval for apps and games from their parents. "Secrets ruin trust," she said, encouraging them to always talk to their parents about their app usage.
Students learned to avoid internet predators by following the rule, "Don't accept friends you don't know in real life." They discussed using privacy settings and never giving away personal information or meeting someone in real life that they only know online.
There was also a conversation of what constitutes "inappropriate information." "Embarrassing things about you or other people, hate speech, illegal behavior, pranks and revealing pictures" were all discussed. Students were encouraged to always share such things with "a trusted adult."
At the conclusion of the assembly for grades 3-6, students were given "The Note Challenge," a challenge to leave a kind note for someone every day this week.
Henrie introduced students in the K-2 assembly to robot characters Clicky, Nettie and Webster. They taught the children about not giving out personal information or agreeing to download or upgrade an app or game without showing it to their parents.
The younger students were taught four focus points:
1. I will tell my trusted adult when anything online makes me feel sad, scared or confused;
2. I will ask my trusted adult before sharing personal information online;
3. I will not meet face to face with anyone from the Internet;
4. I will always use good netiquette and not be rude or mean online.
They were challenged to share with their parents or guardians everything they could remember about the 4 Rules of Internet Safety.
Henrie has been with Netsmartz for over two years and has given hundreds of presentations in Alpine School District and Canyons School District. She said the program works to stay current with developing trends in technology usage. "This year we're focusing on how to help them think critically before they make a decision online," she said.
In the assembly, the students were taught the TIC-TAC-TOE strategy for how to handle the situation when they "see something that doesn't feel right." The acronym stands for "Turn it off," "Talk to a trusted adult," and "Turn to something active."
All Utah schools are required by law to provide internet safety training to their students. While the Netsmartz assembly fulfills the requirement, a parent at Traverse Elementary, Shellie VanOrman, wanted to do more to arm the students with information and strategies. She organized the full week of educational activities through White Ribbon Week, an organization dedicated to "build confident and resilient children who make conscious, positive choices in media and technology."
During the week students will receive short daily lessons about wise use of digital technology. Each day will have a different focus, such as "I will use technology to show kindness and respect" and "I will give priority to real-life relationships."
VanOrman was motivated by having seen the harmful effects of poor internet choices. She has been organizing White Ribbon Week at Traverse Elementary for five years. This week's events cost about $800, with the funds raised from the PTA and the School Community Council.