Local attorney inducted in Dixie State University Athletic Hall of Fame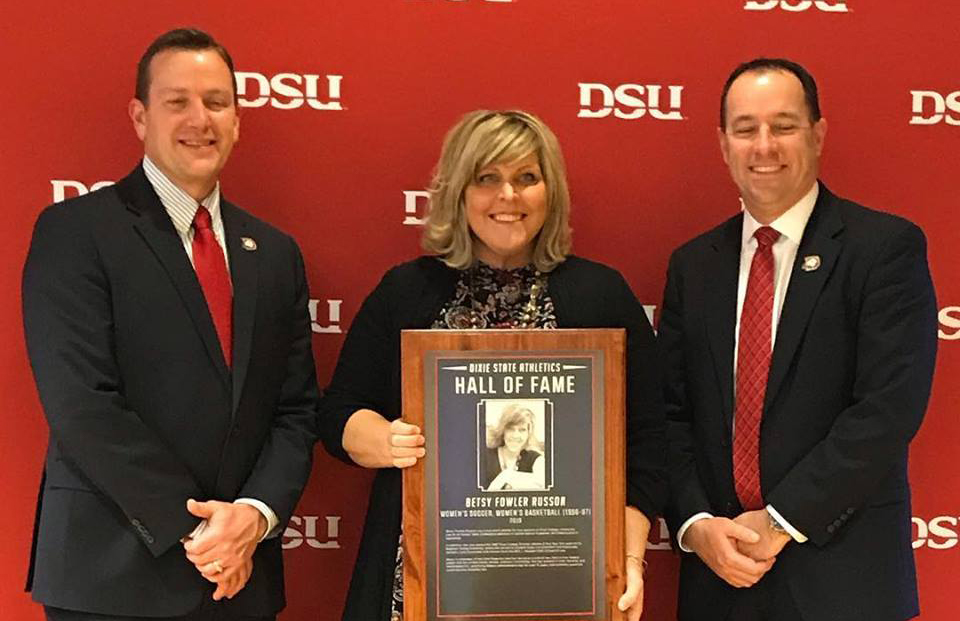 In a ceremony held on January 26 at Dixie State University, Betsy Fowler Russon, daughter of Bill and Candy Fowler and wife of Ron Russon, was inducted into Dixie State University's Athletic Hall of Fame. Betsy and Ron Russon live in Lehi.
Upon receiving the award, Russon thanked previous female athletes at Dixie College, including members of the very first women's basketball team from1960 (also in attendance) for their sacrifices which provided opportunities for women athletes who would come after them.
"They wore their own white t-shirts and Keds as uniforms when they played, but by the time I participated at Dixie we had state-of-the-art facilities, a full-size athletic arena, scholarships, and personal trainers." Referring to the recent announcement that Dixie State University will make a transition to Division I competition in the Western Athletic Conference next year, Russon stated, "I think of the opportunities this will afford female athletes who will come to Dixie in the future and am thrilled to have had the opportunity to be a part of that growth."
Ms. Russon grew up in St. George, Utah where she excelled in prep basketball, soccer, softball, and track at Dixie High School, and was named to All-State teams in five sports. She was recruited to play at Dixie College as a two-sport athlete, soccer, and basketball. She played two seasons at Dixie and was named to the All-Scenic West Conference in soccer and was named Academic All-American in basketball. In 1997 she was chosen Dixie College Scholar-Athlete of the Year.
She served a mission for the Church of Jesus Christ of Latter-day Saints in Rio de Janeiro, Brazil. Russon continued her education at BYU where she was elected Student body Vice President over campus organizations. She earned a Juris Doctorate degree with honors from the J. Rueben Clark Law School and served as the Editor-in-Chief of the Education and Law Journal while participating in a joint Ph.D. program in Educational Leadership (ABD).
Russon is a member of the Utah State Bar Association. She has served as a judicial law clerk to two federal judges and the United States Judiciary Committee and has practiced law in Utah, Nevada, Colorado, and Washington D.C., practicing federal administrative law for over 15 years. She currently practices social security disability law.