Game-winner on Senior Night for Skyridge senior, Joe White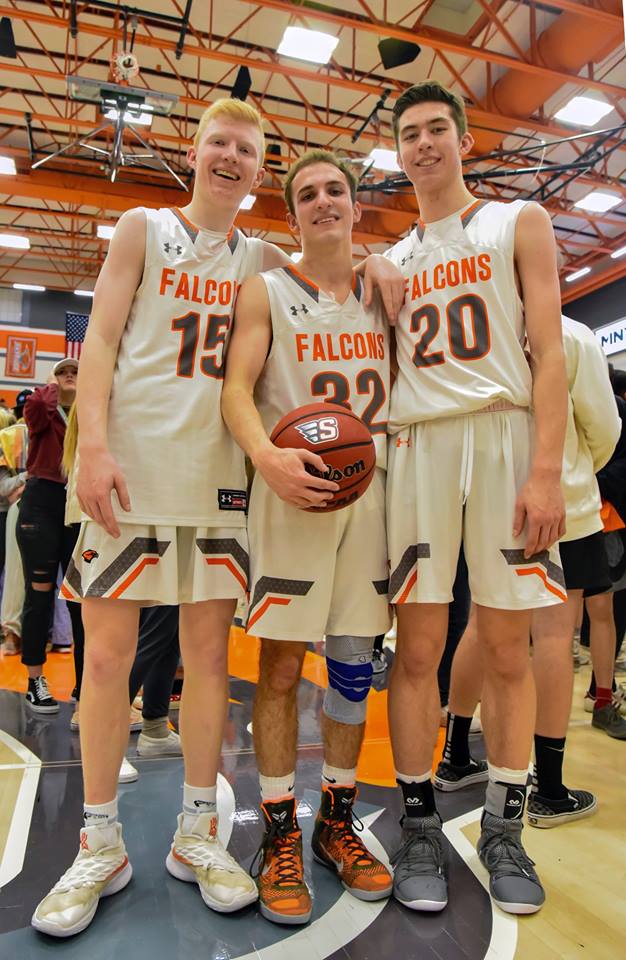 Skyridge senior, Joe White, could not have written a better ending for his final home game as a Falcon. On Senior Night, in front of a rowdy student section, White collected an offensive rebound and scored a game-winning layup at the buzzer. White ended this last home game with one of the biggest shots of his high school career, giving the Falcons a 54-52 win over the Maple Mountain Golden Eagles. In his own words, White was, "in the right place at the right time", to give the Falcons a two-point victory in an instant classic.
After losing earlier in the week to Timpanogos, the Falcons responded in tremendous fashion against the Maple Mountain Golden Eagles. Skyridge had to fight their way back into the game after trailing by as many as fifteen points in the initial quarter. Maple Mountain started the game on fire, scoring twenty-one points in the first period. The Golden Eagles gained their largest lead of the night when their 6'5" senior Parker Farnworth ran the floor for a thunderous dunk in transition. Maple Mountain had all the momentum at the end of the quarter, leading by thirteen points.
The momentum began to shift when the Falcons cut into the Golden Eagles' lead in the second quarter. Skyridge went on a mini-run at the onset of the quarter with a bucket from sophomore guard Duncan Reid, followed by a three-pointer from senior captain Braden Allfrey. By halftime, the Falcons had clawed their way back into the game, cutting Maple Mountain's lead to 22-27.
The second half was a seesaw battle between the two teams. Skyridge took their first lead of the game in the third quarter when Trevon Snoddy secured an offensive rebound that led to a Duncan Reid three-point field goal. The basket gave the Falcons a 35-32 lead with 3:15 left in the quarter. Maple Maintain fought back, regaining a 41-42 lead by the end of the three minutes and change.
As the battle on the hardwood continued, Skyridge managed to build a five-point lead. But Maple Mountain came storming back, tying the game at 52 on two clutch free throws from their junior forward, Braxton Tanner, with 1:17 left in the game. After a Skyridge turnover, it looked as if the Golden Eagles would run the clock out and take the final shot of regulation. But Skyridge junior Braden Housley had other plans in mind, picking up a key steal with 21.5 seconds to play.
The Falcons followed the steal with a timeout. In an interview after the game, Joe White broke down the final 21.5 seconds. He explained, "when I saw Trevon [Snoddy] drive, I was his backup plan, but my guy cheated with him, and so I saw him turn and fade, so I was like 'I'm just going to go see if the ball happens to fall off the rim', and I was just in the right place at the right time." The result was a game-winner for the senior point guard. But if White has his way, this is only the beginning of a new winning streak for the Falcons. He spoke for his entire team when he said, "We got a state championship that we're focusing on."