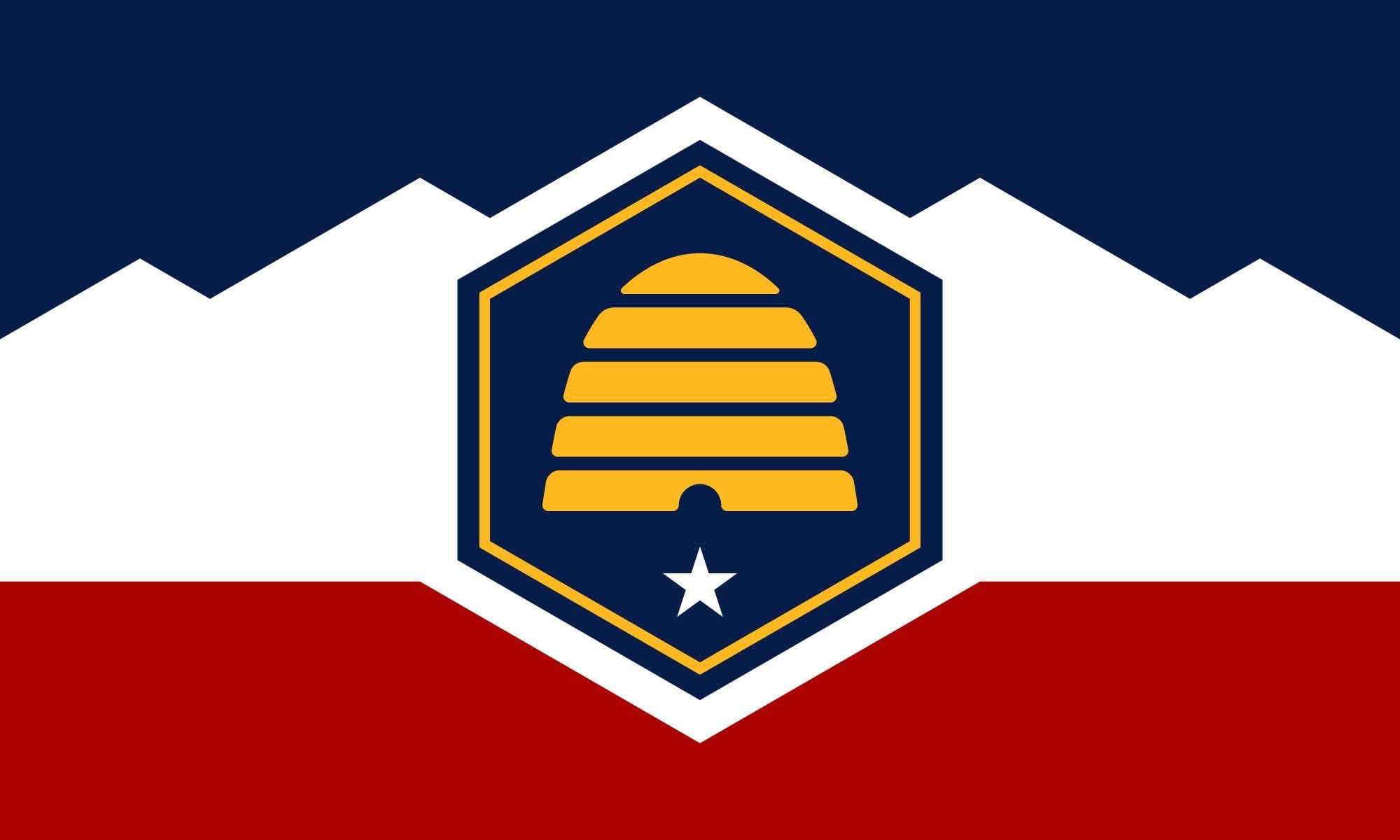 After a multi-year-long process that included a flag design task force committee that received over 7,000 submissions and settled on 20 design finalists, Utah has a new state flag.
The new flag showcases a gold hexagon containing a beehiverepresenting industry and Utah's pioneer heritage. The flag also features a five-point star representing Utah's five indigenous tribes (Ute, Dine/Navajo, Paiute, Goshute and Shoshone). The new flag's fields of blue and white create the outline of five snowcapped mountain peaks and a red field at the bottom representing Southern Utah's iconic red rocks.
The flag's approval didn't come easy as the topic was debated throughout this legislative session and narrowly passed during the ending hours of the 2023 General Session. S.B. 31 passed the Utah House 40-35, with Lehi Representatives Kay Christofferson and Cory Maloy voting no. The vote was 19-9 in the Utah Senate, with Lehi Senators Jake Anderegg voting in favor and Senator Mike Kennedy voting against.
"Let there be no question that this state reveres our history, that we love our pioneer ancestry, we love and revere our indigenous ancestry. I believe that Utah's future is bright," said Riverton Senator Dan McCay (R), the bill's sponsor and an outspoken advocate for the new flag.
"When you drive across the state, you see some Utah flags, but most of those flags you see are on state-owned or government-owned buildings. There are going to be more people flying the Utah flag, and that's good for our state," said House sponsor Mike Shultz (R).
While there was enough support among lawmakers to adopt the new flag, there was plenty of opposition.
"We are relegating our historic flag to a subordinate position for a logo; in my opinion, again, I love the logo. I love all that it stands for. I love the hexagonal design and the beehive. I love the fact that it shows red rocks and snow, and it represents our mountains. Everything about it, I love. And I so appreciate the people that have put this together and come up with this design. The debates have been rigorous. And yet, we're willing to subordinate our historic flag to this new flag. I really struggle with that, and for that reason, I'll be voting no," said Representative Steven Lund (R) on the House Floor.
"I like our current flag. I don't see the need to re-brand or re-imagine Utah's flag. I'm satisfied with what we have," said Representative Derrin Owens (R), who also argued against the flag on the House Floor.
The bill also ensured that the current state seal flag would still be recognized as a state flag and used for ceremonial and special occasions.
The new flag will become official after the bill is signed into law by Governor Spencer Cox, who has previously expressed his support.