Lehi City Council candidates face off before packed audience at Q&A event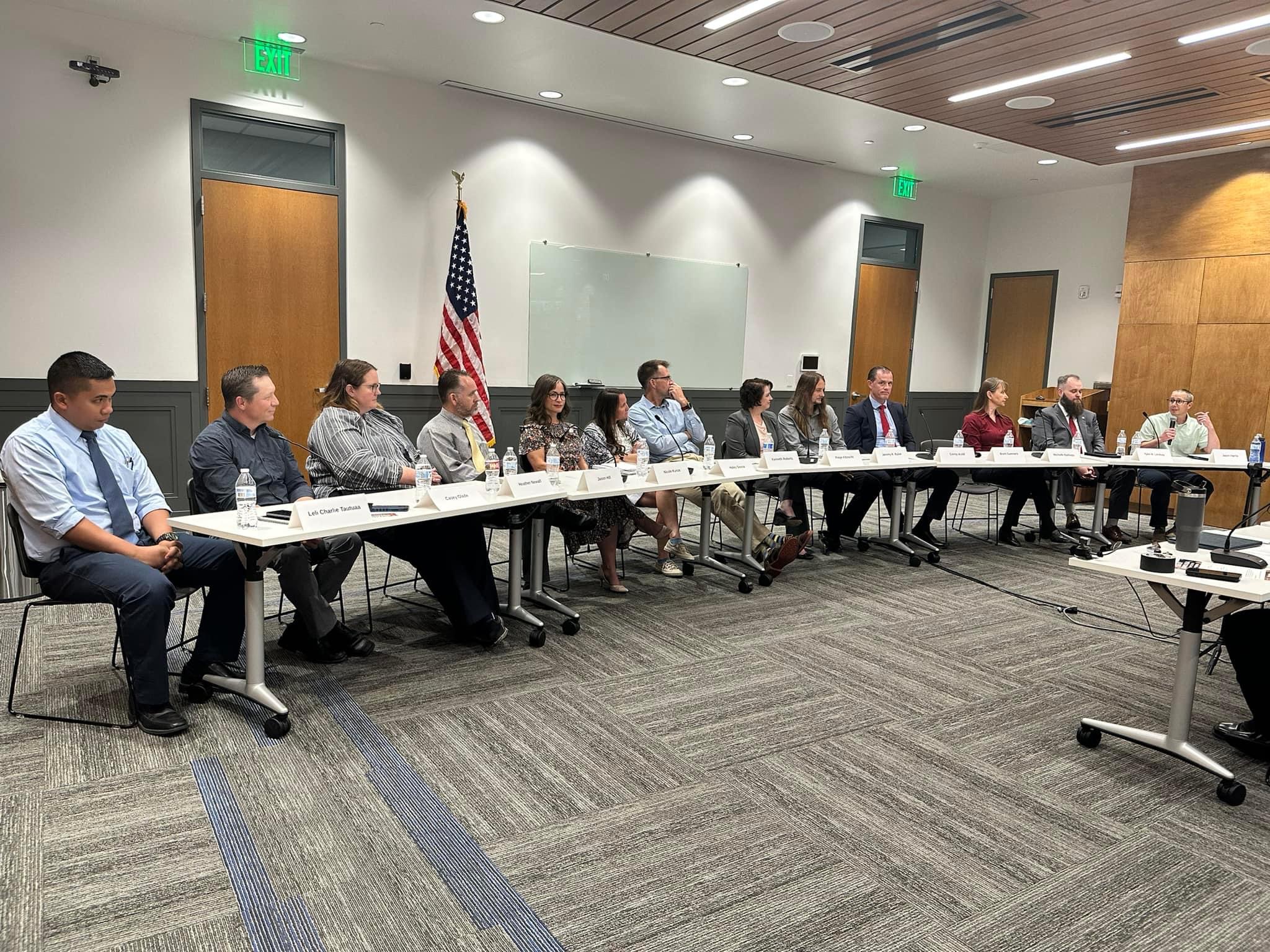 On Thursday, August 17, over a dozen Lehi City Council hopefuls gathered to express their positions on various topics before a packed room of citizens. The Lehi Free Press sponsored the event, and political editor Skyler Beltran moderated it.
The evening's Q&A format allowed input from all candidates in the fast-paced, informative event. To start, each candidate had 90 seconds to explain their reasons for seeking a seat on the city council. The first candidate to respond was Charlie Tautuaa. He said, "The budget needs to address the future needs of citizens." A 17-year city resident, Casey Glade, said, "We deserve better. There are loopholes in the zoning practices that need to be addressed." Heather Newall, a 21-year resident of Lehi, said, "I have some concerns with city code not being interpreted correctly." Jason Hill, a software developer, expressed, "We are drowning in an ocean of legislation."
Nicole Kunze remarked on the importance of building relationships with those in our community. Holly Sousa said, "We need to know how to conserve water resources and why current residents are shouldering the burden of new development." Ken Roberts said, "I will show up. Lehi is at a crossroads. I want to be part of the conversation about Lehi's destination."
Incumbent Paige Albrecht said, "As a new resident of Lehi 21 years ago, I saw all the amenities Lehi had. I want to help build on these amenities for the future of Lehi." Jeremy Baker said some things in the City need to be changed. "I would like to see crowdfunding of parks and extra amenities. I would like to see a smaller government."
Corey Astill said, "We need a resident-driven vision for Lehi. We should be asking the question, 'Is this the city we want to live in in the future?'" Michelle Stallings expressed concern about development. "The current residents have been forgotten," she said. Tyler Lindsay said, "I want to promote safety and happiness for Lehi's citizens." And finally, Jason Harris said, "I am a developer. I have had much experience in development. I am concerned that 75% of our population can't afford a house."
After each candidate's response, Beltran asked a series of questions that were answered by half the candidates:
Question one: What is one decision or action the city council took that you would have done differently?
The candidates expressed a variety of responses, such as:
• Parks should represent a more significant part of the budget.
• Disappointment that the accessory dwelling unit code was changed.
• Thanksgiving Point transportation problems still need to be addressed.
Question two: Do you think Main Street/downtown is healthy and successful? If not, what would you do to change it? 
Traffic problems dominated the answers to that question. Some mentioned that downtown needed to be a place where kids can come for recreation. "There needs to be a revitalization of downtown, and traffic needs to be removed off Main Street," one candidate said.
Question three: Alpine School District is anticipating a district split on the ballot next year. How would you like to see that split for Lehi?
"We don't want to pay for all the growth out west," seemed a common opinion. Several suggested that Lehi combine with Highland and Alpine or become its own district. "We need to do what is best for our city" was the predominant response to this question.
Question four: Do you have any creative ideas or thoughts to help with affordable housing? 
Some said zoning and land-use maps need addressing. "Lower density never happens, and there needs to be more community outreach, so community members are aware of the projects being considered by landowners, developers, and the city," said a candidate. "Zoning and land use is the biggest responsibility of the city council," expressed several candidates.
Question five: If you received a $5 million grant to use for the City any way you wanted, what would you do with it and why?
This question created enthusiasm among the candidates. Some of the responses were;
• Double the amount with smart investment.

• Paving the parking lot at Dry Creek Reservoir.
• Help those in need of housing.
• Work on a solution to get residents out of the Cranberry Farm neighborhood.
• Give the money to downtown businesses.
• Build a better art center and parks.
• Replace native grass with turf grass.
The evening concluded with all offering complimentary statements about the candidate to their right and a final thought from the candidates. The room was filled with enthusiastic Lehi citizens who stayed and interacted with the candidates after the meeting. 
A former planning commission member, Carolyn Nelson, said, "There were great questions and information given."