City Council candidates share views about downtown, ASD split and more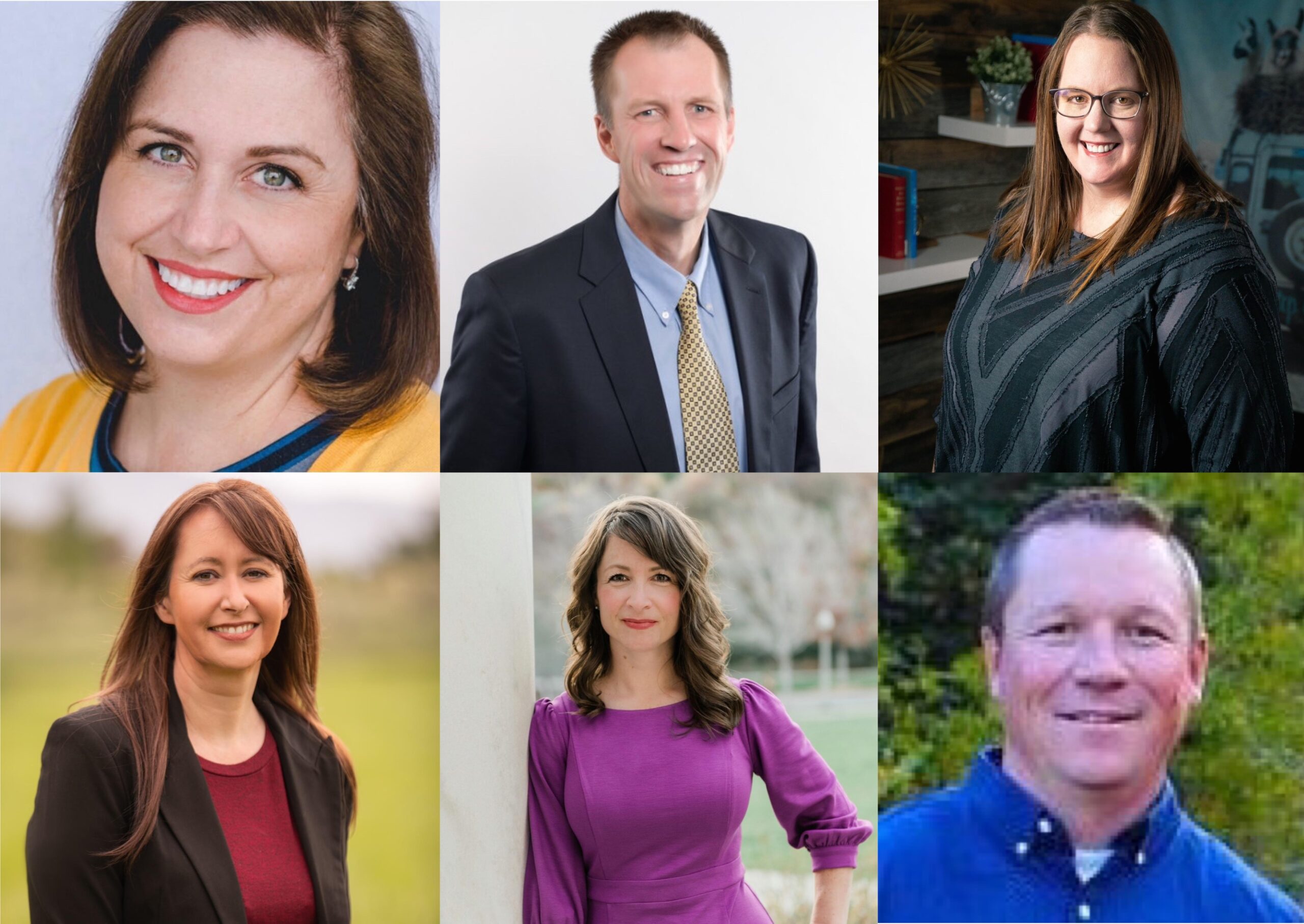 A record field of 17 Lehi City Council candidates was reduced to six during September's Primary Election. The remaining group includes incumbent Paige Albrecht, Michelle Stallings, Heather Newall, Nicole Kunze, Ken Roberts and Casey Glade, who was added after Corey Astill withdrew to run for the State Senate vacancy earlier this month.
The Lehi Free Press posed questions to the six candidates. These are their responses about how they want to see Lehi's future develop.
Lehi Free Press: What is your vision for the Downtown area?
Michelle Stallings: I love Old Lehi! Really, who doesn't love historic Lehi during Round-up Days with all the old homes decked out in American flags? No matter how big our city grows, downtown Lehi is an anchor to our small-town roots, preserving the character and history of our city.
As the city begins its latest downtown revitalization plan, I prioritize preserving our history, promoting commerce and improving neighborhoods. One draw to historic Lehi is its historic buildings. We should capitalize on this, centering the historic commerce district on small, locally owned shops and restaurants. Instead of the city buying and tearing down old buildings to resell the lots, I prefer providing ways to help improve businesses through grant opportunities and using tax increment financing to aid redevelopment in truly blighted areas. Traffic and parking issues must also be addressed. Adding high density to Main Street and State Street will only make the situation worse and negatively impact downtown neighborhoods, which already struggle with high numbers of rentals.
Improving downtown neighborhoods is important to me. I was told once that the new city hall would be "a source of pride for the community." I disagree. Our source of pride should be responsibly using taxes to provide for the safety and welfare of our residents. How can we be proud of a grand, new city building when, in surrounding neighborhoods, children walk in gravel along street shoulders because there aren't sidewalks? Finishing sidewalks will increase public safety and improve the overall image of downtown Lehi.
Paige Albrecht: I've lived in Lehi for more than twenty years, but recently, a longtime dream came true when I moved into a tiny 75-year-old home in the historic downtown area. I love it there. My vision is to preserve its heritage while ensuring that it's a vibrant and thriving part of our community for generations to come. We are taking action to make that happen. Earlier this month, Lehi City put out an RFP (request for proposals) to update our 2007 Downtown Revitalization Plan. It will address current challenges like transportation and parking and recommend funding strategies, strongly emphasizing the "preservation of historic character." As part of the process, applicants are required to "Develop an engagement plan for city approval that brings together community stakeholders, residents, developers, and City officials in the creation of a shared vision." It's this shared vision that is so important and has been lacking in many previous attempts to revitalize our downtown. This time, the adopted plan will engage everyone and will be comprehensive. I'm excited to see what possibilities and opportunities are in store. Lehi has such a beautiful and historic downtown. We should honor that heritage and preserve a place we are proud of.
Heather Newall: My vision for the Downtown area is one of preservation, innovation, and economic stability. I would like Downtown to be pedestrian-friendly, lined with well-maintained historical buildings and new structures that pay homage to Lehi's history. The area should be the center of the community, a destination, not a passthrough, with restaurants, retail, and places to gather that are well supported by the community. I would like to see us reuse and safeguard our historic buildings and see that new developments are built to last and adhere to the purpose and intent of the historical district design standards. We can learn from what other cities have done to revitalize their Downtowns, but we are not them. We are Lehi, with our own incredible, unique culture and history.
Casey Glade: Downtown could be a walkable and inviting place for families, events and businesses. Right now, we have traffic problems, so Main Street is an important arterial highway. Until we solve some of our traffic problems, the downtown will remain highway frontage and overburdened by traffic. Downtown revitalization will need to be considered after we have alternative traffic patterns. Lehi residents should not invest time and money into revitalizing downtown while it remains highway frontage.
Ken Roberts: The downtown area can be a place for everyone to go and enjoy a night out or a sunny afternoon. It should be a place for the city to hold events and other opportunities for the residents to celebrate our city. I see the downtown area as a place to gather and build connections between residents and the history and future of Lehi. A local example of this is Provo. Provo has created a downtown area that is vibrant and fun, with different activities for everyone to enjoy.
In the coming years, we have a great opportunity to create something that could and should bring the community together even more. Our city already has wonderful events for all of us to enjoy. Roundup Week and Arts in the Park are great examples of special events hosted by the city. The historic center has the potential to really shine with the businesses that are currently there and the addition of some new ones.
Nicole Kunze: Lehi City unveiled a city campus master plan in 2020, and the City Council approved the phase one $22 million bond to start construction on a new City Hall in May of this year. I love the work that Curtis Miner Architecture did on the design of the Public Safety Building, and their renderings for the new City Hall look amazing as well. They've given new life to the beloved Broadbent's Store and the old Lehi Tabernacle.
My vision for downtown is to continue to prepare for our future needs – as our population grows, so does the need for bigger city facilities and more employees – while honoring Lehi's history through architecture and art. As chair of the PARC Tax Advisory Committee, I have seen how our historians, artists, dancers, actors and musicians are improving the quality of life in Lehi with their projects and programs. The Lehi Historical Society was awarded an Arts and Culture Grant from the City for their Historical Marker project this year, with several markers planned for the downtown area. I would like to see more art projects and businesses in the downtown area that encourage people to park their cars and enjoy Lehi.
LFP: How do you see the Lehi City Council's role in the upcoming Alpine School District reconfiguration?
Stallings: Lehi City should take the lead on this issue. Alpine School District is only looking at options with Lehi, Eagle Mountain, and Saratoga Springs as one district. This configuration would force Lehi residents to fund decades of growth for neighboring cities to the west, placing an unfair financial burden on Lehi taxpayers. With an ASD-led approach and district-wide vote, Lehi risks being forced into a district we don't want. By initiating a feasibility study, Lehi could look at configurations better suited for Lehi students and taxpayers – a Lehi-only district or one consisting of Lehi, Highland, Alpine, and Cedar Hills. I prefer the latter. A Lehi-only district would probably not be financially feasible. A small district comprising a handful of cities would provide economies of scale that would keep the tax burden low while providing local control. Unlike the west, there is little growth to the east. Lehi would benefit from the added residential tax base, and these cities would benefit from our commercial base.
Albrecht: Lehi's City Council has no official role in the current reconfiguration. The District, chiefly the School Board is responsible for overseeing the education system for multiple communities, and those decisions are ultimately theirs to make. City Council, on the other hand, is tasked to act in the best interests of Lehi residents—which can potentially collide with those of other areas in the District. I see strong communication and unbiased data as vital to finding the best outcome for Lehi students and I'll ensure Lehi's City Council is as informed and engaged as possible.
Newall: Lehi City Council's role is to ensure we achieve the best outcome for our children, families, teachers, and taxpayers. The school board is separate from the city, and Lehi's placement in a new school district is limited by current laws regarding district splits. But this will not deter me from standing up for what Lehi needs. Lehi is in a unique location, surrounded by multiple cities. This gives us many possible outcomes that should be considered. No one will know the best option for Lehi until we have the data from the feasibility studies. It's vital that the public has accurate information and that Lehi's leadership doesn't take a biased approach to any set outcome. We need to analyze the feasibility study and consider our own micro feasibility study to determine what will be best for all of Lehi. As we study these outcomes, we must consider Lehi's needs, ability to pass bonds, student populations for income tax revenue, and property tax income. We must ensure that the district reconfiguration will meet the needs of Lehi's families now and in the future.
Glade: Lehi City should support plans that promote fiscal responsibility and local control. It's time we reconfigure ASD,so we're better positioned for the future needs of Lehi residents.
Roberts: Primarily, I see the council's role in this as ensuring the best for our residents and students. We also need to recognize the needs of students, faculty, and staff throughout the district and provide the possibility of success for them as well. The district has contracted a study to be done, and we will need to see the results. It will be put to a vote by the residents of the Alpine School District. Depending on the needs of our residents and the study results, the council, at that point, can either back the split or oppose the split.
Kunze: Members of the city council will need to advocate for Lehi specifically and communicate often and well with our Alpine School District Board members during the entire process of reconfiguring the district.
LFP: What commission, boards, and liaison positions would you like to serve on if elected to the council and why?
Stallings: I'm happy to serve anywhere, especially the Historical Preservation Commission and Lehi Archives because I love history, the UTA Station Area Plan Committee because its significant impact on west Lehi requires careful attention, ULCT because I'm interested in and have a good understanding of legislation, and the Lehi Irrigation Board because water issues are urgent.
Albrecht: I've been fortunate to serve on many already, including Arts Council, Library Board, Historical Society and Archives, Parks Committee, Jordan River Commission, and the Lehi Youth Council.
In the future, I'll support establishing two new liaison roles: First, given the growing issues facing our education system, I think it would be helpful for City Council to have a designated member to communicate directly with the School Board, watch meeting videos and monitor the minutes, and then give regular update reports at Council meetings. Second, I'd like to have a specific Council liaison to serve as a resource and point person for PTA and school community councils if they need city support for events and projects, and as a point person to help solve issues that are related to City services like crosswalks, school security and resource officers, crossing guards, parking regulations, safe walking routes to schools, and so on. Ultimately, I look forward to serve wherever I'm most useful.
Newall: Arts Council – I would like to give back some of what the Art Council has given to my family. My children love volunteering with Stage for Everyone and participating in the children's workshops. I've spent extensive time as a leadership volunteer and head of marketing with Skyridge Theatre. I believe my volunteer experience and 16 years of experience working in the non-profit sector will benefit the Arts Council.

Lehi Historical Preservation – I want to be involved with and learn more about our rich heritage. I love listening and learning from others whose families have lived in Lehi for generations. I want to help preserve our heritage and support ways our history can be shared and easily reach future generations.

Environmental Sustainability Committee – I care that we have a sustainable city that provides a high quality of life for our prosperity. Serving on the Planning Commission has given me a greater perspective on what can be done to make our city more sustainable, and making connections with experts in these areas will be vital as we make decisions that will impact Lehi for generations to come.
Glade: If elected to Lehi City Council, I'd like to serve in positions that impact development, traffic, and elections. Development and high-density housing are two of the biggest issues for residents. Residents are concerned about developments that seem to always get more density than what is allowed by zoning. The loopholes used always seem to benefit the developer and not current residents. I'll ensure residents are valued and considered in land use decisions.
Traffic is a major issue in Lehi, and we need a common sense approach to keeping Lehi a great place to live while providing access for residents and our neighbors to the west.
We need to end Ranked Choice Voting (also known as the Incumbent Protection Plan) and ensure Lehi City is always prepared to count every legally cast vote. The Primary Election showed RCV was confusing for residents. Any policy that needs extra explanation or voter education should be carefully considered. Most concerning, Lehi City showed its willingness to disenfranchise voters from their legally cast vote. Manypeople don't know the city tried to disenfranchise nearly 20% of all primary voters from their vote (about 1,000 out of 5,600 voters). It's embarrassing that the Lieutenant Governor's Office had to step in at the last minute and save our election. We need common sense solutions to our city's challenges, not political ones.
Roberts: I like being outside and enjoy our parks and trails, so the Parks, Trails and Tree Committee or the Jordan River Commission would interest me. Other boards and committees I would like to be involved with are the Youth Council, Irrigation Board, and Timpanogos Special Service District.
The Youth Council is a great way to encourage the younger residents to be involved with their city. I have been involved with coaching youth for some years and enjoy seeing their eyes light up when they see they can make a difference.
Serving on the Irrigation board or the Timpanogos Special Service District are both very valuable areas of service to our city. We must care for our resources, and this goes beyond just our city but involves the cities and towns around us, the county and the state. As technology advances, there are many ways that we can be proper stewards of our resources.
I am a member of the Environmental Sustainability Committee and would like to continue serving there. We place an emphasis on educating our residents on resources for recycling, water efficiency, air quality, transportation, and energy.
Kunze: Youth Council Liason – I've seen the effect service has on teenagers with my own children, my neighbors, and through volunteering on the Miss Lehi's Teen Committee for the last five years. I'd love to encourage our youth to get involved in the community through the Youth Council.
Lehi Archives Committee Representative – I have been on the Lehi Historical Society Board for almost a year, and I have established relationships and gained knowledge that would be helpful as a representative of the city council.
Round-Up Committee Liaison – I've volunteered in many capacities from parking cars to making rodeo burgers, and I've written dozens of stories for the Lehi Free Press about Round-Up Week. I'm all-in with this wonderful Lehi tradition!
Lehi voters will receive their ballots in the mail during the week of Halloween, and Election Day is Tuesday, November 21. The Lehi Free Press will host a live Q&A event on Wednesday, November 8, at 7 p.m. at the Senior Citizen Center for voters to hear from and learn more about each candidate.
The General Election will be conducted by Ranked Choice (RCV) for the three City Council seats.