Veteran's Life Story of Service and Sacrifice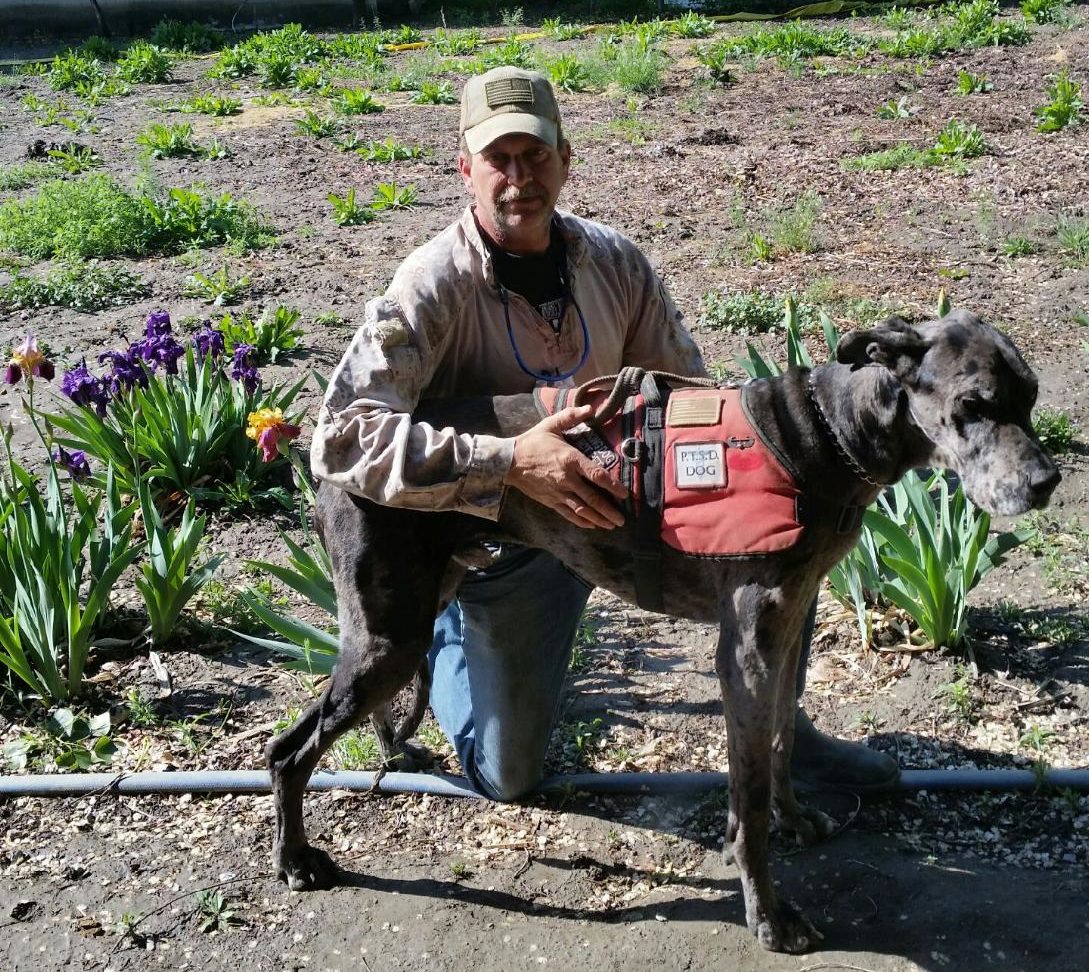 We've all been inspired by the stories of Chris Kyle and Marcus Lutrell of American Sniper and Lone Survivor fame, but their stories are only two examples of the thousands of stories of similar heroism and sacrifice.
While walking through Kohlers getting a few groceries for dinner, I noticed a tall, chiseled featured man with a huge Great Dane. It was evident the dog was a service dog. The tall man wasn't blind and from all outward appearances didn't seem to have other handicaps. I felt a need to inquire if he were a military veteran suffering from PTSD.  "Yeah," was his soft, but curt reply. I somehow knew there was a story here and so I asked if I could interview him for an article for our local paper; he reluctantly agreed.
Dwayne Hodgson is a 24 year active duty soldier. He served in Desert Storm, Kuwait, Albania, Iraq and Afghanistan. He enlisted in the Air Force as a combat engineer. He was retrained as a JTACC (joint tactical air control party), the first ones into combat area. He worked with all branches of the military. He said 9/11 changed everyone in the military's life. He went to army ranger school and learned to jump from airplanes. He became part of convoys that went into enemy territory looking for targets and helping snipers find the enemy and other necessary military assignments. While serving in Iraq he said he never slept. The stress of no sleep, and several combat injuries took a heavy toll on his health.
While in active duty, he was diagnosed with Post Traumatic Stress Disorder (PTSD) and Traumatic Brain Injury (TBI). He avoids crowds, and always wears headphones with loud music to block out noise and people asking questions. He was given the dog as a service dog (Pepper) and said the dog has saved his life many times. He found a second career as a paleontologist and is digging now in the Morrison Formation near Dinosaur, Colorado. He loves his job because it is dirty and solitary. The company he works for has found a new species of dinosaur that is assembled at Thanksgiving Point. He loves rocks and calls himself a "rock hound." From some of the rocks he makes jewelry that he sells at gem and jewelry shows.
He is the father of two boys that are in college in Tennessee. While he misses his family there, he has found peace and a good life here.