LHS Class of 2016 Graduates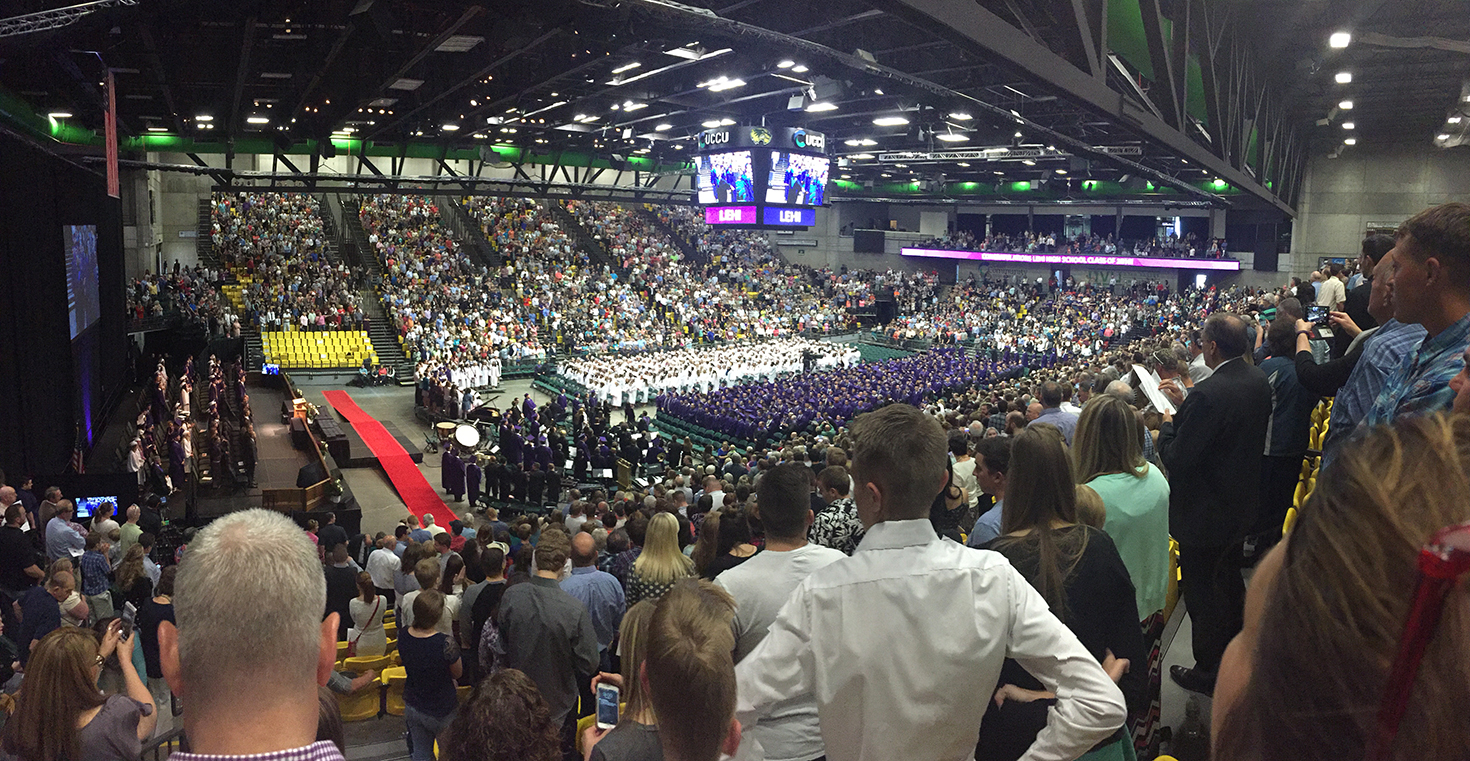 Commencement exercises for Lehi High School were held on Friday, May 27 at UVU's UCCU Center. Over 750 students in purple caps and gowns filed into the seats on the floor of the building while family and friends looked on from the raised seating. The Jumbotron provided close-up views of each student during the ceremony. LHS's A'Capella and Encore Choirs sang the National Anthem and the Band provided an interlude entitled "Spirit of the Pioneers" by James Curnow.
Senior Class President Ingram Beck welcomed the crowd and recounted the highlights of the 2015-2016 school year. She thanked the faculty and staff of Lehi High School for helping them get through their "hardest assignments and hardest times." Speakers Tyler Bishop and Sharee Leany focused their comments around the class motto, a quote from Nelson Mandela, "It always seems impossible until it's done." Principal David Mower asked the senior class to not be held back by limitations placed upon them by others by recounting the story of an elephant who remained captive, held by just a small string around its leg, after being conditioned since it was small to think it could not break the string. Mower then presented the Lehi High School graduating class of 2016 to Alpine School District School Board Member Scott Carlson who, in the shortest speech of the morning, accepted the graduates.
Scott Carlson awarded diplomas and David Mower shook hands with each graduate as they crossed a red carpeted stage. A highlight of the morning was when 87 year old Rolleen Littlefield Taysom received her high school diploma at the same time as her great-granddaughter Shae. Despite a brisk pace, it took over an hour to recognize each student individually. A roar of applause and cheers from the large crowd erupted when the students moved their tassels from the left to the right, signifying them as graduates, before recessing outdoors to meet with well-wishers.