Rusty Allen, Lehi's Own Saddle Bronc Sensation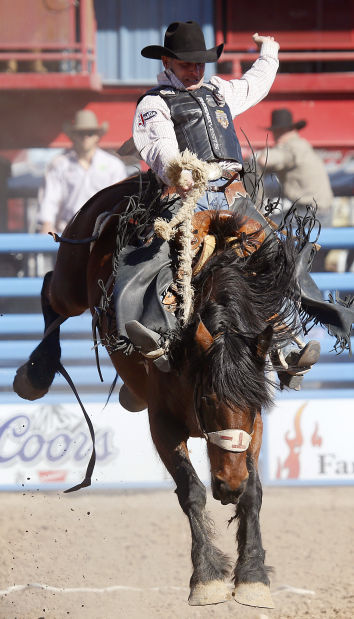 From the time he was 3 years old, Rusty knew he wanted to ride bucking horses. His parents, Marilyn and Larry Allen, could not deny their son his dream and passion. Rusty graduated from Lehi High School, enrolled in Weber State University on a rodeo scholarship, all the while participating in the rodeo circuit as a saddle bronc rider. In 1995 he was "Rookie of the Year" and his career spiraled upward from there. In 2004, he placed 3rd in the world.
He has won buckles in many of the top rodeos in the U.S. and Canada including: Houston, Ft. Worth, San Antonio, Red Bluff, St. Paul, Oakdale and Calgary and in the Days of 47 as well as our local rodeo.
Rusty retired in 2015 after suffering some life altering injuries. In 2012 he destroyed his right knee and then in 2013, in a terrible accident while still in the chute in Lehi, broke his foot in 5 places. With a foot full of plates and screws he never healed completely.
Now you will find Rusty rooting from the sidelines for his daughter, Ashley, who is becoming a rodeo phenom in her own right. He, with his wife Fawn and his youngest daughter, Sienna, continue to be avid rodeo fans and more often than not you will find Rusty inspiring and encouraging a new generation of rodeo riders from his ranch in Eagle Mountain.