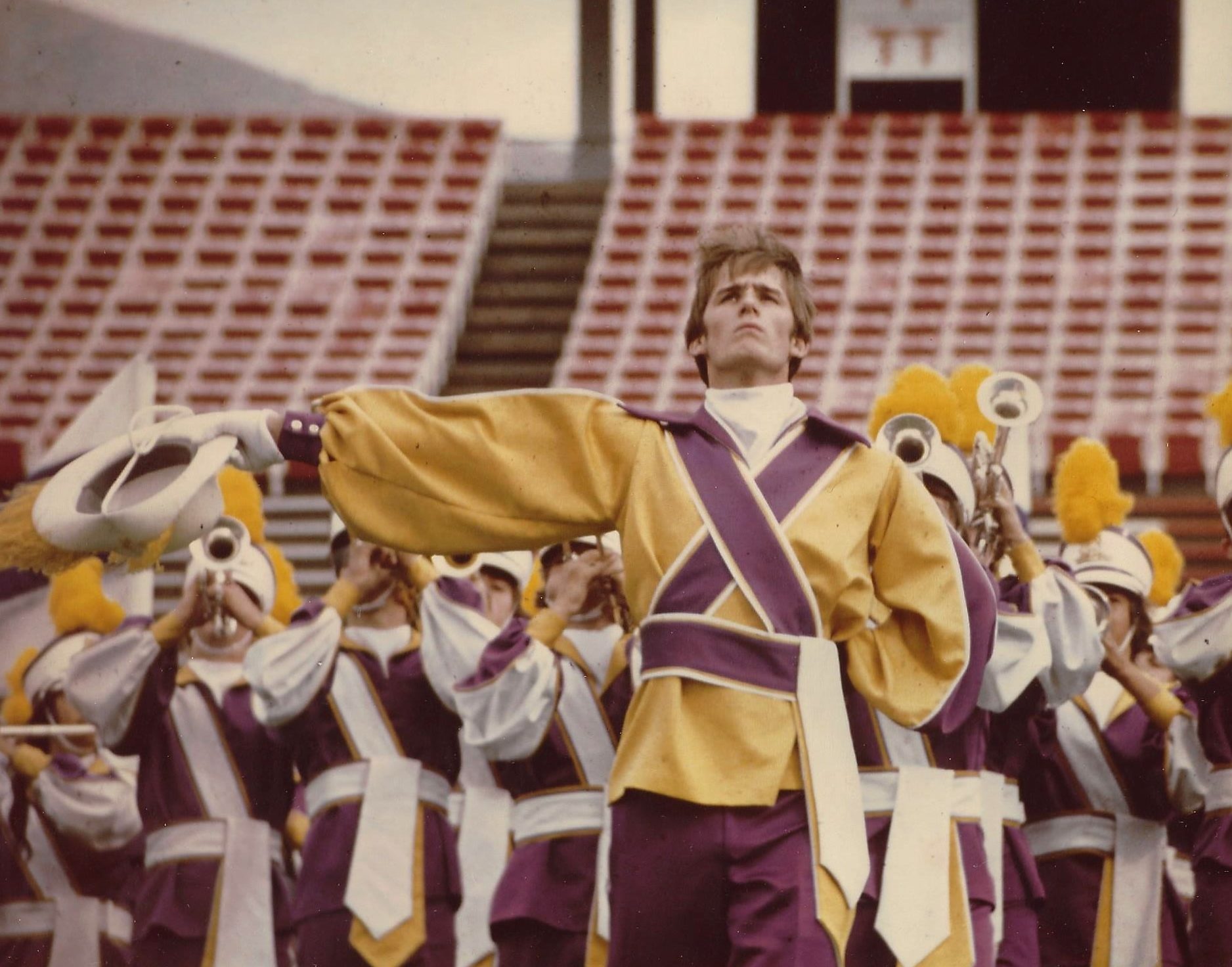 In the 1979-1980 school year, Lehi High School's award winning marching band was invited to participate in the Fiesta Bowl in Arizona. Kirt Saville, the beloved band director, surveyed the 20 year old uniforms and decided they were in poor condition and there were simply not enough for the 110 member band. He appealed to Alpine School District for new uniforms, but it was not Lehi's turn in the rotation. Discouraged, he expressed his frustration to the parents of the band members and did not expect the response he got, "We will make new uniforms for the band!"
With dedication and perseverance, several band mothers, Marilyn Nielsen, Joan Russon, and Wanda Findley spearheaded the project. Purple fabric was found in Salt Lake City, businesses were approached for donations, and within a week or two, the sewing began. The high school sewing room was reserved after school and for three months band mothers sewed and sewed, often until midnight. Many times the mothers with young families would sew until supper time, go home and feed their family, put them to bed and go back to the high school to resume their duties. The machines whirred and enthusiasm grew. As many mothers sewed, others canvassed the community for donations, and held fundraisers to defray expenses.
A member of the band at that time, Sally Fowler Francom remembers the new purple, gold and white uniforms, "we were all worried they would look "home-made," but the new uniforms were very sharp. We were proud of how we looked, and they were actually very comfortable to wear!"
In the mean time, Mr. Saville groomed his band for the Fiesta Bowl. By Christmas the band and the uniforms were ready. Arrangements were made to stay in a motel for the trip. When the motel manager was informed that it was a high school group, he reluctantly agreed, but said the last high school group had been destructive, rude and displayed behavior that prompted the manager to be reticent in securing rooms for another high school group. Mrs. Nielsen assured the manager that this group would behave responsibly and with respect. It was reported by Marilyn Nielsen, that the manager commended the group leaders that this was the most well-behaved and respectful group of teenagers he had ever seen.  The band made Lehi citizens proud as they not only performed with precision and professionalism, but also, behaved with dignity and respect.
The size of the band in 1980 was quite remarkable considering the population of Lehi High School at the time was about 600 students. Counting the color guard and band members, over 20% of the school was involved in the band. Mr. Saville was a great motivator and leader; he is now a music professor at BYU. Francom remembers to this day one of the quotes that hung in the band room: "No excuses please, just results."