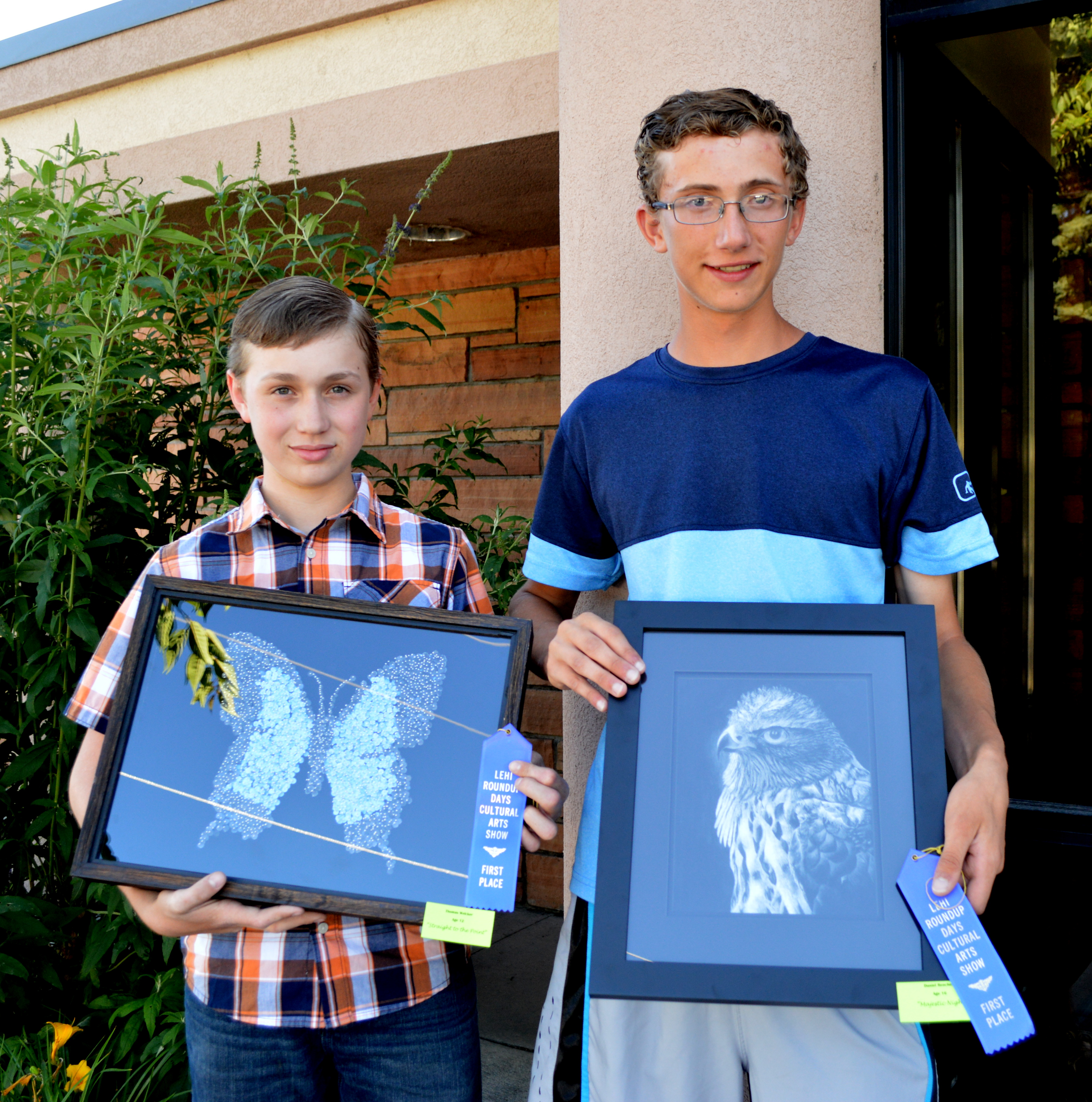 On Monday evening, June 20, the winners of the Lehi Round Up Art Show were announced at a reception in the Lehi Arts Building. Miss Lehi Outstanding Teen, Taelynn Meek, played the piano while her first attendant, Sierra Conrad, played the violin to provide background music while the artists, their families, and other art lovers awaited the announcement of the winners and ate refreshments.
Jean Hatch, Lehi Arts Council Chairperson, read the winners and Miss Lehi Royalty gave each winner a ribbon and a cash prize in the three age groups:
Age 8 – 12: 
1st – Thomas Welcker "Straight to the Point"
2nd (tie) – Lexi Anderson "Beauty in the Dark"
2nd – Halle Enslow "Sunflowers"
3rd – Thomas Welcker "Pixel Perfect"
Age 13 – 17:
1st – Daniel Rencher "Majestic Night"
2nd – Caleb Walker "Mimicking Life"
3rd – Serena Muir "Crowned"
Age 18 – up:
1st – Emily Thomas "Grandpa's Farm"
2nd – Mike Anderson "San Rafael's Rose"
3rd – Amy Langford "Grazing"
Thomas Welcker created his first place entry "Straight to the Point" by punching out a picture of a butterfly with a hole-punch, then pinning each of the dots back into the shape of a butterfly with 2500 pins. Daniel Rencher, first place winner for the 13–17 age group, spent about 30 hours over a five-week period to draw his picture in white charcoal.
All the Lehi Art Show entries will be on display during Round-Up Week in the gallery room of the Lehi Arts Building on Center Street from 6:00-8:00pm during the week and from 9:00am-Noon on Saturday, June 25.