Jay Lambert—A Lehi Olympian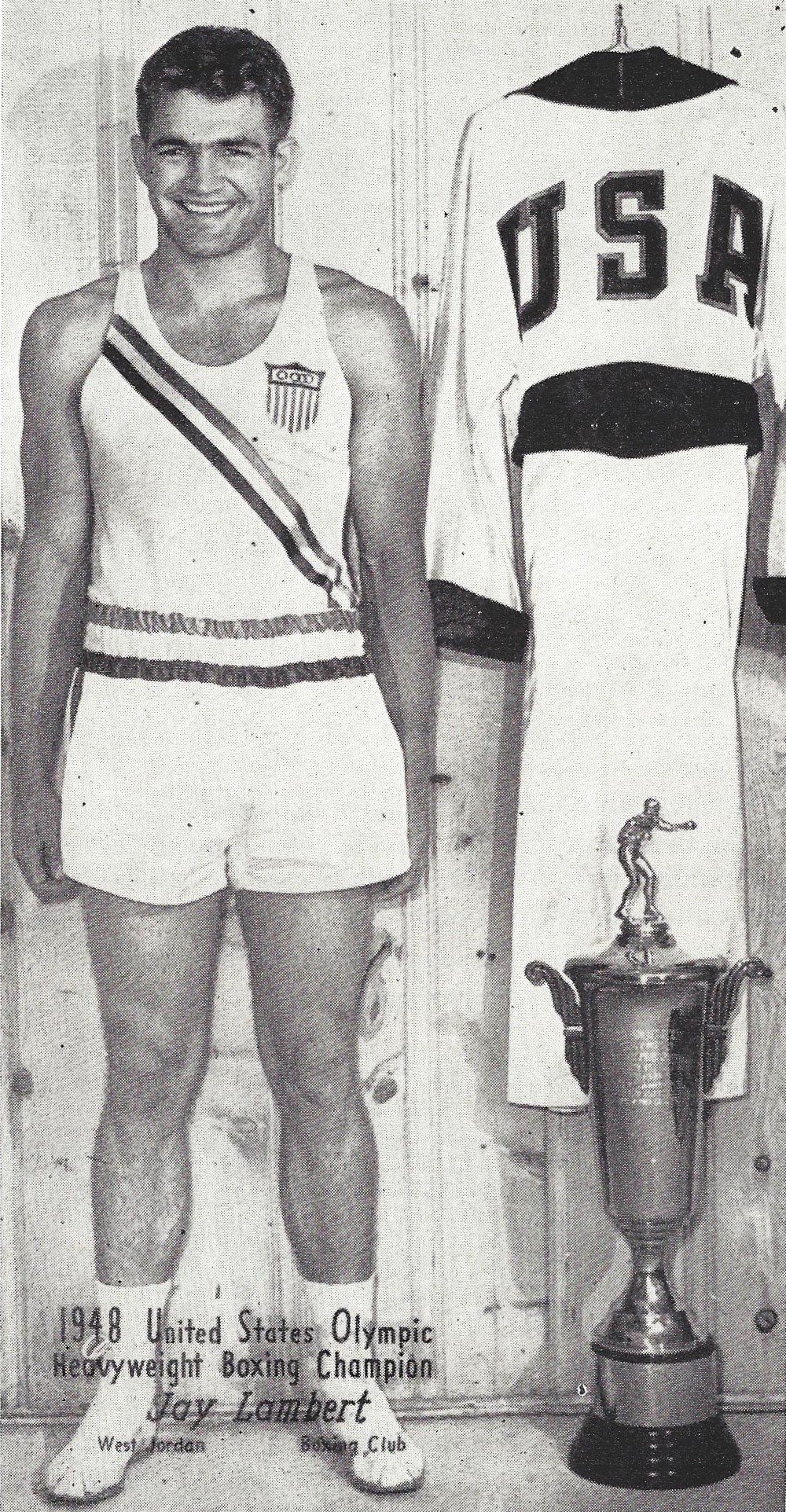 Near the Point of the Mountain, the Joe and Vera Lambert family lived a solitary life. They raised hay, pigs, and strong, handsome boys: Joe Jr., Tony, Clyde, and Jay. Miriam and Martha, the two sisters, were also part of this hardworking, close knit family.
The older boys played high school sports and excelled. Older brother Joe became involved in boxing and boxed in a local boxing club. Younger brother Jay followed his example. Several years later, the boys became part of a boxing training camp owned by Marv Jensen, legendary trainer of Utah boxing legend Gene Fullmer. Jay and Joe trained with Marv Jensen in Jensen's basement gym in South Jordan.
Jay's skills were honed and he competed locally, regionally and nationally. In 1947, Jay won the Intermountain Golden Gloves Heavyweight boxing title. He eventually earned a place on the 1948 Olympic Boxing Team, where he competed in London. Jay boxed his way to the quarter-final round, losing in a split decision. In 1949, Lambert boxed the legendary Joe Lewis in an exhibition match. Lambert was inducted into the Utah Sports Hall of Fame in 1977.
According to Jay's nephew, Lehi resident Robert Fox, Jay chose not to pursue boxing as his career. Instead he used his boxing earnings to enter the University of Utah Medical School. He became a general surgeon and spent the next 40 years as a surgeon at LDS Hospital in the Salt Lake area. He was the doctor for the Granite High School football team for many years and never received compensation. He loved the youth and spent his spare time volunteering and working with them in various sports.
Jay loved to hunt and would spend the hunting season as a boy in the low hills just north of the family farm. He was always able to bag a deer. He, his cousins and friends would toboggan down the hillsides of the low hills and find happiness in nature. This passion continued his entire life.
Fox recalls loving to be around Uncle Jay, "except when he was sick, because he knew he would end up getting a shot." Jay was a devoted husband to Ila and children: Stephanie, Vickie, Ann, and Michael.
All four of the Lambert boys served in WWII. The Lambert family is still talked about in Lehi circles. Jay passed away in 2012, but his legacy of athleticism, hard work, and public service continues.