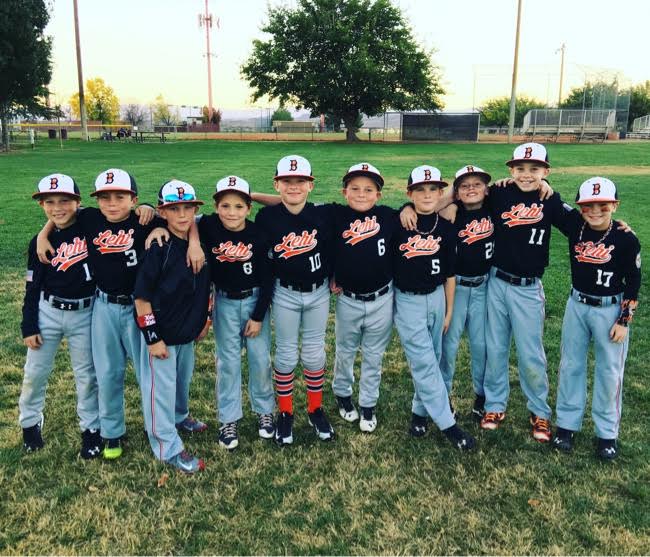 After finishing the six and under baseball season, coach Jaron Poulson had to figure out if it was worth it for the Lehi Sliders to continue on to play in machine pitch baseball or move the team up to the 8u (under 8) kid pitch league. Having played college baseball, Poulson wanted the boys to have the best opportunity to grow as players and develop their skills. Four of the players from their team made the league's all-star game and he decided they would hold open tryouts for the six remaining spots.
The first season was rough playing in the Rocky Mountain School of Baseball (RMSB). The boys were six and seven playing against teams with mostly eight year olds. They finished the season with 13 wins, 21 losses and 1 tie.  While the losing was rough, the team improved and learned valuable life lessons.
"I would much rather see them develop more as ball players and individuals than come home with trophies from the tournaments we attend," said coach Poulson.
The Sliders changed their name to the Lehi Bolt, a name used by other teams in Lehi that play in the RMSB league and started the next season again in the 8u league. Half the season went by and the team was winning by 10 to 20 runs per game. The team petitioned to move up an age level and finished the season playing 9u. The team finished the season #1 in the state for 9u with a 42 wins and 9 losses.
"We finished last season with some memorable wins in the RMSB Firecracker, RMSB Great 8, RMSB Idaho Falls, and the RMSB Tournament of Champions," said assistant coach Doug Ybarra.
The boys are now eight and nine years old and instead of playing in the 9u division where they are ranked #1, they will be starting their third season together in the 10u division which starts April 15th.
Before the official season starts, the team won the Southern Utah Baseball Fall Holiday tournament this past November in St. George. They went undefeated, winning five games including wins over two nationally ranked teams out of Las Vegas. By winning this tournament, the team is now qualified for the XDS World Series in San Diego this July where they will be playing against teams from around the country.
You can follow the team on Instagram at Instagram.com/lehibolt9u.