Math Clubs Getting Super-Charged Through Local Business Support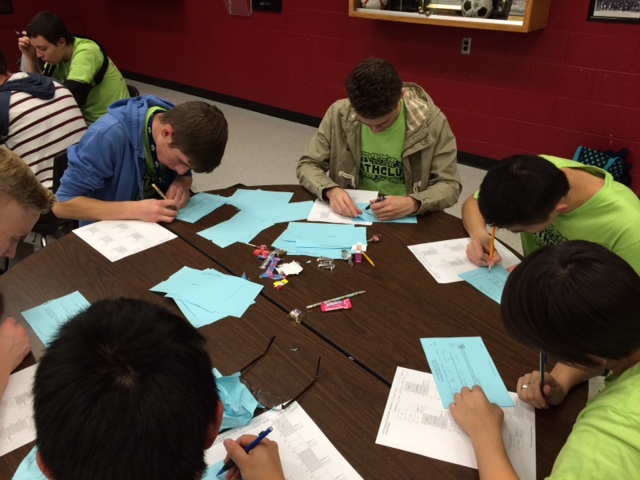 Math club participation in Alpine School District high schools is exploding due to a partnership started in 2013 by IM Flash, and joined recently by doTerra, which expands clubs' resources and attractiveness through exciting activities and competitions. Students are loving it, and teachers and sponsors are excited by the students' growing enthusiasm and increasing test scores.
When the partnership began three years ago, five of ASD's eight high schools had math clubs, with a total of 100 students participating. At the end of last school year, all eight high schools had a club, with a total of 800 students participating across the district.
"We wanted to do something to generate excitement about math," said Kristen Bird, Marketing and Communications Specialist at IM Flash. So the company decided to donate $150,000 to boost participation in math clubs and fund peer tutor programs. With the infusion of resources, the math clubs were able to make their activities more attractive to a wider audience and expand services to students.
At Lehi High School, the club meets every week during flex time. The students earn prizes as they solve math puzzles. Every month, they compete in the district competition. Each school takes a turn sponsoring the competitions, with each competition taking a different format, such as relays, bees or treasure hunts.
Competitions are lively events, with teams donning T-shirts covered in math puns, focused intently on the papers in front of them. While the atmosphere is much quieter than a basketball game, the energy in the air is palpable as students work to earn recognition for their mastery of intellectual athletics.
In addition to the exciting activity and competition aspects of the partnership, the corporate donations are allowing schools to finance a peer tutor program, further expanding the positive influence of the partnership. At LHS, the additional resources have also financed several scholarships for math club members headed off to college.
Karen Gourley oversaw the program at LHS last year, and she has headed to Skyridge to organize the new club there. Jackie Wood will direct the program at LHS this year. "It's a great experience for the students," she said. "It's giving them lots of confidence."