Skyridge Football keeps winning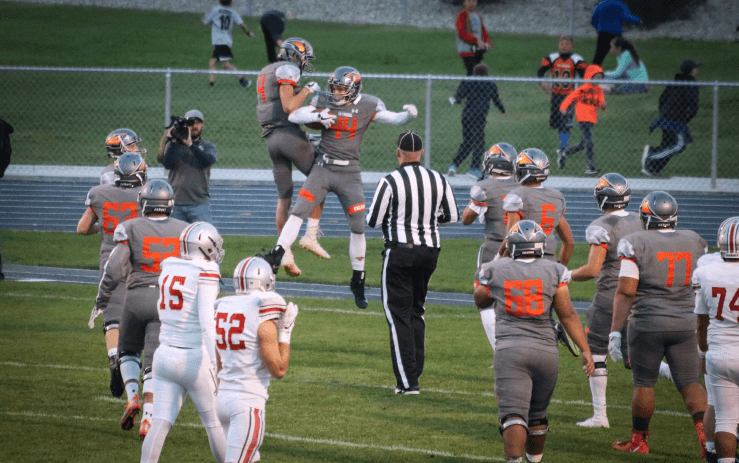 Whenever a team has an impressive winning streak, it's always interesting to see how they will handle the mounting pressure to keep it alive. The Skyridge Falcons seemed to embrace the pressure last Friday. They came out of the locker room ready for the challenge to move to 5-0 against the Spanish Fork Dons, and it showed.
The first drive was a little slow, with an interception for the Dons. But Skyridge answered back and answered back quickly. The Falcons got the ball back and then had a 90-yard rushing touchdown to strike first. After that, the Falcon defense forced a 3-and-out, and on the next drive gave Jayden Clemons the chance to connect for a touchdown pass. The defense then forced the Dons into another 3-and-out, then blocked a punt, which gave Clemons the chance to connect for another score.
In the opening drive of the second quarter, Skyridge scored yet another touchdown, and it was becoming obvious that Spanish Fork wasn't quite up to the task of competing with the Falcons. With two interceptions thrown, a recovered fumble, and the fact that Spanish Fork only managed to get one first down the entire first half, it was a lopsided contest.
Starting the second half, with a 38-0 score in favor of the Falcons, Coach Lehman decided to let off the reigns and put in the younger class. Jack Miskin came in to man the offense at quarterback in place of Jayden Clemons, and gave a noteworthy performance adding two more touchdowns to the Skyridge tally. The game ended with a staggering 52-7 win.
At the end of the game, many players on the Skyridge team had their fill of highlights. From Baden Stambaugh and his touchdown catches to Garret Rusick and Alex Palmer and their interceptions. The entire Falcons operation worked from the get-go to end the game in dominant fashion. "They're all buying into the program," said Offensive Coordinator Coach Lira, the man behind this high-scoring powerhouse.
"They believe in Coach Lehman, they believe in each other, and they're willing to work hard," said Lira.
When asked about his receivers Lira commented, "Each one of our guys could go anywhere in the nation and be thousand-yard receivers. We have some amazing talent in the guys that we put out there and we have a lot of confidence in them".
Skyridge now moves to 5-0 and looks to keep the streak alive as they begin region play Friday against Provo.