Skyridge High School Theatre wins 5A State Championship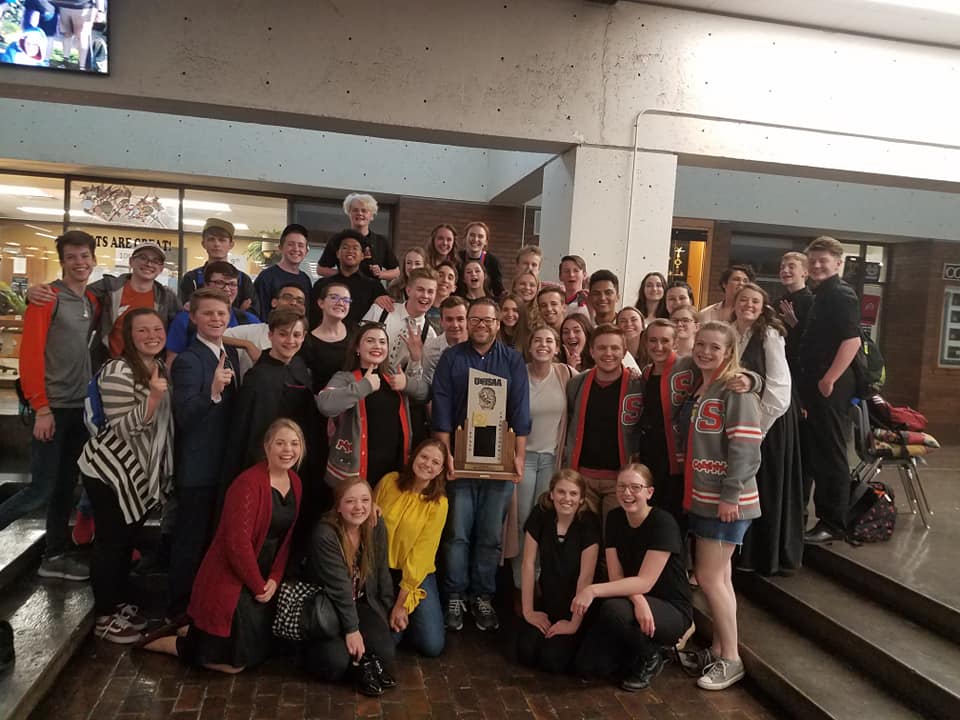 Skyridge High School is celebrating another big win this week- a Theatre 5A State Championship. The Falcons won the sweepstakes, which means they had the best point score overall. This is the first State Championship for the theatre department; they placed second in last year's competition.
After sweeping the region competition a few weeks ago, Skyridge excelled and took second place in three different events. The Falcons did fall short in the One-Act event, not placing at all. 17 out of their 24 acts took Straight Superior, which is the highest ranking a student can receive.
"We were the team that had the most kids in the final round," said Skyridge Theatre Teacher John Brown, "The kids worked really hard to become a very well-rounded team."
"For the kids to feel like the administration values the arts as much as the athletics, it was a really neat experience." -John Brown
Brown said the team was sitting in the auditorium waiting for the winners to be announced. Based on the day's scores, the team knew they would be somewhere in the top five. "When they announced third place we waited, and then when they announced that Corner Canyon won second, I just bowed my head and said, 'we won,'" Brown recalled.
The announcement of becoming State Champions was a great moment for the team, but Brown said one of their favorites parts was driving home and being greeted by Lehi police and fire departments, escorting the bus back to Skyridge. "For the kids to feel like the administration values the arts as much as the athletics, it was a really neat experience," Brown said.
Mary Taylor, a parent volunteer, said it was the team's hard work that put them over the top. "They just worked really, really hard," she said. "They have a really great unity and comradery, they're really supportive of each other," Taylor added.
The team's Act-One won first place at regions, but, surprisingly to the team, didn't place at state.
"It's a really powerful and interesting story," Taylor said. It was an all-female cast and it focused on challenges girls face right now. Topics included fitting in, bulimia, and date rape. "It was really amazing and really intense. It was really, really good," she said. Taylor said competing in theatre can be challenging because "theatre is so subjective, it can really vary by the judges." And while they didn't win their One-Act, they competed well enough to earn the State Championship title.
"One of the judges really loved us and gave us a perfect score," Brown said, "but one judge didn't like us at all, and then one judge was kind of in-between. So, because one judge didn't like it at all, we didn't place." Brown said, "it happens" and compared it to a movie. "Some people think it deserves an Oscar while others totally hate it."
Despite having an estimated 40 percent of his team graduating next month, Brown is optimistic for next year. "I certainly believe we will have a stronger team next year. Every year we have a chance to build the program and put more kids in and give them a chance to work within the system, they get better," he said.
The categories included: Humorous Monologues, Dramatic Monologues, Classical Scenes, Contemporary Scenes, Pantomimes, Musical Theatre, and One-Act. Skyridge's total point score was 1402, followed by Corner Canyon, coming in at 1375.
The following students placed in their categories:
2nd place – Cameron Hansen (Dramatic Monologue)
2nd place – Solomon Harmon (Humorous Monologue) 2nd place – Libby Patterson, Emma Poulsen, Carmen Nieznanski (Contemporary Scene)