Lehi High School Art Collection finds home at FamilySearch Center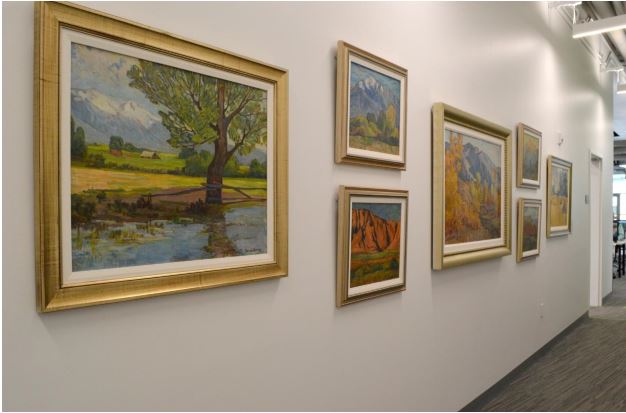 The architects and artists who designed the interior of the FamilySearch Center and headquarters in Lehi included photographs of Lehi in its early days and paintings by renowned Lehi artists. The result is a space that feels immediately familiar to long-time Lehi residents.
"The idea was to make the FamilySearch Center in Lehi feel unique, to relate to its location and tell the story of Lehi through art," said Josh Stewart, Architect in the Special Projects Department for The Church of Jesus Christ of Latter-day Saints. Katherine Ernst, an architect for Method Studios (the company responsible for the interior design of the FamilySearch Center), painted the mural on a wall on the east side of the center. Ernst is from Mississippi, but was diligent in her research of the area. She included fields of sugar beets, the Lehi Roller Mill (with shadows of kids dancing next to it), tulips to represent Thanksgiving Point's famous Tulip Festival and the amazing mountains that watch over the valley.
When Russell Felt, former principal of Lehi High School, heard the LDS Church would have a FamilySearch Center in Lehi, he contacted them and offered to let them borrow a collection of paintings by Lehi artists. In 2015 Felt and Sari Sorenson rescued the collection of paintings by James Taylor Harwood, Edwin Evans, and Floyd E. Breinholt from a custodian supply closet at the high school. Beginning in the 1940s, the paintings were on display in the halls and the library of Lehi High School. The Springville Art Museum cleaned and repaired all the paintings when they were on loan to the museum in the 1990s. Sometime between Felt's retirement in 2001 and 2015, the incredible art collection was forgotten. The valuable 32 piece collection is now insured and kept in a bank vault under the direction of the Lehi Historical Society.
"The Lehi FamilySearch Center seemed like a natural place for displaying artwork that reflects the local talent and beauty of the area, so we were excited about the opportunity to have some of the Lehi High School's collection displayed in the facility. Like the family history work of discovering information about one's ancestors, having the artwork in a publicly accessible space allows it to be 're-discovered' by visitors to the center. It's wonderful to see the beautiful scenic landscapes of the area portrayed by local talented artists. I believe it helps viewers better appreciate their home as well as want to be better stewards of both their cultural and natural heritage," said Josh Stewart.
Seven paintings from the Lehi High School collection are on display in the FamilySearch Center right now. They include Edwin Evans's famous painting of wheat fields in Lehi and other beautiful Lehi landscapes.