Skyridge fights to the last second in loss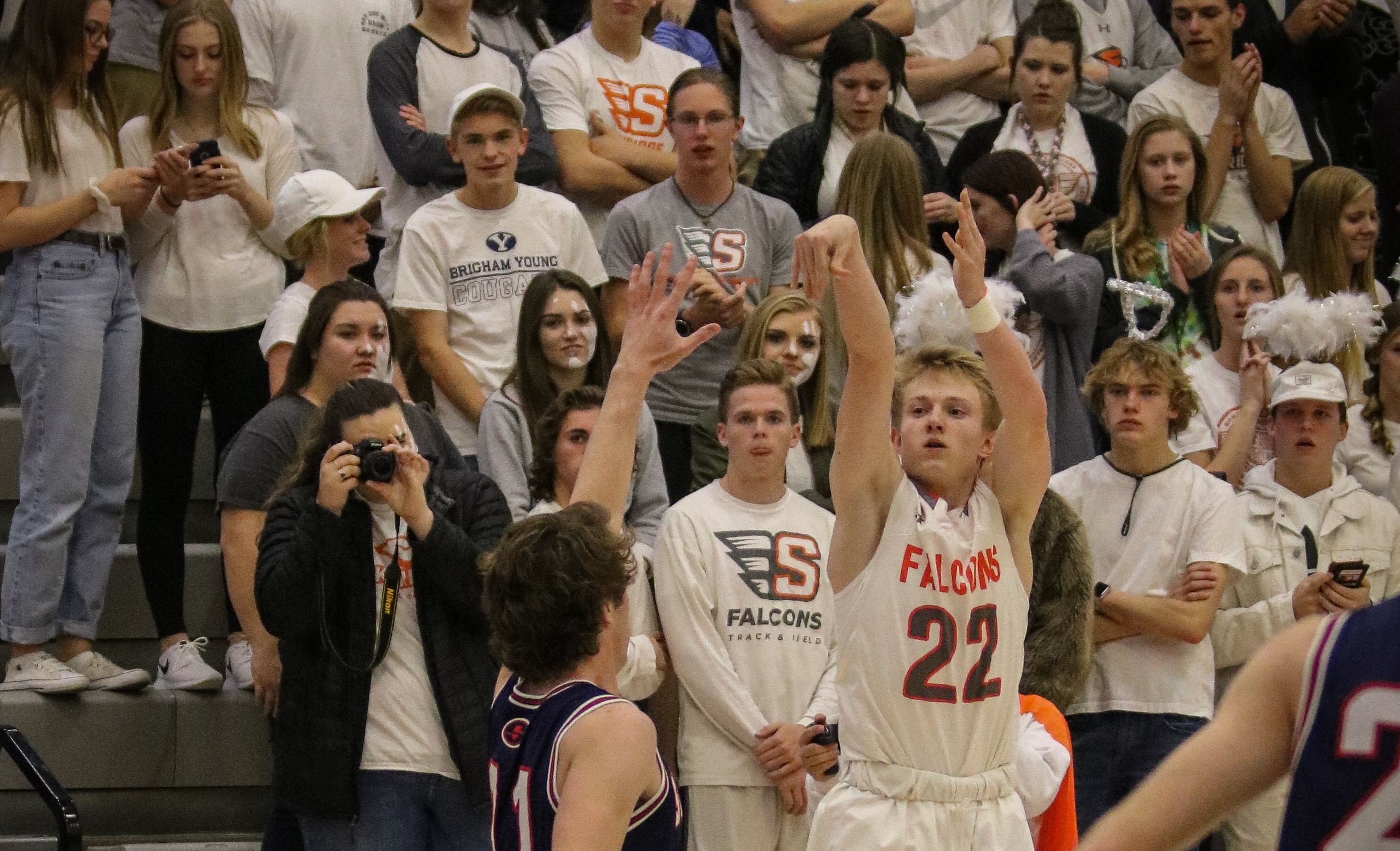 Last week on February 2, the Skyridge boys basketball team were well-matched against the Springville Red Devils. As the Skyridge starters' names were called, the lights dimmed on the court and fans could feel the tension in the air. Trevon Snoody started off the night with a reverse layup, and the crowd roared in approval. Ryan Reid continued his strong shooting and hit one of his clutch three-point shots. Both teams played a tough man to man defense throughout the first quarter. The Student section was heard chanting "Here we go offense, here we go." Ryan Reid made a key layup toward the end of the quarter. Soon after, Duncan Reid sunk a jump shot in the last seconds. The quarter ended with the score 12-13.
The Skyridge band provided the drumbeat as the second quarter opened. Snoody scored again with a layup to give the Falcons a lead. Duncan Reid hit a three-point shot behind the arch, continuing the fast pace shooting, Joe White made a college three-pointer, a foot or two behind the arch. The crowd roared as the ball swished. In the last seconds of the quarter, Springville hit a big three-point shot ending with Skyridge down 25-30.
As the third quarter began you could see and feel the tension between the teams as they continued trading baskets. Colby Samuels made a huge steal and took the ball all the way down for the first layup of the quarter. Ryan Reid followed up with a perfect jump shot. Skyridge spread the ball side to side with Duncan Reid making another monumental three-point shot. With only 30 seconds left in the 3rd quarter, Ethan Ilunga added two points with a powerful layup. The third quarter ended with Skyridge six points down, 46-40.
During most of the fourth quarter, Springville controlled the ball. With only two minutes left in the game, Snoody made another clutch offensive rebound and hit a big shot under the basket. With a close game at 45-50 and only a few minutes left, Duncan Reid made a huge jump shot and drew a foul. The outcome of the battle came down to the last seconds. Skyridge had a few opportunities in the last seconds but couldn't convert and they fell short by 3 points, ending the game: Skyridge 47- Springville 52.
This slideshow requires JavaScript.