Renaissance Academy Presents "Willy Wonka"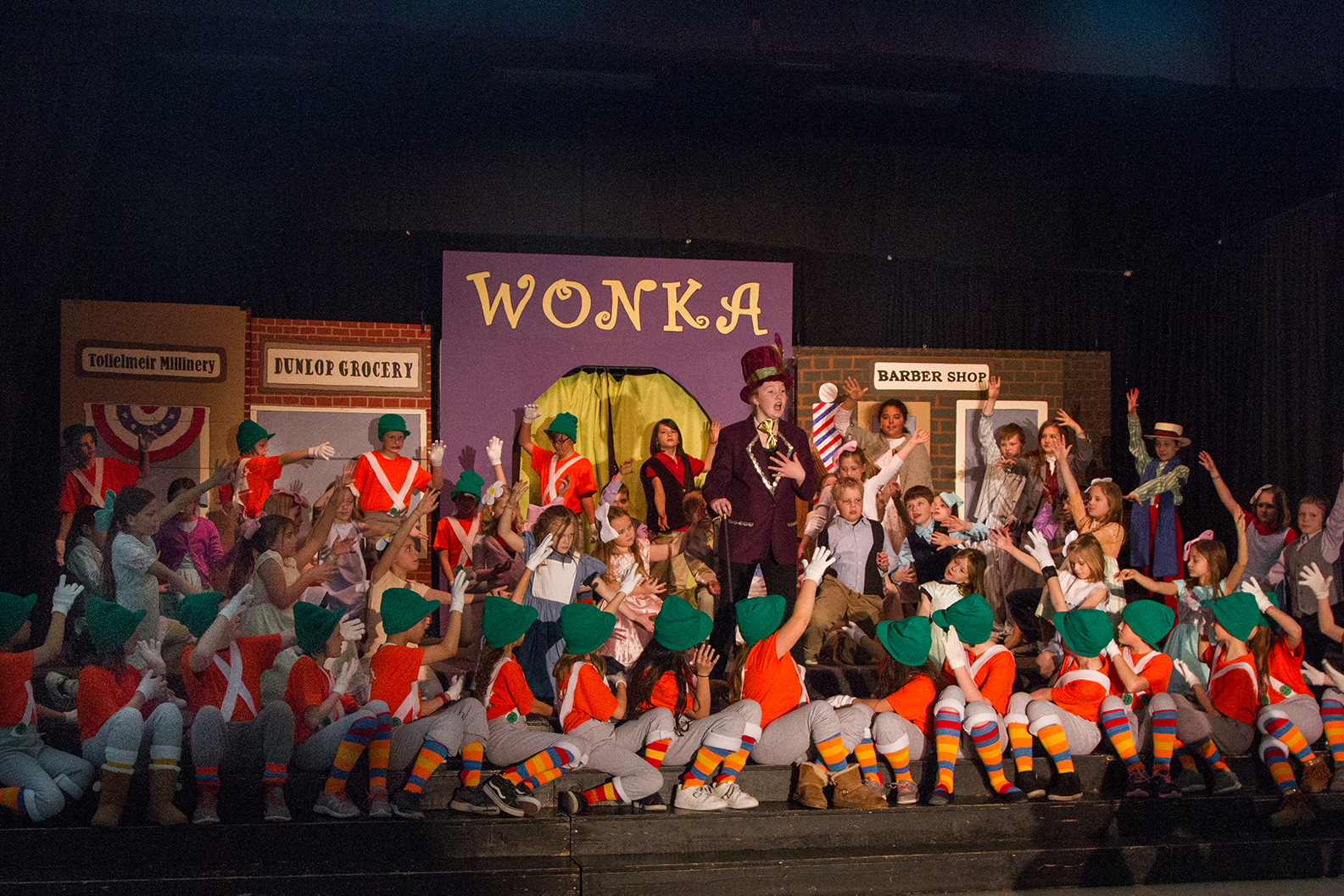 Renaissance Academy, a charter school in Lehi with kindergarten through ninth grade students, is presenting their production of Willy Wonka from Thursday, March 15, through Saturday, March 17. Dorian Kinder, Music and Drama teacher at Renaissance Academy, is directing the show with the help of three student directors. Everything from sets to sound and lighting to acting is done by the students.
"I try to pick a play that has a nice set of characters that will give more people the opportunity to participate," said Kinder. "The goal of our program is to get kids involved and loving theater, so we cast every student who auditions. We have 90 kids this year!" To work with that many cast members, Kinder has relied heavily on her eighth-grade student directors, Vivienne Johnson, Meigen Salazar and Elizabeth Christensen. Parents are in the room with the young girls when they break into groups, but the student leaders do all the work.
Some of the cast members in Willy Wonka have been in theatrical productions since they were very young. Grace Harper, a sixth grader, plays Willy Wonka and she's been in several plays over the last three years. "I like the dancing, the singing, being with all the fun people in the play – all of it! I always make a lot of friends." Nate Jones, a sixth grader, is one of two children playing Charlie and it's his first play. He comes from a family of theater people, so he knows a little about what to expect. "I'm nervous, but I'm excited," said Jones. Micah Rollins plays the part of Grandpa Joe and like Grace Harper, Rollins has been in Renaissance Academy productions many times. "It's fun to get into character and perform," said Rollins.
"Utah County is very supportive of the theater arts," said Kinder of the great interest and participation in the Drama program at Renaissance Academy. "Kids are expected to be involved in activities outside of school and not everyone wants to play sports. There's so much about teamwork and socialization and expectation the kids learn by being part of a theater production. They are working together to put out a quality product." The entire tech crew of drama productions at Renaissance Academy is students. "There's something for everyone in theater," explained Kinder.
Willy Wonka will be performed at Renaissance Academy on their stage, and with 90 students in the cast, they don't have a lot of room for a big audience. For their performances, the cast needs to use three classrooms as dressing rooms. The four performances, Thursday – Saturday, March 15-17 at 7 p.m. and a matinee on Saturday at 3:30, are free. Students will be selling concessions, the proceeds of which will go back to the Drama Department. The school is hoping to buy the vacant land next to their building from the city to expand their school and make a larger auditorium.