Lehi Junior High reaps the awards of hard work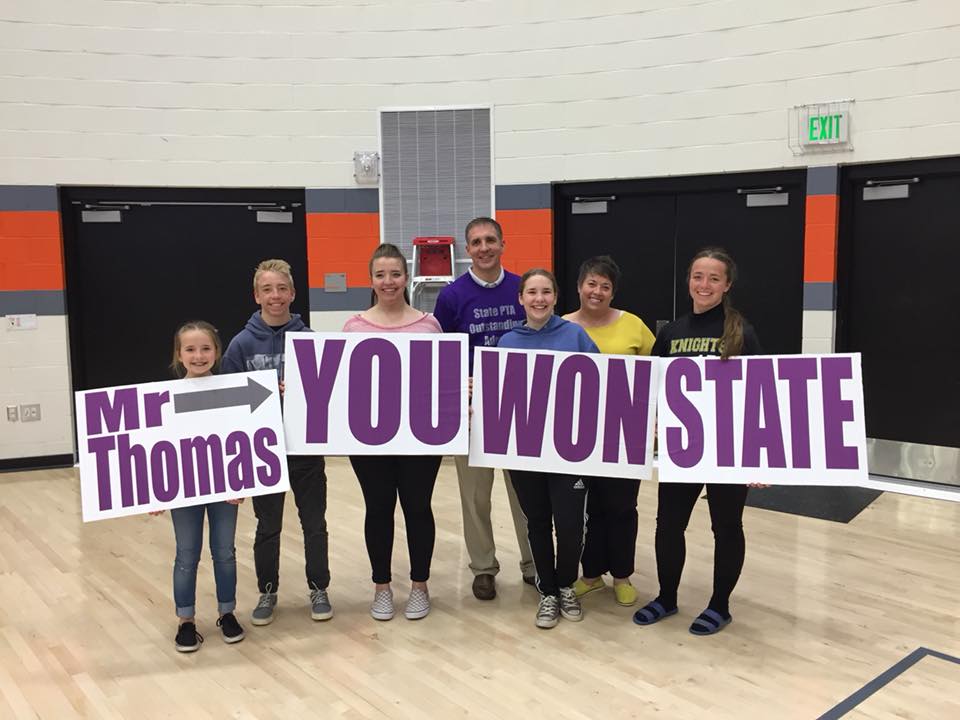 When Skyridge High School opened in the fall of 2016, Lehi Junior High became the only junior high school in the Alpine School District with only seventh and eighth grade students. Principal Kevin Thomas, his administrative team, teachers, and members of the PTA knew they would have to do more to make the now two years of junior high school the best they could be for every student. After Lehi Junior High's second year of dividing students into "house" groups and recruiting parent volunteers, various awards for students, teachers, administrators, and the PTA have been pouring in.
Kevin Thomas, Principal of Lehi Junior High, recently won Principal of the Year for the state of Utah, an award given by the state PTA. Thomas prefers to stay out of the spotlight and give all the credit to his associates and students at LJH, but his quiet and consistent leadership has inspired everyone around him to be better. When he was presented with the award, Thomas was praised for his efforts in making connections with his students. With over 1,300 students, Lehi Junior High is almost as big now as the school was before the ninth grade went to Skyridge High School two years ago. "One of the things about having so many students for only two years, we wanted them to have a connection to the school – to have an adult advocate," said Thomas.
To facilitate students feeling that connection, Lehi Junior High divided the school into twelve houses, and divided again within those houses, to create the smallest possible groups to try to reach every student. Each week the students have flex time where they can work with teachers on areas where they are struggling and catch up on homework if needed. Fridays at LJH are House Days when teachers work with their houses on character traits, activities, or service projects where students have a greater chance of making connections.
The teachers and administration at Lehi Junior High have taken to heart the findings of a multi-million-dollar study done by Johns Hopkins University about the success of students in school. The study concluded that feeling a connection to the school was what brought out the best in students: "School connection is the belief by students that adults in the school care about their learning and about them as individuals." Thomas adds that it's more than the students knowing they are loved at school, there needs to be high academic rigor and expectations for those connections to be solid. When students are struggling, Thomas wants to make sure they know there are adults there to help them. "Our mission is to take elementary kids and get them high school ready," said Thomas.
Lehi Junior High's PTA president, Amy Kunz, won the state PTA Volunteer of the Year. In the fall of 2017, Kunz rallied parent volunteers and introduced them to the theme at LJH, "We Are One." Her tireless work created a large network of adult advocates for the students at LJH.
The students at Lehi Junior High have been excelling along with their principals, teachers, and PTA members. For the second year in a row, LJH took home the Alpine School District trophy for winning Battle of the Books. The LJH Knowledge Bowl Team took first place at the District Knowledge Bowl where the theme this year was Geography – a subject that isn't even taught until ninth grade. The top band and choir at Lehi Junior High were invited to perform on the second day, an honor for any school, at the state festival.
"We're getting better – we're always making adjustments and improvements. We're building that culture here that will allow us to eventually reach every kid," said Principal Thomas.