IM Flash makes donation to Archives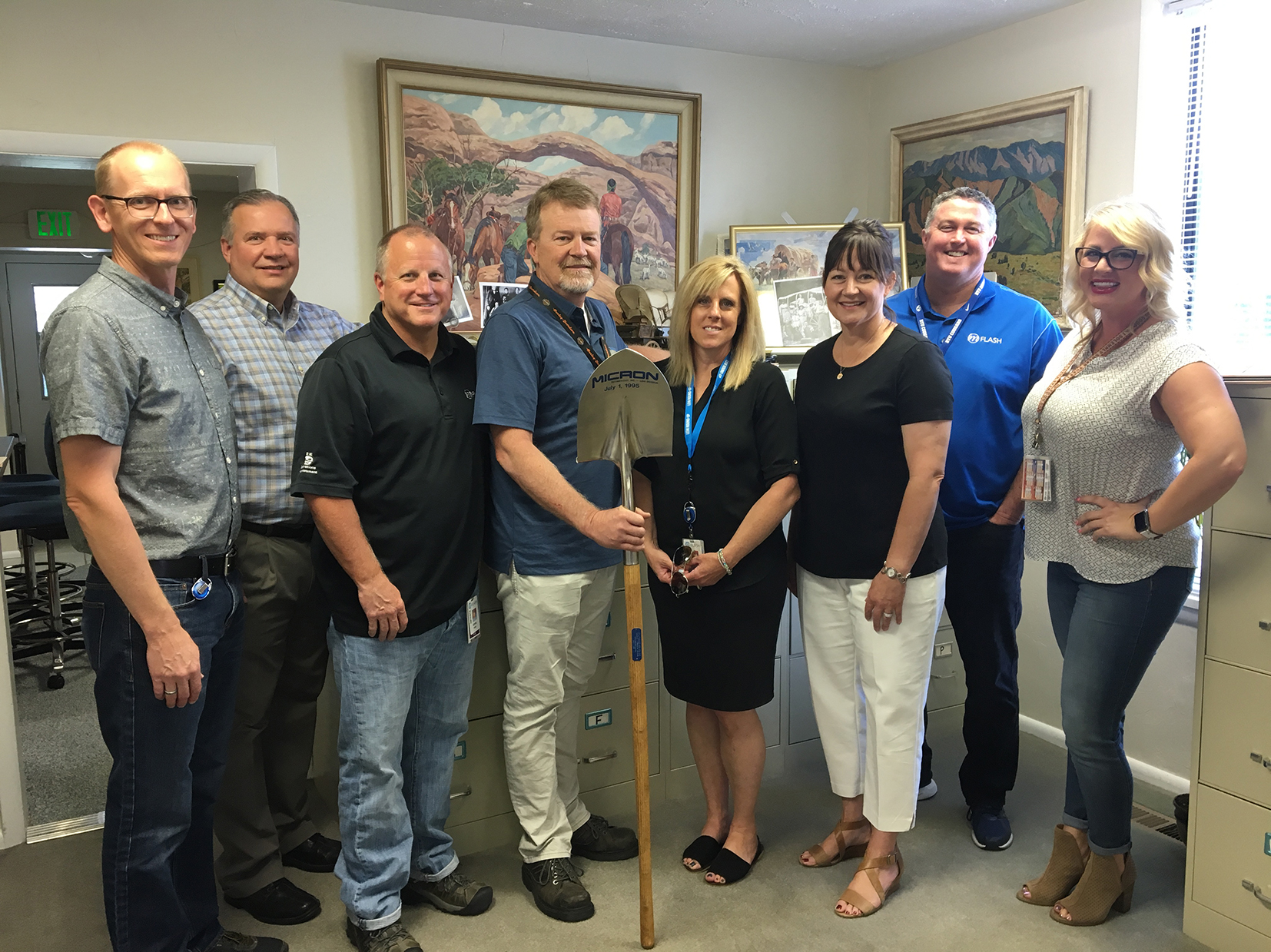 Members of the Community Involvement Team at IM Flash recently visited The Lehi Historical Society and Archives to award a donation to assist in presenting Lehi Heritage Day on Labor Day, Sept. 3.
"This is huge for us," said Lara Bangerter, director of the Archives. "We are thrilled! This year's Heritage Day will be better than ever as we will have more money for displays and banners—just more money to cover our costs. We are so grateful to IM Flash for recognizing the importance of what we are doing here."
"Our sweet spot for donations is to those organizations that make a difference in our local community," said Brian Verwer, Public Affairs Director for IM Flash. "The Lehi Historical Society is committed to preserving the stories of Lehi's past, and we were very impressed with their museum and the experience they offer."
IM Flash, and its parent company Micron, has been in Lehi since 2006 and was one of the first tech companies to move to the area that's now known as "Silicon Slopes."
"We're working on some world-changing memory technologies here at IM Flash," said Verwer, "and our hope is that our current and future team members will look back with fondness on their experiences in Lehi, both making amazing products and living among Lehi's amazing people."
A handful of Archive volunteers were there to greet the IM Flash representatives. They showed the team a shovel from the groundbreaking of Micron on July 1, 1995, as well as articles from The Lehi Free Press, featuring Micron's groundbreaking. Additionally, they gave the team a book of copies of newspaper articles featuring Micron's early history in Lehi.
The Lehi Historical Society and Archives organizes Lehi Heritage Day every year on Labor Day. Created to celebrate Lehi's fascinating history as well as to honor ten inspiring couples making history today. The free community event has something for everyone. This year Lehi's early industry will be featured. There will be a parade, honoree program, historical displays, exhibits, activities, a car show and homemade hamburger and hot dog meals. All proceeds will benefit The Lehi Historical Society and Archives.
Volunteers and one part-time employee run the Archives on a very limited budget. The organization strives to document and preserve all things Lehi. Open Tuesday through Thursday from noon to 5 p.m., it is located at 34 E. 100 North in Lehi. For more information on Lehi Heritage Day, check out the Archives' website at lehihistory.com., or call 801-768-1570.