From the vaults: Artifacts on display at Hutchings Museum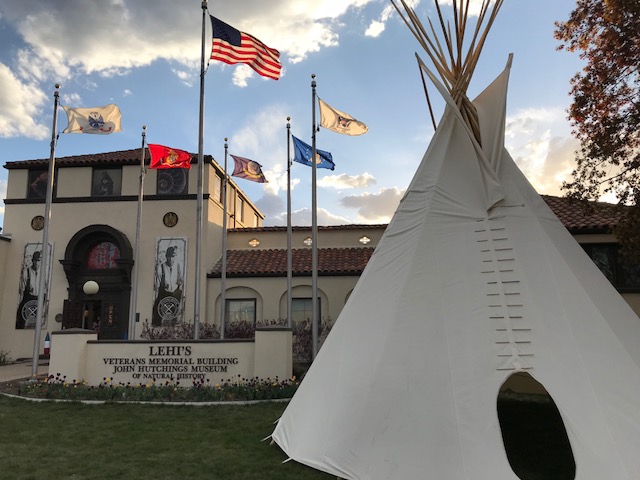 Staff at Hutchings Museum have taken on the task of cataloging and displaying John Hutchings' extensive collection of pretty much everything. From the time John began the collection in his home, to the time he donated it to the people of Lehi, the collection grew outward in many directions. From minerals and fossils to pioneer dresses and antique toys, the museum's collection is so extensive that many items have been tucked away in storage waiting to be rediscovered.
As museum staff continues cataloging and cleaning items for display, the Lehi Free Press will be highlighting some of the "new" items that can be seen by visitors.
Murder On Display—Nefarious Chauncey W. Millard's Demise
Hutchings Museum has most recently placed on display items that can best be described as strange and macabre—a piece of human skin made into leather and the gun said to have been used as a murder weapon. The story behind these artifacts is steeped in Lehi history.
Chauncey W. Millard was born in New York in roughly 1851 and was dubbed a "child of doubtful paternity." His mother placed him in a "poor house" when he was six years old, where he lived and worked until he was released into the employment of a farmer named Babbitt who treated him abusively. At age 13, the boy destroyed his employer's property and ran away. The displaced Millard roamed the northeast, committing several robberies in his travels prior to the Civil War. Millard then became a Civil War bushwhacker and with his companions robbed and murdered Confederate and Union Soldiers alike. Millard later bragged of killing five men before coming to Utah.
After the war, a Salt Lake City-based freight driver named Champion Mayfield, hired 18-year-old Millard to help him drive three wagons of potatoes and onions to the silver mining district of White Pine County in Nevada. Harlan P. Swett, a well-respected 24-year-old man from New Hampshire was also hired. On December 11, 1868, the group was traveling along what is now Utah highway 68 (Redwood Road) and stopped for lunch in the area of Saratoga Bay. Mayfield had noticed the night before that his gun was missing and took the opportunity to look through his wagon in search of it. While Swett cooked lunch at the fire, Mayfield called out to Millard and asked if he had seen his gun. At that very moment, gunfire rang out. Mayfield ran toward the commotion to find Harlan Swett lying dead on the ground and Millard standing over him, revolver in hand. Millard then shot at Mayfield, emptying the last four rounds from the six-shooter pistol. Mayfield was shot once in the hand but ran away to safety across the ice-covered Utah Lake.
Millard would later tell a representative of the Salt Lake Daily Reporter, "Well, Mayfield needn't be afraid of ever being killed by a pistol, for it can't be done. His life is insured. I shot at him four times, fair as ever a man did, and with good aim too, and never hurt him."
Following his escape, Mayfield shared news of Swett's murder, which set lawmen on the hunt for Millard. After four days, word was sent to Lehi that the young criminal was "near the West Mountains, north of the road leading to Cedar Fort." The notorious Orrin Porter Rockwell and Henry Heath set out to bring the murderer in. A reporter for the Salt Lake Daily Telegraph wrote, "When such officers as Rockwell and Heath go for a man, it is pretty generally a foregone conclusion that they will have him. They can be counted on every time."
On December 17, 1868, less than one week after the murder, the Deseret News and the Salt Lake Daily Telegraph reported that Rockwell and Heath had apprehended Millard.
Millard was tried and convicted of murder and sentenced to death by firing squad. On the morning of the execution, January 29, 1869, Millard looked out his cell window to a snow storm and said, "It was snowing like this when I done it." Millard is the youngest person to have ever been executed in Utah.
Prior to his execution, Millard had sold his body to Doctor Don Carlos Roberts, who wanted to use Millard's bones in his medical practice. The price of his body was one pound of candy. It is said that he was still eating the candy as he was shot in the execution chair, giving him the moniker "The Candy Man."
Oddly, Doctor Roberts removed the skin from Millard's cadaver and tanned it into human leather. Roberts then used the human leather to carry his surgical instruments. The process of cleaning the bones, however, did not go according to plan. The body was accidentally fully dissolved in lye.
A portion of the human leather made from Chauncey W. Millard's skin can currently be seen on display at Hutchings Museum, along with the gun said to have been used by Millard in the murder of Harlan P. Swett. Swett is buried in the Lehi City Cemetery.