Heritage Day honorees: Ed & Kaye Collins and Jim & LaVee Strong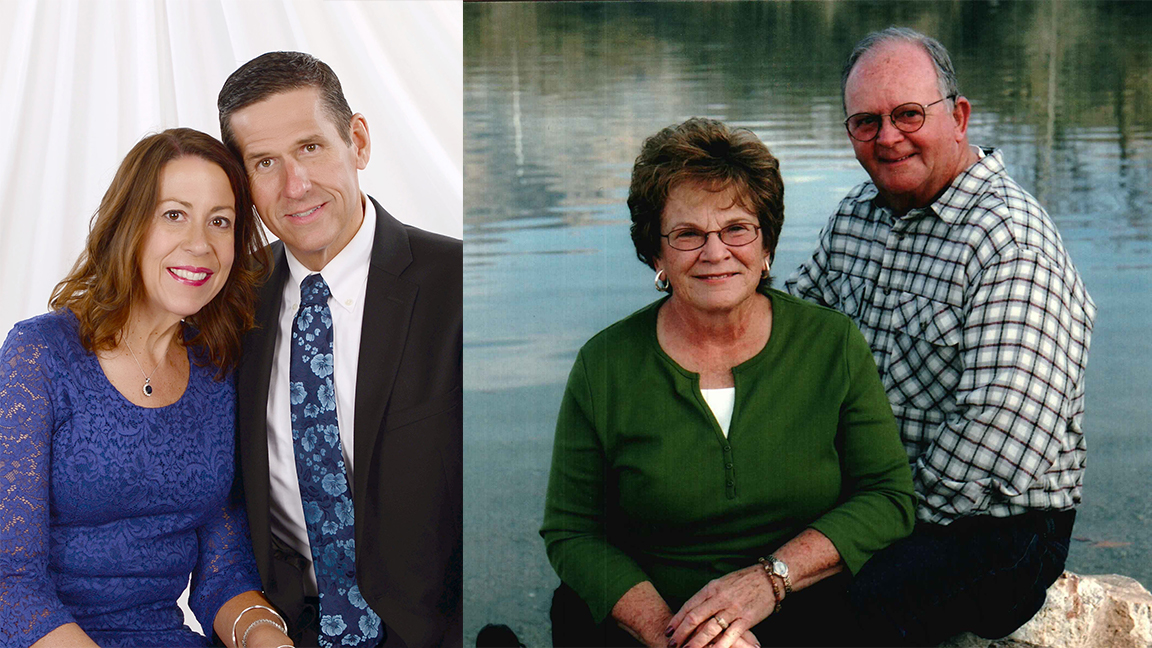 Couples showcased in anticipation of Heritage Day
It's amazing the difference just a few people can make in a community. Today, we honor four such people: Ed and Kaye Collins and Jim and LaVee Strong.
Every year 10-12 inspiring Lehi couples are honored at Lehi Heritage Day for their service to the community. The Lehi Free Press is highlighting these couples leading up to the big event on Labor Day, Sept.3.
The community is invited to this free event to celebrate these couples and Lehi's fascinating history.
Lehi Heritage Day begins at 2 p.m., when the honoree couples will appear in the Showcase Parade up Main Street from 400 East to the Legacy Center. There, each couple will be honored in a short program and with their own brick in the Walk of Fame Garden in front of the Legacy Center at 123 N. Center Street.
Afterward and until 7 p.m., there will be historical displays, exhibits, activities, a car show and homemade hamburger and hot dog meals. Located inside and out of the Legacy Center, this year's Heritage Day theme is Early Industry. The car show will be held in the parking lot just east of the Legacy Center and will be free to enter.
The day's events are presented by The Lehi Historical Society and Archives. All proceeds benefit the Archives. Call 801-768-1570 to enter the car show or for more information.
The Heritage Days sponsors are: Lehi City, IM Flash, and the Lehi Civic Improvement Association.
Ed and Kaye Collins honored for fostering, managing Lehi's growth
Ed and Kaye Collins have been part of the fabric of Lehi since 1996 when Ed was hired as City Manager. Although it took almost a year for them to find a home in Lehi that they could afford, they jumped in with both feet to make Lehi a better place.
They raised three sons here: Colby, who married Danaca Moore, a Lehi girl with deep Moore/Worthen roots; Parker, who is married and serves in the United States Marine Corps in California; and Reed, who is serving in the United States Army in Texas and plans to marry his Lehi sweetheart in September. The Collins became grandparents in May as they welcomed Evelynn Kaye Collins into the family.
Ed and Kaye both grew up in Maine and received their undergraduate degrees there. Ed's career as a city manager began at age 22, where he had to learn to navigate the turbulent waters of the "Maine Town Meeting." The couple met in Calais, Maine, where Kaye had just been hired as the school district's band director. As part of his duties, Ed shut down Kaye's apartment building for health code violations but 'helped' her find a new place downstairs from him. They have now been married 27 years.
Ed was hired as Lehi's first City Manager and was assigned to be the executive director of the Redevelopment Agency and the Municipal Building Authority. At that time, the RDA was in the midst of managing one of the largest public/private partnerships in Utah—the development of the Micron Technology Campus, now IM Flash.
The Micron project included extensive public utility improvements, which led to explosive growth in residential and commercial sectors throughout the city. Major projects included the initial development projects at Thanksgiving Point, Traverse Mountain, Ivory Ridge, the Costco retail area and countless others.
The growth of the city also included the acquisition and development of hundreds of acres of park property and recreation facilities including the Legacy Center, the expansion of Vets Ballpark and the development of the sports complex. During Ed's tenure, the Police Department was moved to its current location on State Street, the Library and Senior Citizen's Center were expanded, property was acquired for the development of additional fire stations and the expansion of the cemetery, and planning was undertaken for the expansion of City Hall.
A major effort to protect the city's spring water resources, which are still piped to the city from the mountains northeast of Alpine, was also successfully executed.
Kaye's boundless energy has benefitted many in Lehi. She began a community band in 1996 around the same time that the bandwagon was being built by Melvin Anderson. It didn't take long for that band to become the Lehi Silver Band of today. She has served as the Lehi High School Band Director on two separate occasions—from 1997-2004 and from 2010-2012. She is currently on staff with the American Fork High School band.
Kaye has been active in scouting, serving in positions from den leader to vice-chair of the now-defunct Lehi District. She is currently serving as Cub Committee Chair.
In 2009, Kaye ran and won a seat on the Lehi City Council. She worked closely with the Public Works department and took the time to learn about every project. Kaye spearheaded a Youth Council program that provided leadership opportunities to the students involved and a great deal of service to the community.
In addition to volunteering in the community, Kaye keeps busy these days as the owner of Lehi Soap Company. She makes soap, lotion, bath salts and other personal care items that are available online and at shops in The Quilted Bear in American Fork and Draper.
Jim and LaVee Strong celebrated for service with museum, 4-H, scouting and more
Jim and LaVee Strong offer a long and impressive history of service to their community.
It all began for Jim when he entered the U.S. military in 1953 and served until 1956. "It was an honor to serve," he said. Since then, on any patriotic occasion, Jim can be found sporting a neck tie featuring the U.S. flag.
From 1993-2018, Jim served at the John Hutchings Museum of Natural History, where he was a staff member and volunteer as well as on the board of directors. "It was a great experience," he said. "I learned much from my co-workers and the youth I taught for so many great years."
Jim was a Boy Scouts of America volunteer for 50 years. His most exciting scout trip included tipping over in a kayak while running the Colorado River.
Jim has held a wide variety of callings in The Church of Jesus Christ of Latter-day Saints. His favorite was with LaVee as he served as branch president and counselor at the Provo Missionary Training Center. Some of the couple's most memorable church service together includes the Integration Committee, Young Married leaders, Young Single Adult leaders and ward clerk in an Orem Young Single Adult ward.
Both Jim and LaVee were chosen to be volunteers during the 2002 Winter Olympics; both are active in the Republican Party, where Jim has served as district chairman and LaVee as a delegate; both have been staunch supporters of Lehi Round-Up; and in 2014, their family was chosen to be a "Family of the Year," in Lehi.
LaVee was a leader in 4-H for ten years and participated in many Utah County Fairs. Jim was chairman and committee member of the Lehi Community Hospital Board for seven years and was awarded the Silver Beaver Explorer Advisor's Key, the BSA's Second Miler Award, the John Hutchings Museum Scouting Award and the national President's Volunteer Service Award. He's also won numerous "Best of Show" awards for his knife making at the Utah County and state fairs.
Born in the old Lehi hospital to Leo and Ilah Bushman Hadfield, LaVee loved farming and working hard. She attended all Lehi schools and was on the LHS drill team, which was called the "Pepettes," as well as was President of the FHA, or Future Homemakers of America. She served as organist and chorister in the LDS First Ward primary and MIA.
For more than 40 years, LaVee has walked and talked with friends in the early morning hours. "I've worn out many pairs of shoes over the years," she said. Her walking locations, like the old Lehi Jr. High School track, have changed as the landscape of Lehi has.
Jim was born in Terraville, S.D., in 1934. He was the oldest of four children. Probably the most exciting thing that happened to him during grade school came when he pulled the chain to the fire alarm to see what would happen. "Yikes, that was big time trouble for me," he said, "but I was kind of a hero with the boys for that stunt."
In high school, Jim made decent money running a trap line for mink and muskrats and was once sprayed by a skunk. He joined The Church of Jesus Christ of Latter-day Saints in 1952 in Souix Falls, S.D. After his military service, he went to BYU where he earned a bachelor's in business and found LaVee. The couple married on Apr. 9, 1959, in the LDS Salt Lake Temple. They are the proud parents of five children, 12 grandchildren and 13 great-grandchildren.
From 1961-1993, Jim worked for Hercules Incorporated in Magna, where they produced solid rocket motors for defense and industry. LaVee worked for Alpine School District for 27 years.