Mascot Bowl draws thousands for football, food and fun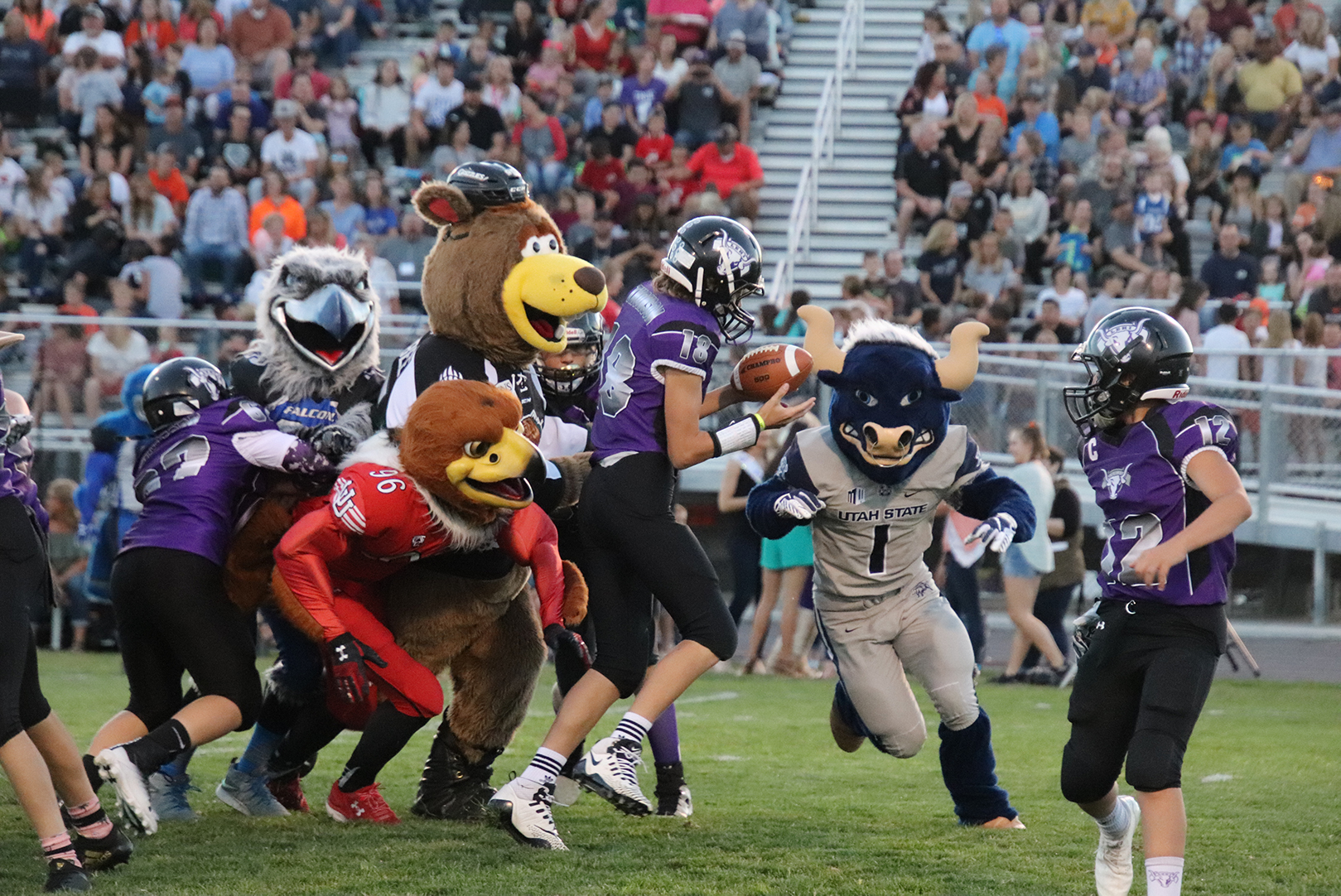 In what may be the finale of the Mascot Bowl in Lehi, thousands of fans came to support 8th-grade football teams, cheerleaders, drill teams, mascots from around and the state and nation, Utah Jazz dancers and the Utah Jazz Stunt team. But more than that, everyone came together to support local kids.
It was a perfect night for young and old to watch and participate in a city-wide fundraiser for Bear Hugs for Children, an event to raise money for local children to shop for Christmas gifts for themselves and family.
The Mascot Bowl is the brainchild of Becky White, sports marketing teacher at Skyridge High School and the Jazz Bear. The event started fifteen years ago as a way for White to give her marketing students a "hands-on" experience in marketing. The collaboration has continued for fifteen successive years and has earned tens of thousands of dollars for children from around the area to buy Christmas gifts. The annual December trek to Walmart by hundreds of elementary students and their high school escorts has become a favorite holiday memory.
This will be White's final season as she is retiring after 30 years as a business and marketing teacher at Lehi High School for 28 years and her final two years at Skyridge. White was honored at half-time of the game and given a standing ovation.
Charley Jenkins and his band entertained at halftime along with a special song sung by Lehi City Council member Johnny Revill. His rendition of Johnny Be Good brought the house down. Jenkins and his band's mini-concert performed crowd-pleasing hits such as Footloose, Sweet Caroline, The Devil Went Down to Georgia, and Sweet Home Alabama. Fans were dancing in the aisles, on the track and in the stands.
The game was a close one with the hometown teams defeating the mascots 30 to 24. The evening ended with a fireworks display as the crowds dispersed. The event provided a great way to spend time with family, friends, and fans and to help raise thousands of dollars for kids.
This slideshow requires JavaScript.