Pioneers blow out Spartans, triumph on the road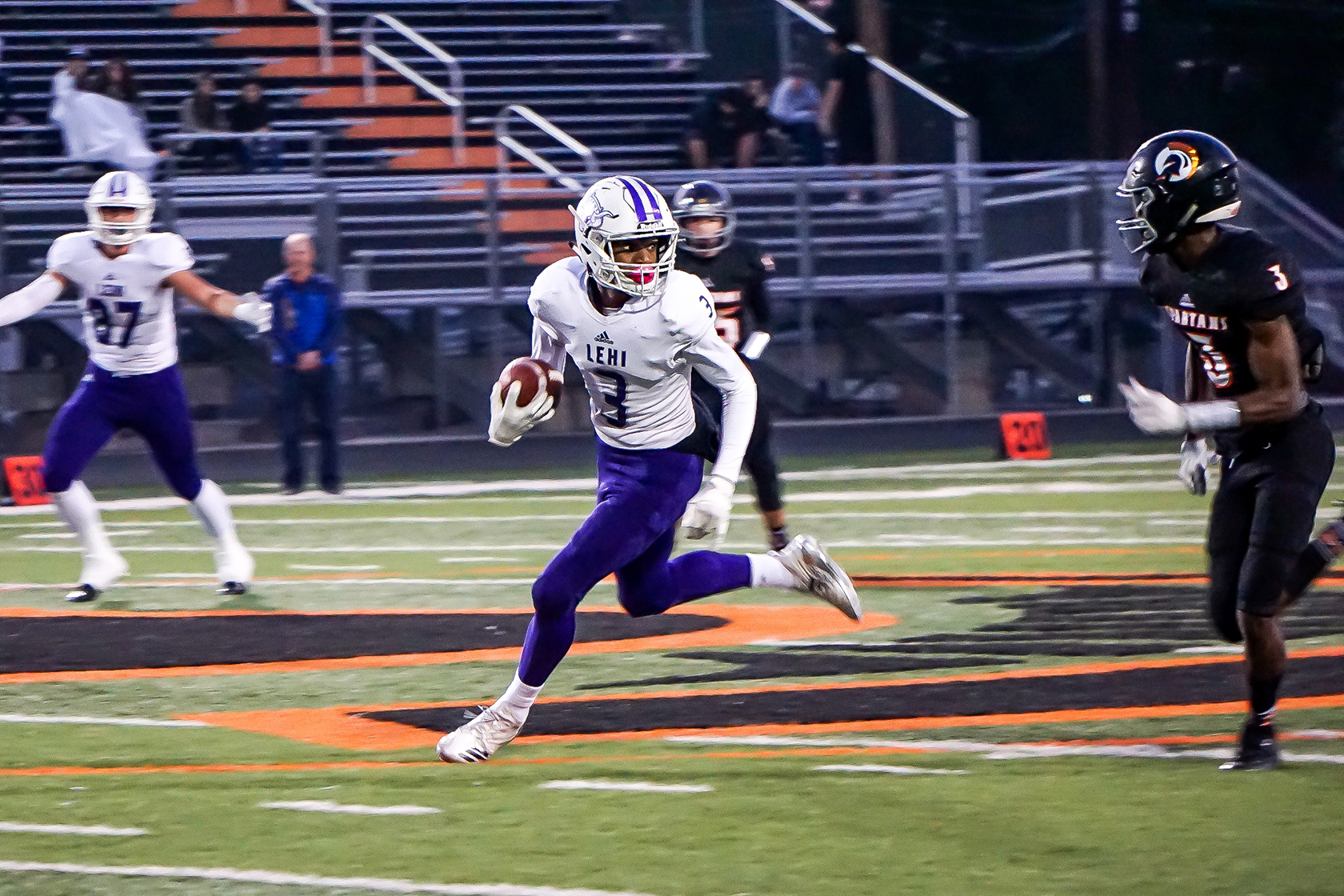 Last Friday evening, Lehi dominated Murray football with a convincing 45-10 win on the road. The night was dedicated to the Murray Spartan seniors who were playing in their last home game of their high school careers. Although the night may have been dedicated to the Murray seniors, the game was all Lehi's. With the win, the Lehi Pioneers are now 4-5 on the year. Murray dropped to 3-6.
When the game started, it looked like it would be a hard-fought, defensive battle between the two teams. Lehi's first drive ended with Spartan cornerback Autjoe Soe intercepting a Hayden Betts pass at the Murray 2-yard line. Soe then tight-roped the Lehi sideline for 30 more yards after the pick. After the turnover, the Pioneer defense came up big, forcing Murray into what would be their first of many punts of the night.
On the Pioneer's next drive, Hayden Betts' replacement, sophomore Creyton Cooper, connected with Carsen Manooken for a 38-yard touchdown pass. This gave Lehi a 7-0 lead and opened the floodgates to what would be a myriad of Lehi first-half touchdowns. Murray answered with a drive of their own that resulted in a 22-yard field goal. Not to be outdone, Lehi kicker Conner Stewart drilled a 52-yard field goal, putting the Pioneers up 10-3.
In the second quarter, Lehi outscored the Spartans 28-0. Senior wide receiver Gentry Cox caught two touchdown passes, one from Creyton Cooper and one from Hayden Betts as the Pioneers continued to alternate the two quarterbacks. Carsen Manooken scored his second touchdown of the game on a 6-yard rushing touchdown. McKay Wall also caught a touchdown pass, adding to the Pioneer scoring onslaught.
During the second half, Lehi put the finishing touches on their blowout of the Spartans when Hayden Betts found tight end Trey Andersen for a 55-yard touchdown pass. In the fourth quarter, Murray finally scored their only touchdown of the game on an Owen Madsen 22-yard touchdown grab. After a failed onside kick by Murray, Lehi ran the clock out for an overwhelming win.
The Pioneers looked great in their region victory over the Spartans. Lehi looks to continue their momentum as they ramp up for what they hope will be another deep run into the state playoffs.
This slideshow requires JavaScript.