Skyridge beats Farmington, advance in Playoffs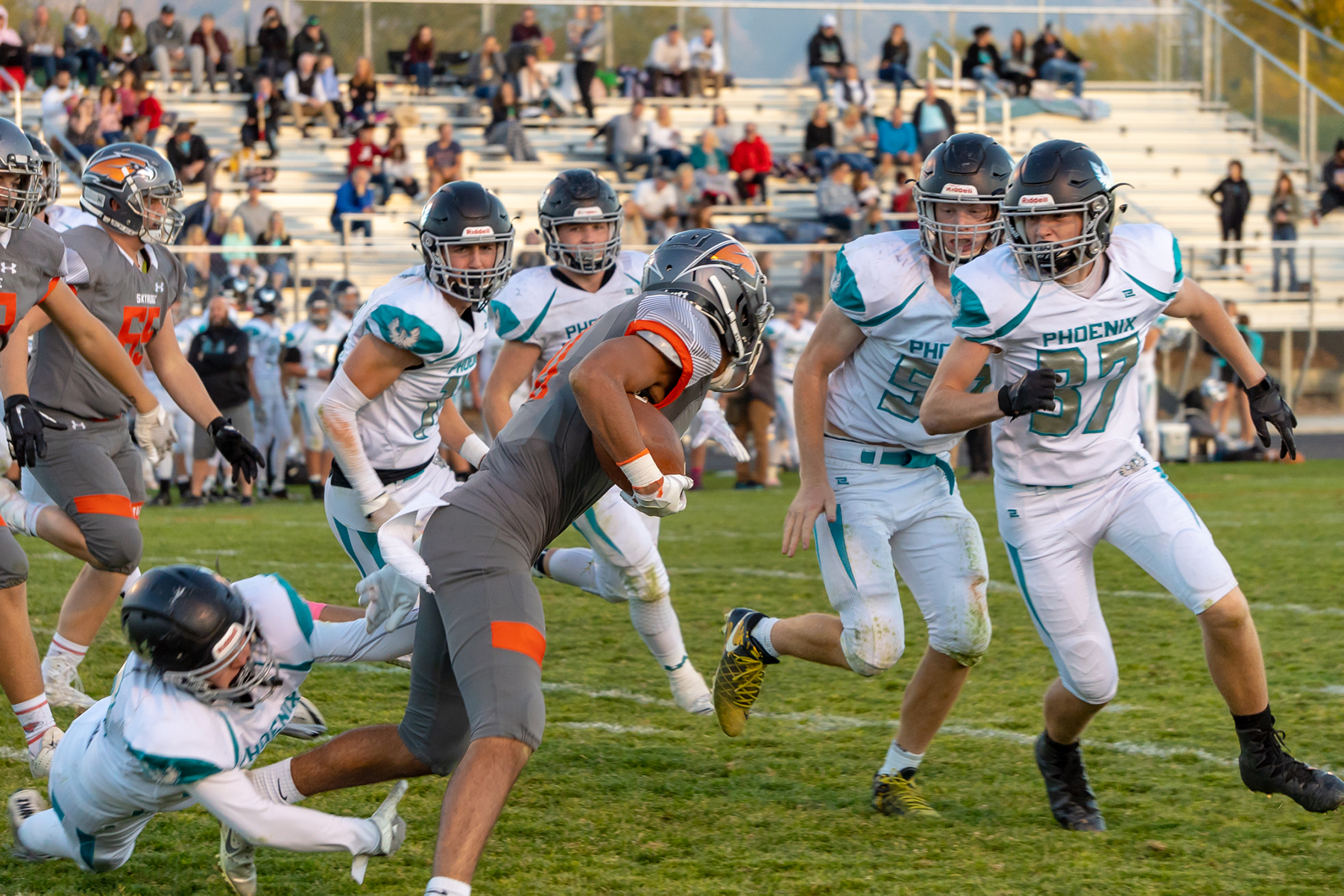 Falcons to face Jordan High School at home Friday, Nov 2 at 4 p.m.
The Falcon hunt began early with Jayden Clemons throwing a 25-yard touchdown pass to Nathan Upham early in the game as Skyridge played in the first round of the playoffs against Farmington last Friday. A few plays later, Clemons carried the ball 12-yards for another Falcon touchdown.
The Falcon offense played strong and efficiently executed every play. Their execution allowed them to dominate the Phoenix defense. Clemons connected with Ty Arrington for a 17-yard touchdown. Ma'a Notoa rushed for yards and the offensive line overpowered Farmington's front seven.
The Falcon defense continued with power as they extinguished Farmington's offensive efforts.  Falcon linebacker, Carson Baker registered his first Varsity sack. Blayden Togiai pressured the Phoenix offense continually as he roamed sideline to sideline wreaking havoc. Tai Tonga gained his first interception of the season.
The Falcons dominated with every score they put on the board. Notoa had a 5-yard touchdown run, Dylan Samuels was on the receiving end of a 27-yard touchdown pass by Clemons. James Palmer ended the night with an 8-yard touchdown pass from Junior quarterback, Emmett Call. Notoa finished the game with two touchdowns, 155 rushing yards and 17 carries. Clemons accounted for five (four passing and one rushing) touchdowns. Falcon kicker, Connor Harris converted all 8 PATS. The Falcons soared above the Phoenix with a final score of 56-7. The Falcons controlled the game with their near-perfect execution.
"Methodical execution allowed us to win this game. The team focused on details and their individual efforts got the job done tonight," said Skyridge head coach, Jon Lehman. "The team played well in every facet, special teams, offense and defense. I'm proud of my players," added Lehman.
Falcon Senior quarterback Clemons said, "It was a good game. We did our jobs and played to the end." Falcon middle linebacker Togiai said, "we came prepared tonight. We practiced hard all week and didn't take Farmington for granted. They were a tough team."
Running back Notoa described the efforts of the Falcons when he said, "We worked hard and delegated to each other to make big plays. I'm happy about the win but not satisfied until we develop more and work harder for the next game."
The Falcons now advance to host Jordan in the State 5A quarterfinals at 4 p.m. on Friday, November 2nd.
This slideshow requires JavaScript.