Sewing and literature motivate local quilt designer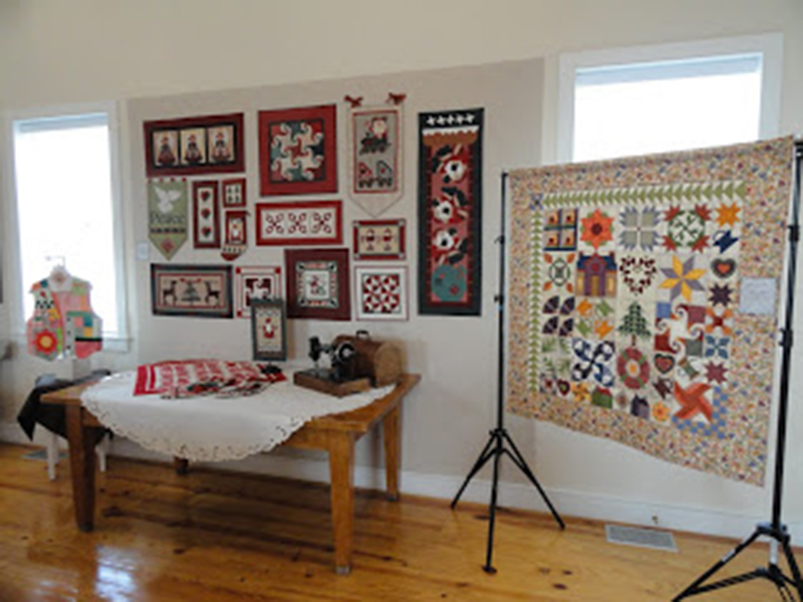 Growing up in a family that loved anything artistic, Jodi Glissmeyer Warner couldn't help expressing her creativity in fabric and design. "My mother grew up writing and encouraged me to express my creativity in an area I loved. It became textiles, fashion, and design. My parents provided opportunities for me to further my love of sewing and design," recalled Warner.
Warner graduated from Brigham Young University with a degree in clothing, textiles and fashion design. As a final project for an art class, she designed and made an "art quilt" that drew raves from both faculty members and other students. "I realized that quilts could be an art form just like painting, drawing, sculpting. Quilts didn't have to be geometric. There are no bounds to the scope of quilt design." explained Warner.
About the time Warner graduated from BYU, quilts and quilting became a nationally recognized art. After her marriage to Vince Warner, she became a devotee of country-style décor and used her quilting skills to add warmth to her home. She associated with quilters who taught her skills and techniques in quilting that she did not know.
After several quilting shows where her quilts were lauded for their originality and quality, Warner was invited to enter some of her quilts in the Great American Quilt Festival held at the Museum of Folk Art in New York City. The contest had a theme and rules. The theme was "Memories of Childhood." The contest was intriguing. Warner made a Peter Rabbit quilt that was one of the winners and was chosen to be part of a national display that traveled throughout the United States and even Japan.
After three years, the Peter Rabbit quilt was returned home to Warner. Her three-year-old son, Riley, would sit under the quilt and Warner would regale him with stories about Peter Rabbit. "It became a bonding moment for me and my son. I started thinking about the possibility of making storybook quilts." Her idea grew into a quilt display that has traveled across the state. Quilts were made that represented many of her favorite children's stories. Lehi's Northpoint Elementary was fortunate enough to have her quilts on display several years ago, Warner's children were students there at the time.
As a latent entrepreneur, Warner discovered, along with making quilts, she loved paper craft and learned the art of pattern-making. She became a pattern designer and started her own business, Hearthsewn Designs. The Lehi resident has been successful in both making quilts and creating quilt designs.
"I have taken a hiatus from quilting for a while," Warner said. "But it has been and always will be something I love."