Local author hopes to instill a passion for reading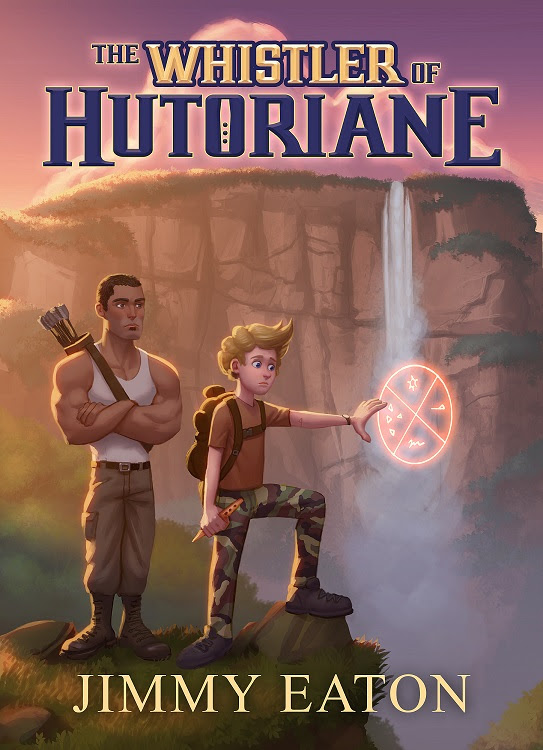 Local businessman and now author Jimmy Eaton, has been writing short stories and songs for a long time. Growing up, Eaton spent a lot of time in the mountains of Utah and draws from those experiences to kick-start the worldwide adventures in his new book "The Whistler of Hutoriane."
With a love of writing and literature established at a young age, Eaton credits writing this book with his own children in mind. Eaton said "I wanted to get my sons excited and interested in reading. The book is really a coming of age story where the young main character develops through challenging circumstances and overcoming villainous foes, mostly on his own and in a foreign land. The theme is that his true power is his goodness."
"The Whistler of Hutoriane" is a fantasy book written with 9-14-year-old youth in mind. Eaton describes the book as a fantasy adventure and has plans for it to be part of a three to five book series. "Hutoriane" is a word I made up. It is Earth spelled backward; and then I inserted the "U" for the underworld, "O" for the outer world, "I" for the inner world, and "N" for the natural world. Hutoriane is planet earth in all of its complexity, dimensions, realms, secret places, and spaces" said Eaton. "In writing fantasy, an author must have a story behind the actual story being told–meaning I had to set the rules, boundaries, parameters to how fantastic the plot was to get, and then keep track and stay consistent to them in my writing."
Having visited all of Lehi's elementary schools and over 50 classrooms, Eaton has enjoyed introducing his book to local students. Eaton said, "Visiting classrooms and having so many kids be excited to read my book is extremely fulfilling. In my classroom visits, I even play the guitar and sing the theme song that I wrote just for the book." Eaton is also the illustrator of the 35 chapter heading pictures found in the book.
Eaton hopes his book can reach readers of all ages, "C.S. Lewis once said, "A children's story that can only be enjoyed by children is not a good children's story in the slightest. I suppose this is how I want to measure the quality of my books. Although I'm meeting with as many elementary school students as possible, I hope their parents will enjoy the layers, symbolism, and deeper meanings interlaced in the narrative," Eaton added.
Having kept a journal since the age of 16, writing has been a therapeutic pastime for Eaton.
"I want to nudge anyone who has considered writing a novel to do it and complete it. Worry about improving the quality afterward. It doesn't have to be a grueling process. There are many times, while my wife was reading, and kids doing homework, that I would be by them and write parts of the book on my phone and email it to myself. The entire creative process, from conception, to getting an idea to paper, revising, editing, illustrating, and then publishing has been quite rewarding," said Eaton.
Eaton's story is available for purchase online at Amazon.com and other sites.