Skyridge offense explodes in history making victory over Hunter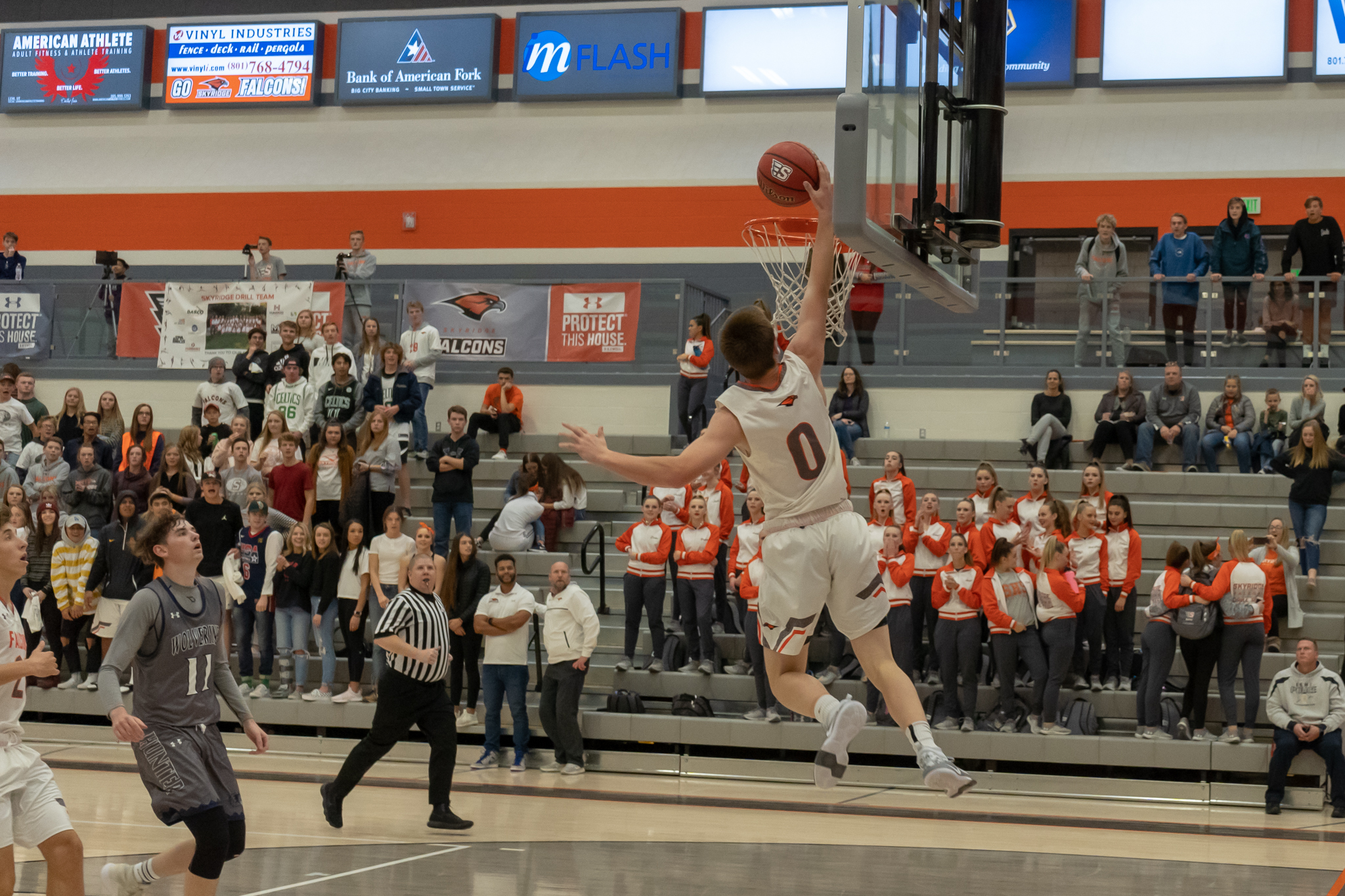 In only the third game of their young season, the Skyridge Falcons Boys Basketball Team dominated the visiting Hunter Wolverines. Skyridge exploded offensively, earning a stunning 91-43 victory. The Falcons' high scoring game improved their record to 3-0, at the same time dropping the Wolverines to 0-2 on the year.
The game began with a technical foul on Hunter, resulting in two free throws and the ball for Skyridge. Braden Allfrey knocked down the two free throws to give Skyridge an early 2-0 lead. That early lead evaporated quickly as Hunter scored seven straight points. But Hunter's minor triumph was short-lived, as it turned out to be their biggest lead of the entire game.
After missing their first few shots of the game, the Falcons' scoring barrage began. They quickly gained the lead, bringing it to eight points after a Duncan Reid old-fashioned three-point play. At the end of the first quarter, the Falcons had gone on an 18-3 run and had taken complete control of the game.
The next quarter went much the same way, with Skyridge outscoring their guests 20-4 in the period. As Hunter's frustration grew, senior guard Mason Familar earned the Wolverines' second technical foul of the game for confronting the Falcons' Rylan Van Komen. The half ended with Skyridge leading 40-14.
The Falcons' hot shooting increased as the night wore on. They added to their insurmountable lead throughout the second half, scoring 51 points. The Wolverines had no answer for their hosts. It was no surprise to see tempers flare when Hunter guard Daisean Cash intentionally bumped into Skyridge Junior Braden Housley after a foul call late in the third quarter. The Falcons continued to dominate until the final buzzer sounded. Skyridge's 91 end-of-game score rewrote the young school's record book for the most points scored by the Falcons basketball team in a single game.
In week three of the season, Skyridge will put their perfect record on the line when they face both Spanish Fork and Layton.