Willowcreek teacher brings out the best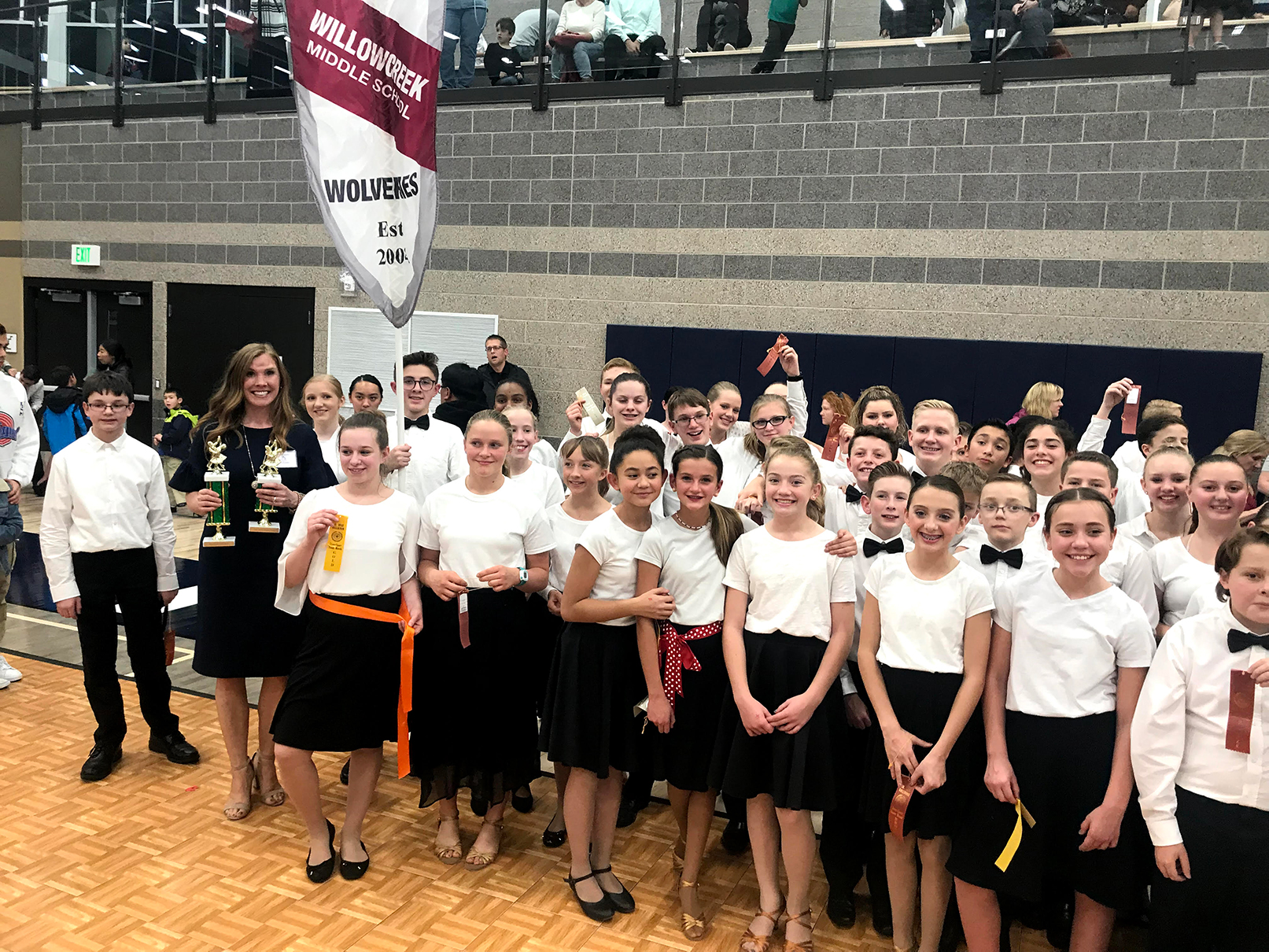 Despite personal challenges, Cari Greer teaches winning ballroom program
The Willowcreek Middle School social dance class is only a few months old, but with the energetic guidance of Cari Greer, they've already taken home a first-place trophy for ballroom dance.
A car accident ten years ago almost took Cari Greer's life. She was seven months pregnant at the time and she and her daughter miraculously survived what should have been a fatal accident. Cari danced with the ballroom team at Pleasant Grove High School and was awarded a full scholarship to Utah Valley University to join their ballroom team. After college, Greer taught a few community classes, but took time off to raise her family. Greer has endured many surgeries after the accident and dance had taken a back seat in her busy life.
As a "House Mom" at Meadow Elementary, Cari Greer was invited to assist with starting a ballroom dance program. The kids and parents loved it so much they didn't want it to end, so they begged Greer to come to Willowcreek Middle School and teach ballroom. Greer agreed to look into it and discovered that Willowcreek was starting a social dance class in fall 2018. She applied for the part-time job and got it. The Saturday before the first day of Cari Greer's new job as a dance teacher, her ten-year-old daughter severely burned her abdomen getting Ramen Noodles out of the microwave. Greer and her husband spent the next four weeks taking their daughter back and forth to Primary Children's Hospital to care for her burns. During the fifth week after Greer's daughter was burned, the ten-year-old was diagnosed with Type 1 Diabetes. The diagnoses fell on the same day as the first test for Greer's social dance students.
"We had a lot going on, but I didn't want to let down my students," said Cari Greer. She never missed a class while still caring for her family. "I've been filling the kids' plates with all the dances. I wanted them to experience everything about ballroom. Sometimes kids connect with the social aspect, or the movement, or the competition. I really wanted them to get it all and find out where they thrived."
Parents and a few school administrators showed up for the junior high-age competition at BYU the first weekend in December and almost didn't recognize their children. One mother exclaimed to Greer, "My son was such a gentleman out there!" Willowcreek won Overall Gold for Level One at the competition. The Dancing School Education Foundation announced a Dedicated Dancer Award for a boy and girl from each school after the ballroom competition, an award the Willowcreek students didn't even know about. "I had such a hard time choosing the winners of that award," said Greer. "I loved seeing how surprised they were – it was hard to hold back the tears." Willowcreek dancers Keira Kirby and Philip Mondragon took home the Dedicated Dancer awards for 2018.
"It's so fun to see the kids succeed. Every kid needs a place to go, they need an adult who believes in them and has their back. Being a House Mom at Meadow has really taught me that kids need to know they can do it," explained Greer. The 76 members of the Willowcreek Ballroom Team had to learn new routines for their upcoming concert in just a few weeks, but they are focused and up to the challenge. "This has been such a great experience for them. They're still talking about the competition," said Greer.