Skyridge Girls Basketball edges out Olympus in hard-fought victory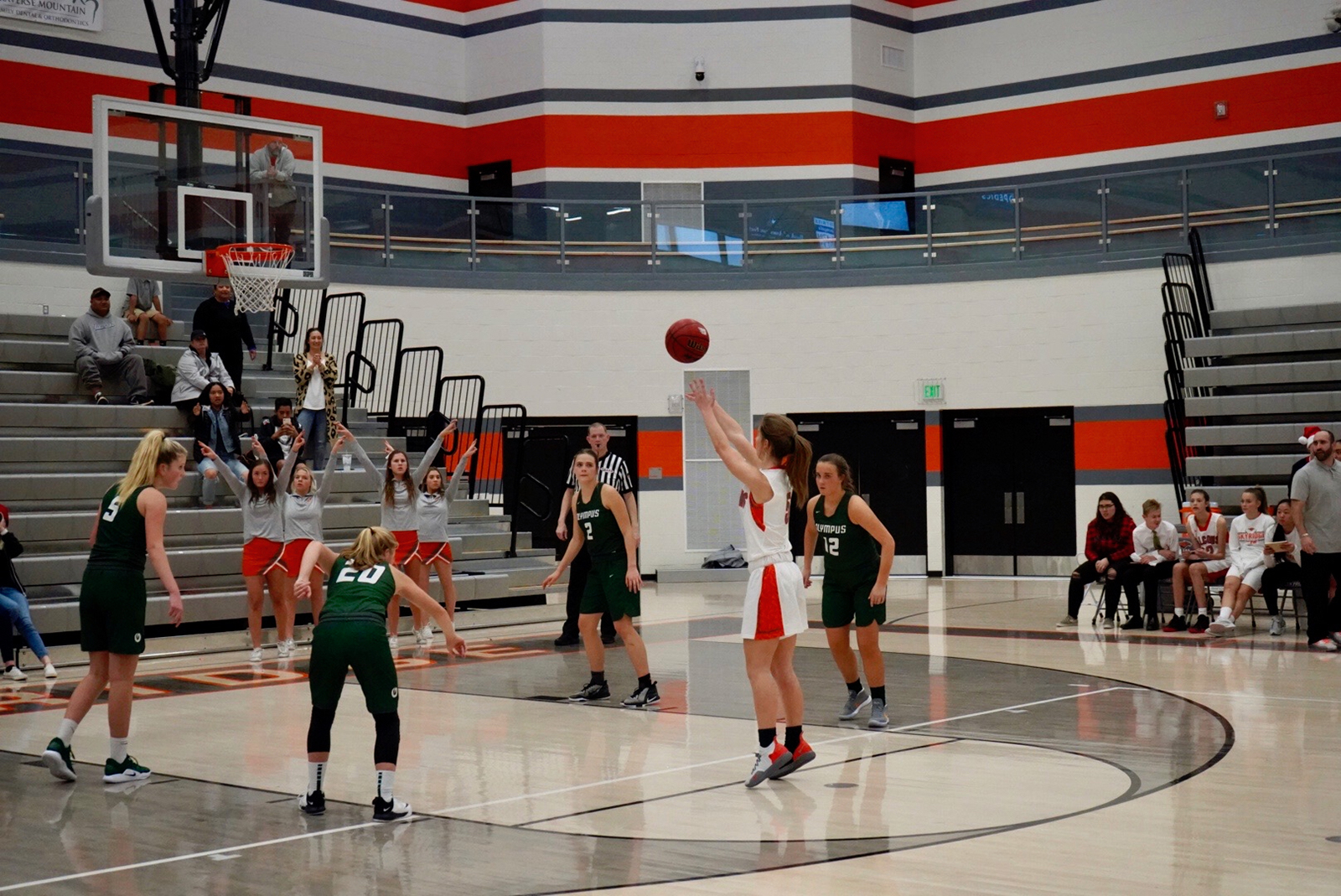 The Lady Falcons drew up another victory last Friday evening in a matchup against the Olympus High School Titans. Skyridge was led by the all-around great performance of senior point guard Skylee Gray, who racked up fourteen points, six rebounds, five steals and three assists. She went seven for seven from the line, making clutch free throws down the stretch that sealed the victory for the Falcons. The game left Skyridge undefeated and gave the Titans their fourth loss of the year.
When the first quarter ended, the Falcons led by ten and looked as if they would run away with an easy victory. But the Titans' resilience, combined with freshman Alyssa Blanck's excellent performance, kept them in the game. Blanck scored the Titans first 10 points, keeping them from being run off the court in the first half. At the end of the second quarter, the score was 31-20 in favor of the Falcons.
Coming out of the break, the Falcons and Titans found themselves in a back-and-forth battle, with Olympus trying to chip away at the Falcons' lead. Skyridge remained resolute in resisting their attempts, yet they were unable to extend the score to a comfortable lead. At the beginning of the fourth quarter, the game was still up for grabs, with the Falcons up 44-34.
In the final quarter of the game, Skyridge got all they could handle from their visitors. The Titans continually cut into the Falcon lead. Needing a bucket with 2:31 left in the game and only a five-point lead, Skyridge called a timeout. Skylee Gray came through for the Falcons when she drove to the basket and scored, giving Skyridge a 49-42 lead. But the game was far from over. Olympus scored two quick baskets and got possession of the ball on a Falcon turnover with 33.9 seconds left to play. The Titans squandered this opportunity by failing to convert offensively, leading them to intentionally foul Skylee Gray and put her at the free throw line. Gray extended the Falcons' lead to four, calmly burying both free throws. Gray then put the game away with a steal followed by two more free throws. At the buzzer, Skyridge stayed on top, winning the game 55-47.
The Falcons will take their perfect record into a tournament this week.
This slideshow requires JavaScript.