Lehi CEOs don costumes for donations to support needy families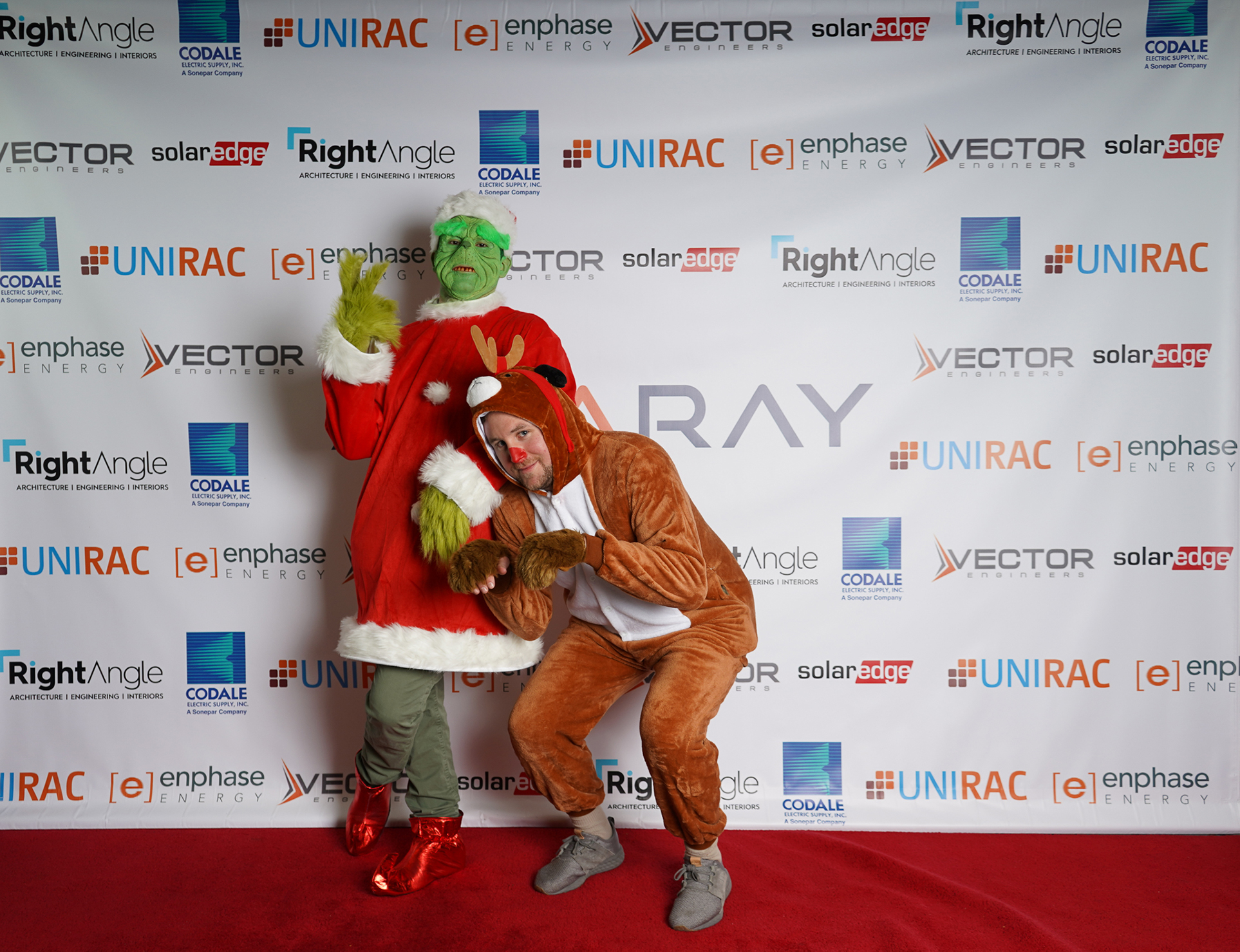 Altaray is a local, full-service solar company located in Pleasant Grove. The two co-CEOs of Altaray both live in Lehi. This year the company felt the need to give back to the community and chose to support the "Live to Give" service program. The company had a goal to raise $2,000 over the holidays for the family crisis charity. The owners promised to match donations their employees and others made. The following is an interview with Carlos Puerto, CEO of Altaray Solar and Jeff Bird, Executive Director of The Family Support Center, the recipient of Altaray's generosity.
LFP: Carlos, Why did you decide to support Live to Give?
Carlos Puerto – CEO (Altaray Solar): "We decided to do Live to Give because we felt very fortunate and blessed to be a part of this community.  With what little fortune we have seen, we wanted to stay grounded and give some of that back."
LFP: What were you trying to achieve with these donations?
 
"We were trying to better prepare struggling families in Utah by providing items like infant clothing, food, care products, etc. One of our goals was to enable these families to have a more joyful experience around the holidays by providing them with children's necessities and toys."
LFP: How did you carry this out?
"We incentivized our employees with some goofy things if they hit a goal.  We put donation boxes at each of our locations and promised the employees that the owners of the company would dress up as the Grinch and his dog Max.  It turned out that they hit the benchmark we set for them, so Sean (the other CEO of our company) and I had a professional costume artist dress us for the Christmas party."
LFP: What was the result?
"The result was great! We achieved over $5000 in monetary donations plus a ton of toys, food, and clothing. For a company as young and small as ours, I feel like that's a good start to Altaray's involvement in the community."
"I just want to say thanks to the employees and especially the marketing team which put this together. I did very little: all I had to do is show up as the Grinch. We appreciate what the Live to Give foundation did to organize this donation drive, the families that participated, and the community for contributing to the cause and we can't wait to do this again next year," said Puerto.
The Family Support Center, located in Taylorsville, is a 40-year-old organization, but many people may not know about their services. "We have a lot of programs that help families in crisis," said Executive Director, Jeff Bird.
According to Bird, the Taylorsville location conducts a lot of mental health counseling for families working through issues including trauma, depression, or anxiety. The center also has crisis nurseries, which are places where overwhelmed parents can take their kids aged up to 11 years old and keep them here for up to 72 hours at no cost. The crisis nurseries are really a child abuse prevention mechanism. If the parents are overwhelmed and they have no alternative caregivers, or they need a break, they can drop their kids off and they will be cared for while the parents regroup.
The center also provides transitional housing for single parents and their children who are escaping domestic violence or drug abuse. It's a place where they can be safe, get back on their feet, and learn how to better care for their family. These programs are designed to strengthen families, prevent child abuse, and protect children.
How are these donations going to be used?
According to Bird, "We've got three crisis nurseries and they can each keep up to 11 kids at a time. Imagine 24 hours per day what a family of 11 kids needs–everything from food to toys, diapers, snacks for kids, to cleaning supplies for the facilities. For example, our West Valley location is open 24 hours per day, so you can imagine how much laundry we do in sheets alone.
Sometimes we have kids who come in to visit us and are wearing clothing that's not weather-appropriate. As you know, it's really cold right now and some of the kids that come in have shoes and clothing with holes in them, so we provide clothing that's a little more weather appropriate and send it home with the kids.
A lot of these donations go towards not only those needs, but also towards transitional housing.  We take people off the streets sometimes; they need sheets, towels, blankets, and things to build their new home."